Gondola proposed at burial site in Edmonton raising ire of Indigenous community
Edmonton city council is reviewing the developer's proposal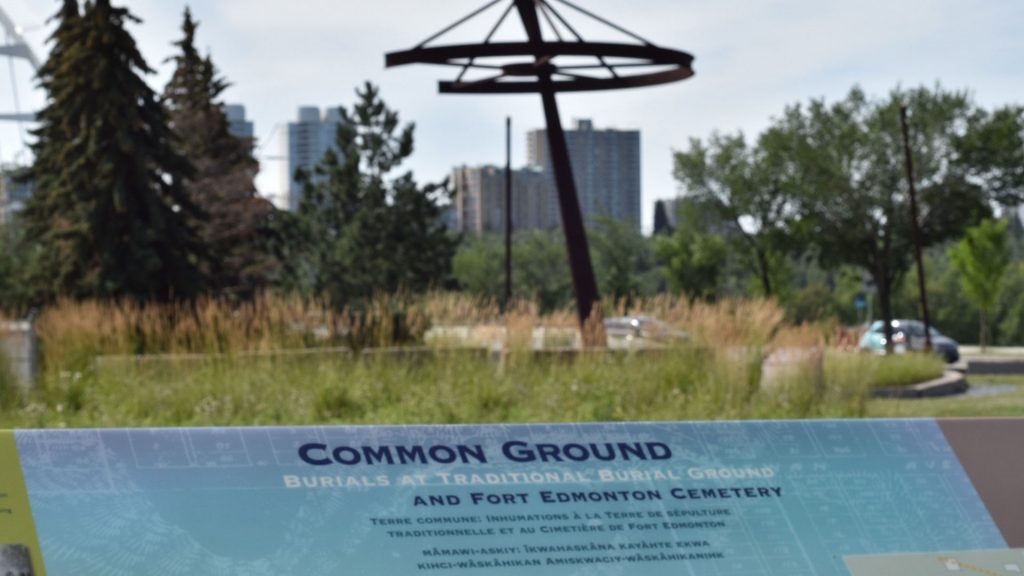 ---
Talk of a gondola crossing the Edmonton River valley and landing in the Rossdale power plant area has some Indigenous community members asking questions.
This area is considered an important historic site to Indigenous peoples – both as a trading site between Indigenous and settler communities, and a burial ground for many generations.
In 2020 a Pekiwewin (Cree for 'Coming home') prayer camp was set up in the Rossdale neighbourhood. It was a large homeless encampment that chose the location due to the historical sacred sites in the area.
Prairie Sky Gondola president Jeffrey Hansen-Carlson said "the essence of the proposal is the future of vibrant and admired cities.
"Does Edmonton want to be a city where things are just talked about?" he asked city councillors during a meeting to discuss the project Wednesday.
50 requests
There were more than 50 requests to speak about the land agreement that is the next step in the development process.
The Prairie Sky Gondola is a private sector proposal to build, operate and maintain a gondola between downtown and Whyte Avenue through the Edmonton river valley.
The company is proposing five stations including one in the Rossdale neighbourhood just north of the North Saskatchewan river.
Cody Sharphead, a First Nations archaeologist and member of Enoch Cree Nation, is working with Prairie Sky Gondola and believes it is important to have Indigenous representation on the project.
"As the archeological advisor, I've looked at some of the previous work that was done and we are looking at a low probability for human burial," said Sharphead.
Arrowheads
He adds other cultural artifacts such as arrowheads may be uncovered.
There is a dispute about whether the grounds the Gondola will cover contain human remains.
An archeological investigation of the former Fort Edmonton burial ground was completed by Lifeways of Canada for EPCOR Generation in January 2003 and found human remains at the site.
According to a report in 2004 on the oral history of the area, developed by the Rossdale Flats Aboriginal Oral History Project, the majority of participants described the location of burials as extending north from the riverbank and the Walterdale Bridge, stretching northeast and encompassing EPCOR's Rossdale Generating Station property, the Telus Field ballpark, and possibly including the homes in Rossdale.
"That site is ground zero for the status of the treaty relationship in Edmonton," Emily Riddle said in an interview with APTN News.
Ancestors
Riddle, a writer who has ancestors buried at the site, said Indigenous peoples are really contributing to moving this city forward…we are just asking for a basic level of dignity in not having that gondola station directly on that site.
"Indigenous people are being positioned as anti-progress, anti-climate action or anti transit which is not true."
Aaron Paquette, the only Indigenous member on city council, questioned whether the land was being given the proper due.
"Is there a difference between a burial ground and a cemetery, because I don't see the difference?" he asked APTN.
Cameron Alexis, a former grand chief for the Assembly of First Nations Alberta Association, is on the board of the project.
An opportunity
He told city council he sees this as an opportunity to promote First Nations and Indigenous culture as well as a "green footprint" project. Alexis said Elder Bob Cardinal of Enoch Cree Nation held a sweat lodge when launching the gondola project.
"This is consistent with the 94 recommendations with the TRC [Truth and Reconciliation Commission]."
"In order to start their consultation, they require a lease agreement to be approved," said Riddle.  "From my perspective that seems backward. You don't get a lease and then do the consultation. Because with real consultation gets the possibility you will get a no from Indigenous people. It seems like they will find a way to get consent."
Aaron Paquette agrees.
"What we are seeing is a move to justify more development on a cemetery which I am not sure is in keeping with reconciliation and it seems like a lot of the community agrees," he said.
"A lot of times when we hear about Indigenous engagement what we are really hearing is, 'We will keep talking to Indigenous people or groups or officials until they agree with us.'"
Correction: This article has been updated to fix an error. Cody Sharphead's name was spelled as "Sharpehead".