Lawyer for Arlen Dumas confirms phone being examined
AMC said Dumas would take a brief leave of absence "to heal with his family" until he surfaced in photos this week at its annual general meeting.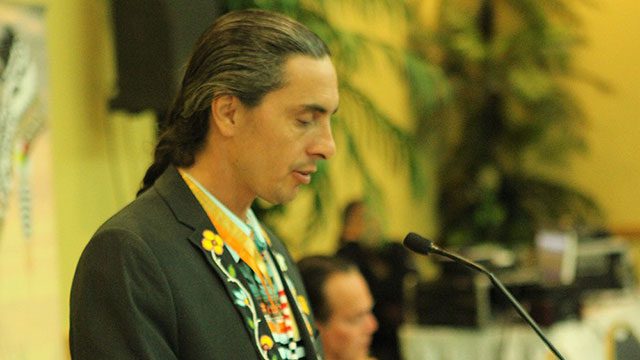 lawyer representing Manitoba's top Indigenous leader over allegations of inappropriate texting says an investigation is under way.
Jamie Kagan confirmed a phone used by Arlen Dumas, grand chief of the Assembly of Manitoba Chiefs (AMC), is being examined by a third party. It's a development in a month-long texting scandal first reported by the Winnipeg Free Press.
"We are not discussing steps in the process or identifying the various service providers we are using to complete the inquiry," Kagan, a partner at Thompson Dorfman Sweatman in Winnipeg, said in an email.
Kagan declined to be interviewed by phone and didn't respond when APTN News asked who was checking the phone's history and when the results would be made public. He confirmed he was hired by AMC.
Dumas denied he messaged Bethany Maytwayashing, 22, asking her to "meet up," when the story first broke at the beginning of July – and suggested unnamed political adversaries were impersonating him online in a fake Facebook account and hacked his phone.
The two met at a downtown Winnipeg restaurant where she worked and connected afterwards on Facebook. Then Maytwayashing alleged recent messages she received were inappropriate and made her feel uncomfortable.
AMC did confirm the phone number that texted Maytwayashing belonged to Dumas in a press statement.
Read the statement here:
Press Statement from Grand Chief Arlen Dumas and the Assembly of Manitoba Chiefs 
But AMC and Dumas claimed the texts were "spoofs."
They alleged someone other than Dumas sent the texts without him knowing by using a software to make it appear the texts came from his phone.
The press release did not comment on how the texter knew details about where Dumas met Maytwayashing, or that she was a student and took a selfie with him at that meeting.

These signs were on the door at AMC 's annual general meeting this week. (APTN file)
Since his denial three more women have come forward to APTN saying they received texts similar to those sent to Maytwayashing, either on Facebook accounts or phones belonging to the AMC grand chief.
Dumas has not responded to multiple requests for comment about Maytwayashing and other claims made in the last weeks through AMC or another lawyer, David Walker of Winnipeg. He has not commented except through press statements.
AMC said Dumas would take a brief leave of absence "to heal with his family" until he surfaced in photos this week at its annual general meeting.
AMC did not respond when asked if Dumas was back at work. It posted a sign on the meeting room door preventing media from entering what has been a public meeting in the past.
An AMC spokesman also denied entry to an APTN reporter on Wednesday.
Meanwhile, a grassroots women's group is calling for an "independent investigation" into the texting allegations.
Sandra DeLaronde, of Manitoba Moon Voices, said an arm's-length third-party should separately interview Dumas and the women involved.
She said it's important to "keep social media a safe space for women – and Indigenous women, in particular" because they are a vulnerable population when it comes to exploitation and violence.
The final report of the National Inquiry into Missing and Murdered Indigenous Women and Girls makes several recommendations around inappropriate behaviour and harassment. It also underscores the need for protecting and supporting victims who come forward.

The final report of the MMIWG inquiry was released on June 3. (APTN file)
DeLaronde noted it is not only politicians being accused of communicating with women this way, but also bosses, co-workers and friends of friends online.
"I've had women tell me they feel 'creeped out' by excessive 'liking' of their posts. Sure, they can block someone, which are the rules for this online culture. But why is it up to them to police the boundaries?"
DeLaronde said her group feels there is more AMC can and should be doing to be accountable for the behaviour and protection of its members.
"Does it have a mechanism to deal with harassment of its members or people they serve?" she said.
"Young women and two-spirited people need to know where they can go and feel safe, and know that something will be done."
APTN has twice asked AMC whether it has a sexual harassment policy and to provide a copy, but has not received a  response.
Maytwayashing said she attended the AMC meeting venue this week without being invited. She said she went to remind members who represent 62 First Nations in Manitoba this issue isn't going away.
"I will not be silenced," she said.
Read More: 
Indigenous woman asks AMC to investigate grand chief's behavior; chief denies claim
Women's Council investigating texting allegations against grand chief