DNA found in home of accused belonged to Christine Wood police say
Days following the arrest of Brett Overby, the man who is on trial for the killing Christine Wood, police took blood samples from his home that later confirmed belonged to the young woman, a police officer testified on Thursday.
Brian Neumann , a forensics officer with the Winnipeg Police Service, said he was called to Overby's home on Mar. 22, 2017 to help conduct a general search warrant.
Overby is on trial for second-degree murder.
He has pleaded not guilty.
Wood, 21, was last seen at a Winnipeg hotel on Aug. 19, 2016. Her body was found in a shallow grave outside the city in June 2017.
Crown prosecutors argue Wood met Overby through the online dating site PlentyofFish and she was killed in his home.
Court previously heard that two messages sent from Wood's Facebook account led them to Overby's home in January 2017.
Police were able to trace the IP address used as one belonging to Overby.
Neumann testified investigators did not notice anything resembling blood on their first initial walk through of the home.
Later they conducted several tests to locate blood in any form or any evidence a clean up may have occurred.
Upon further investigation, Neumann found small blood stains near a weight bench and near the stairs leading to the main level.
Officers were also able to locate blood on a cushion used as part of a weight bench.
Neumann testified he also found several small stains consistent with dry blood around a closet door in the basement.
Crown prosecutor Chantal Boutin asked Newman whether he believed someone attempted to clean the area.
"It had appeared something was sprayed on those doors…I felt some sort of cleaning had appeared on that door," Neumann responded.
In total, six samples were sent for testing.
Results came back showing Wood's blood was found on the weight bench cushion, on the basement door and below the staircase.
Forensic investigators also took blood samples from a light switch on the main level of the house and Overby's truck, which tested positive as belonging to him.
(The truck belonging to Brett Overby. Court exhibit)
Neumann told the jury the varied locations of the blood indicated "something had occurred."
During cross-examination defense lawyer Sarah Inness asked Newman whether police could determine how much blood was found in the basement.
"[The] amount of blood…you can't speak to. Is that correct?" she asked.
"No," replied Neumann.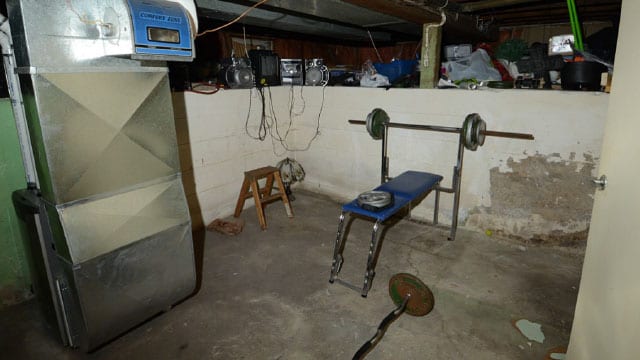 (The weight bench where police say they found traces of Wood's blood. Court exhibit)
On Thursday, court also heard from a detective who conducted forensic examinations on a computer seized from Overby's home.
Jason Joseph testified he was able to go through the computer's hard drive and forwarded the information to homicide investigators.
He said one image was found and investigators asked him to locate other similar images.
Three photos showing Wood and Overby together in his home were entered into evidence earlier this week.
In a police video shown on the opening day of the trial, Overby denied knowing Wood when police questioned him about her.
(A picture of Wood and Overby taken from his computer. Court exhibit)
Joseph located the three photos but testified the originals were not found on the computer.
"I suspect it was deleted… it is my opinion it was deleted off the original device," said Joseph.
Court has previously heard crown prosecutors believe Wood used Overby's cellphone on the night she disappeared.
That particular device has never been found.
Joseph testified forensic evidence proved the pictures were taken on a cellphone but he could not confirm when they were taken.