Dene governments in N.W.T. launch ice road caribou harvest monitoring
---
This winter Indigenous governments in the Northwest Territories introduced new measures to protect the fragile Bathurst barren-ground caribou herd.
In March, APTN News tagged along to check out the Tlicho Nation's Ekwo (caribou) harvest monitoring program and the Yellowknives Dene First Nation caribou harvesting monitoring program.
Bethany Apples, Albert Nitzia and Michael Huskey strap down fuel drums in the bed of a pick-up truck on a Thursday afternoon.
There's no services where they're going, roughly 300 kilometers northeast of Yellowknife – past the tree line, on the Tibbitt to Contwoyto winter road that goes to the diamond mines.
Some six hours later, they reach Mackay Lake, one of the largest lakes on the ice road. Its snow and ice as far as the eye can see, all except a Tlicho Nation flag tied to a canvas wall tent.
For the next two weeks, Apples, Nitzia and Huskey will operate the check-stop and provide information and support for Dogrib dene harvesters. They'll also be the eyes and ears for the Tlicho government, patrolling by truck and recording information on wildlife.
The group makes sure they start in a good way with a feeding of the fire and prayer.
"We do this to remind us that our ancestors were here many years ago and we are following in the footsteps. We have one young lady (Apples) who will carry that on so we are going to teach her," Nitzia said.
Nitzia and Huskey are seasoned harvesters. When they came up to set up camp in early February, they didn't stay put for very long before hitting the road.
"At portage 45-49, we must have seen about two dozen hunters. We can't just approach them, instead we introduced ourselves, said who we work for and we just want to know. It was good they were happy to see us," Nitzia said.
---
Apples searches through her thick binder as she begins her safety briefing. She's worked in other remediation and research sites such as Rae Rock and Comack mines.
"I feel like it's important to monitor the caribou because of how fast they are decreasing, population wise. It's really important for us to manage that for the future generations," Apples said.
The group heads out to check in with officers at the environment and natural resources (ENR) mobile station further up to the north end of the lake.
Territorial enforcement officers provide surveillance for the area and investigate hunting infractions.
Apples explains that the monitors wear a different uniform, hold a different role and take a different approach.
"ENR would probably ask for a tag or where they hunted, if it's in the no hunting zone or not. We're just here to monitor and count caribou or the heads, how many were in the herd, how many bulls there were," she said.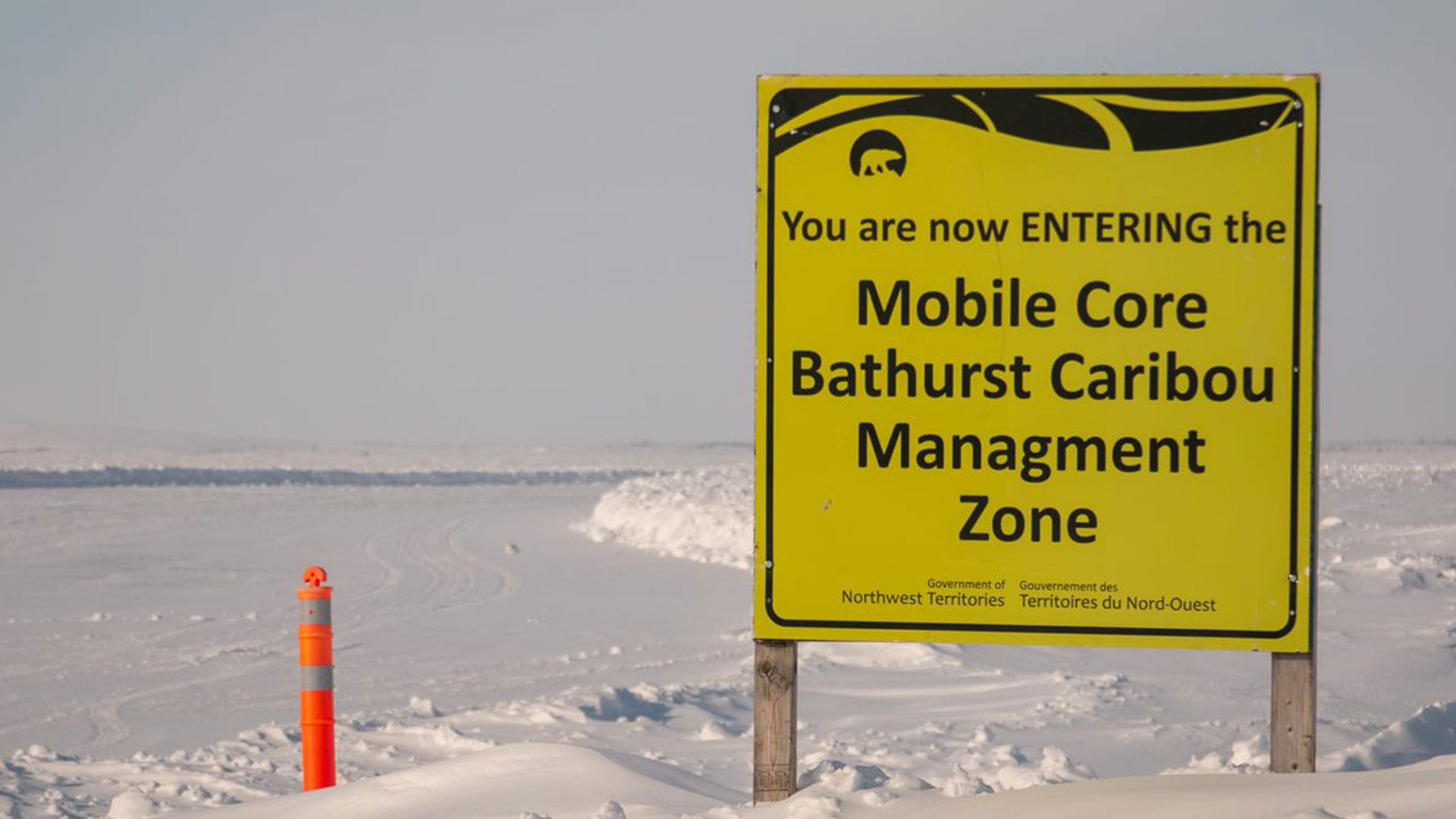 ---
At a news conference on March 9, ENR and the Beverly and Qamanirjuaq Caribou Management Board (raised alarm over illegal harvesting and disrespectful practices along the winter road.
Environment Minister Shane Thompson, told media there were investigations for over 50 caribou illegally harvested so far, a surge from the less than 10 at the same point the year prior.
"When I talk to elders and leaders, there are real fears that these practices will push us towards a future no one wants to see — one where caribou aren't there, one where their children won't be able to bring meat home for their kids," Thompson said.
Earl Evans, an Elder and chair of the management board echoed concern.
The Mètis hunter of 55 plus years said he had travelled to the winter road and had seen "every regulation in the book being violated — snowmobiles chasing caribou, people shooting into the herds, hunters using the wrong calibre of rifle required to make a clean kill and/or not retrieving their kills, pollution, and outright dangerous hunting."
The news also didn't come as a surprise to monitors.
"We have heard about overharvesting but we aren't pointing fingers, we are just here to monitor," Huskey told APTN News.
Ekwo Harvest Monitoring Program also takes a boots on the ground approach to education.
Tlicho monitors disperse maps of the mobile hunting zone and talk with harvesters about following traditional protocol according to dene laws like not chasing caribou and taking only what's needed.
"One thing that makes me really mad is overshooting caribou. They (harvesters) aren't always honest with us but we count the heads. One guy said he had 10 but I count the head and he had 12," Nitzia said.
Since 1986, the Bathurst herd has declined by 98 per cent with roughly 8,200 – a dramatic decrease from the once bustling 470,000 population.
In 2015 the territory established a mobile management zone as a way to protect the herd.
Harvesting is strictly prohibited in the management zone and ENR change the boundaries once a week on the basis of caribou collect tracking data.
---
It's also the first year for the Yellowknives Dene First Nation Monitoring Program.
South of the tree line, eight monitors rotate in and out with four stationed at a cabin on Gordon Lake throughout the duration of the winter road season.
Two monitors hit the road each day while the other two watch from the cabin and watch for harvesters passing by to inform ENR of their whereabouts.
George Martin remembers a time when he could see thousands of caribou at once.
"Before, they (caribou) use to go from Gordon Lake to Yellowknife. I heard my mum tell me back in the 1960s they (caribou) use to go to Dettah every year. Now they don't go that far south, too much hunters they have to go north," Martin said.
He points to a map showing an area not far from the cabin, and explains how you could follow the shore and find caribou.
"My first caribou hunt was when I was 11 years old.  Back in the day there were no skidoos, only dog tea. Cold days -50C, have to keep moving to keep warm," he said.
Similar to the Tlicho program, YKDFN also partners experienced traditional knowledge holders with younger monitors.
Today, Martin holds down the fort with Stanley Mackenzie, who sits at a desk in front of a window and peers into a large spotting scope aimed towards the winter road.
"We know that hunters carry stuff in the back or in trailers. We have to know what they have. If we suspect they are hunting we have to pass that information to ENR and that's when they go and check," Mackenzie said.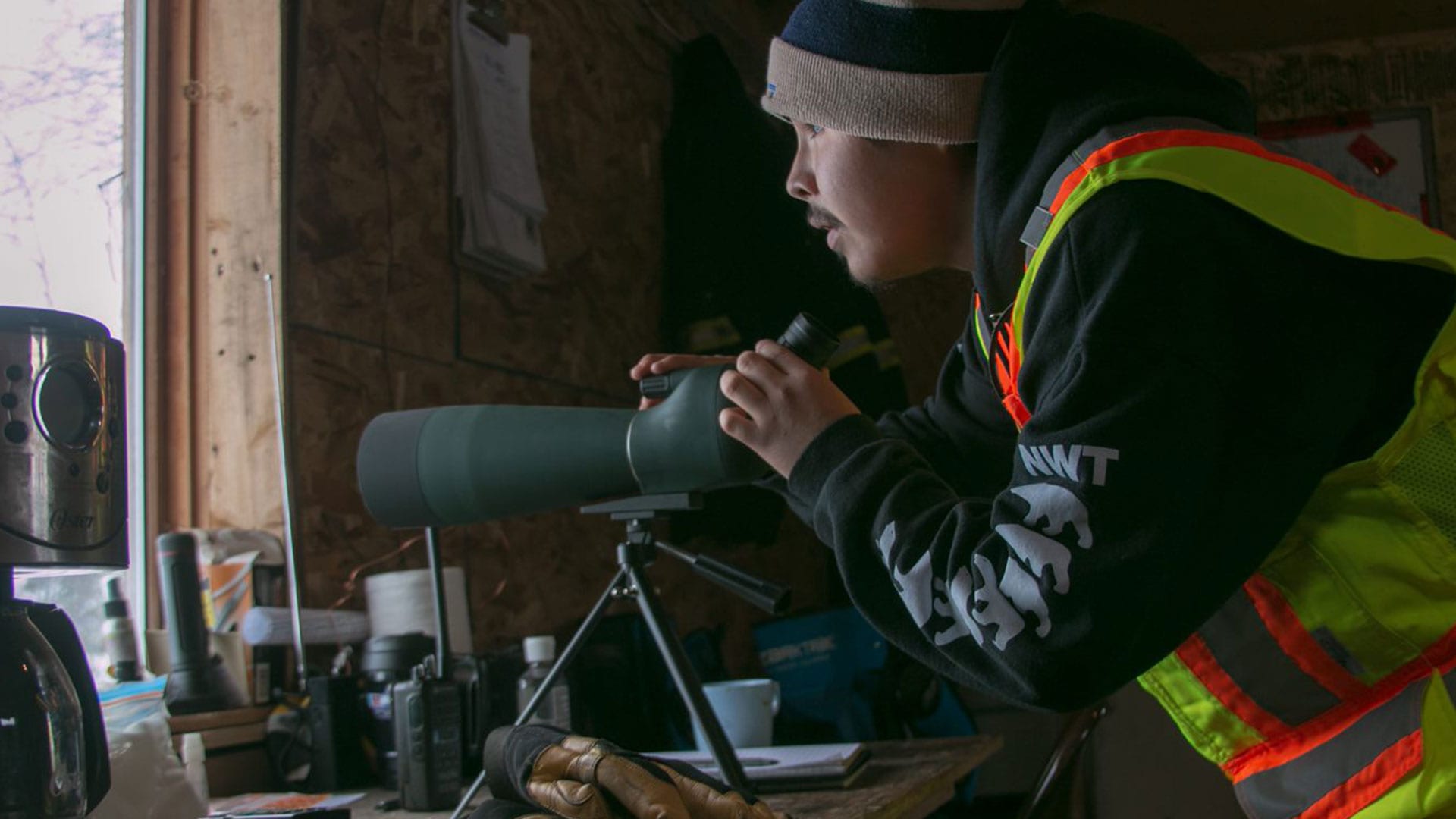 ---
All of the monitors have ties to the land.
"It's nice to connect, my grandpa's cabin is right across from here. I thought if we had enough I could check it out, I haven't been there in years, I heard the roof has caved in but I'd like to go and fix it," he said.
Both see the value in Indigenous groups spearheading conservation efforts for the protection of caribou.
"I would like to see the data in the community and the band share information on how much each family has," Mackenzie said.
For Martin, he wants the program to expand.
"I think we need more people involved in this type of thing. Maybe six people go for a week, one group goes north on the road and one goes south to different areas to see what the real caribou harvest count is," Martin said.
It's the second day on the land for Tlicho monitors. They have driven the ice road an extra 100 kilometres north, but the harvesters are skunked.
"They say they only saw about 30 herds but it was in the management zone so they couldn't hunt," said Martin.
Still the efforts of the monitors are appreciated. Especially by Glen Blondin, a Tlicho hunter travelling with family and friends out for his second year hunting along the ice road.
"The monitors are like a big brother there padding you on the back and there's also that security, you have a safety net there," Blondin said.
Last year he travelled with a group of three, harvested 14 caribou and distributed it to the Tlicho communities.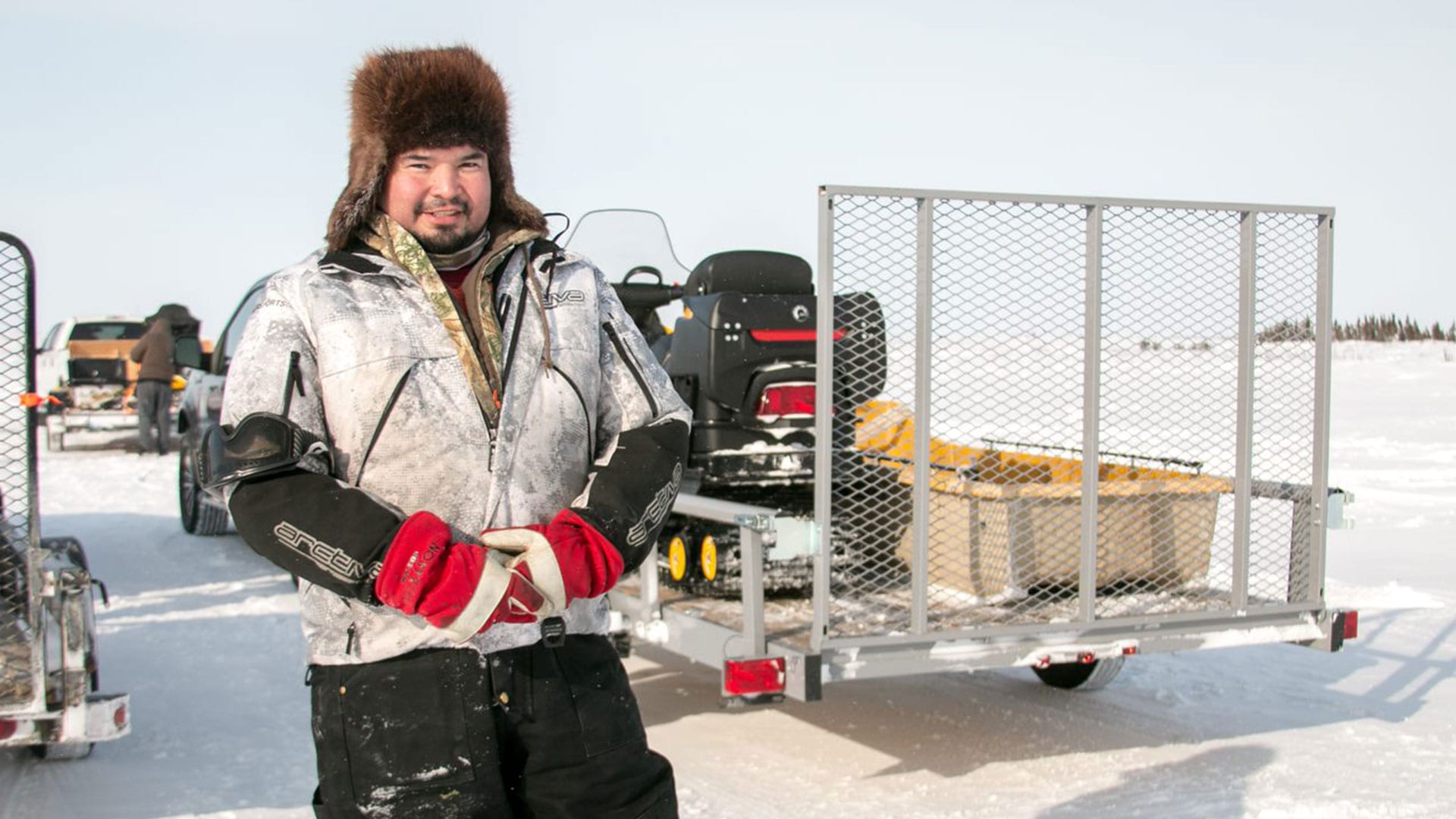 ---
Blondin said he would like to hunters involved in harvesting infractions held accountable but isn't sure currently penalties are enough.
"Fines I don't think would be efficient. If they were to go hunting this year they could pay off a fine, and would probably do the same thing next year. Maybe they should suspend their license for a year and void their rights," he suggested.
APTN's time with the monitors is cut short as a storm rolls in prompts notice of road closure.
But there's still one final evening to discuss conservation, and Tlicho monitors are ready to share their thoughts.
Indigenous harvesters do not require a tag for caribou and there's no limits on how much they can harvest along the winter road, outside of the management zone.
While and inherent right of Indigenous peoples, the monitors believe new measures such as imposing harvesting limits may be necessary in order to protect the caribou.
"I think the best way we can save our animal is by the size of the families. Let's say if you have ten families maybe you can take five per year," Nitzia suggests.
For Apples, she wants to see the information collected by the monitors delivered to governments within all of Dene Nation.
"Maybe we should have a meeting with our people and discuss issues and things we can change to help the caribou. We have to work together with everyone or nothing will be done," Apples said.