COVID-19 situation in northern Saskatchewan expected to get worse before curve is flattened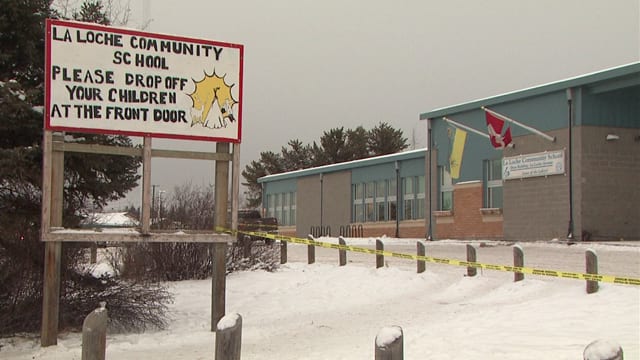 [caption id="a
Brett Forester
APTN News
With dozens of confirmed cases, COVID-19 has hit the Dene village of La Loche in northwestern Saskatchewan harder than any other Indigenous community in the country.
What the province is calling a "localized outbreak" has spread to nearby First Nations and Metis communities, while more resources have been mobilized to curb the spread.
Community leaders expect numbers to rise as testing and contact tracing ramps up.
"There's a lot of anxiety, a lot of fear," said Mayor Robert St. Pierre. "I expect our numbers to go up a little more. Hopefully we peak out pretty quick here and we start recovering more than we have new cases."
Saskatchewan reported 34 new COVID-19 cases on Monday, the province's largest single day uptick. Twenty-nine were linked to La Loche, almost 600 kilometres north of Saskatoon by road, and the surrounding area. This includes Beauval, a Metis community dealing with an outbreak connected to the general store, and three nearby communities.
The emergency operations centre (EOC) in La Loche broke the numbers down, reporting 68 confirmed cases in the village alone with 21 presumptive cases (meaning these are being treated as positive cases until confirmed by laboratory testing). The adjacent Clearwater River Dene Nation had seven confirmed cases while English River Dene Nation had six. Beauval and three nearby communities reported nine combined positives cases.
The province confirmed another 18 cases in the La Loche region on Tuesday. There were 128 cases of the novel coronavirus in the Far North and 114 of those active as of this posting. Two La Loche community members have died.
Clearwater River Chief Teddy Clarke said a drive through testing facility is being set up while local lockdown measures, a curfew and non-essential travel restrictions are being enforced.
"We're just trying to keep people away from each other basically. We're getting the message out there: self-distance, wash your hands, wear your mask," he said, pleading with community members to do what they can.
"Help us make this work. Because really, like they say, the virus doesn't move on its own. The people are the ones that move the virus. So if we contain ourselves, we contain the virus. And eventually it'll flatten the curve somewhat."
The Metis Nation Saskatchewan (MNS) said it's working in collaboration with local First Nations and municipal leaders, supplying over $1 million for community monitoring, isolation units and food security.
"If that wasn't done, I believe there would have been more cases. But northern Saskatchewan, the First Nations and Metis took action right away to be able to limit the virus spreading," said President Glen McCallum.
(Saskatchewan Premier Scott Moe, right, says the province is mobilizing more resources to help fight COVID-19 in the north. Photo: APTN file)
At the province's Monday update, Premier Scott Moe said the number of cases in northwestern Saskatchewan was "concerning" but emphasized it means that increased testing is working.
Moe also noted that the province's numbers remain low outside of the La Loche region. The premier said he hopes to see the northwest COVID-19 curve bend in the coming days, but he also confirmed that numbers will get worse before they improve.
"I don't think that it should be unexpected that we may see some relatively large numbers throughout that area for a number of reasons," Moe said.
On March 15, the Cree community of Southend in the province's far northeast was the first Indigenous community in the country to report a case of the novel coronavirus.
The pandemic hit the northwest later than elsewhere, with the outbreak tied to workers returning from the Imperial Oil Kearl oilsands mine 70 kilometres north of Fort McMurray, Alta.
The province's chief medical officer acknowledged "crowding" and "more social mixing than you would otherwise see" encouraged the spread.
"Transmission is higher and it is harder to control. Those are all realities for many communities in the north," said Dr. Saqib Shahab.
Provincial officials also pointed to increased resources coming from Regina. These include a GeneXpert testing machine, personal protective equipment (PPE), a government aircraft to ship results faster and more health professionals to assist with contact tracing and testing.
On April 30, Shahab instituted a public health order banning all travel in and out of the north except for La Ronge or Stony Rapids, which are in the northeast. This created tension when the province took over checkpoints that were previously manned by locals.
Clarke said this decision was one he didn't quite agree with. "Our people know our people. We know who's going where, and who's going to be going where for what," he said.
The Federation of Sovereign Indigenous Nations (FSIN) also spoke out after reporting some people travelling south for essentials were being turned back after the province came in "hard, fast and very disorganized."
FSIN Vice Chief Heather Bear told APTN News that local chiefs were calling for travel restrictions before the outbreak and that the province didn't listen.
"The province can't be turning a blind eye when we speak. They wait till after the damage is done and it's causing more pain in our communities and suffering, just that lack of action, that lack of sitting down respectfully and taking our chiefs serious. Because they know their people and they live in the north," she said.
Moe said the region can expect to see a "much more active role by the provincial government" as support mobilizes, including conservation officers and fire suppression employees to assist at checkpoints.
When asked by a reporter if the province failed the people of the north, the premier was adamant.
"Have we failed in any way? No, most certainly not."