Civilian review of RCMP handling of Elsipogtog resistance 'doesn't go far enough' says prof
Crackdown was an 'anti-democratic' and 'racist campaign' that inflamed conflict, Jeffrey Monaghan says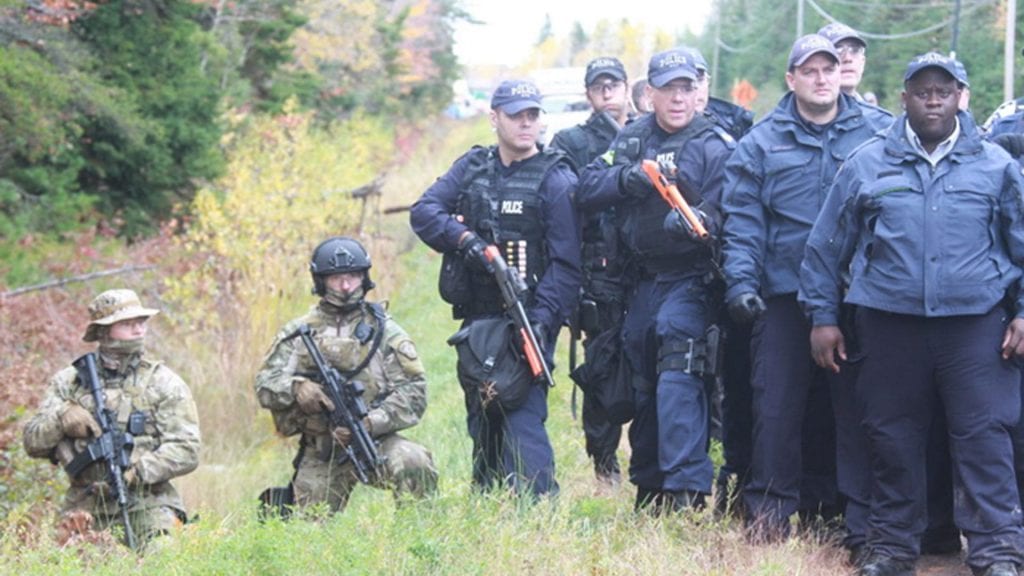 ---
The RCMP watchdog's final report on the 2013 police crackdown on Mi'kmaw-led resistance to shale gas exploration in New Brunswick, though critical in some respects, fails to address key questions of systemic racism and also raises concerns around the independent oversight body's effectiveness, experts say.
"It's good, on one hand, to see that the kind of barely-working, barely-functional complaints system at the RCMP is finding these critical nodes to underline what I think are really anti-democratic police practices," said Jeffrey Monaghan, a criminology professor at Carleton University.
"So, in some ways, it's good to have on the record, but it still falls way short of what we need to really transform the RCMP and their practices against Indigenous communities."
On Thursday, the Civilian Review and Complaints Commission (CRCC) released its years-long investigation that justified the Mounties' militarized use of force against a Mi'kmaw anti-fracking blockade in Kent County, N.B.
---
The commission sounded alarm bells, however, over the way the Mounties use social media to construct detailed biographical profiles of protesters and activists who haven't actually done anything illegal.
"The collection of this type of information involves the obvious risk that individuals will be targeted based on their political convictions or beliefs in certain causes, while not having a clear connection with an identifiable, immediate purpose," said the CRCC.
"The RCMP's position on the indiscriminate, long-term retention of personal information about lawful dissent collected from sources like social media is concerning. This raises at least the potential for a chilling effect regarding the public's participation in lawful dissent and in online discussions, particularly through social media."
Data gathering and collection was 'outright harassment' on the ground
The CRCC also found that the RCMP arbitrarily stopped cars as part of a "general inquisition" of intelligence gathering, which violated the occupants' charter rights. It found that police roadblocks, though likely justified in some circumstances, also probably violated constitutionally-guaranteed freedoms.
Monaghan co-authored a book called Policing Indigenous Movements: Dissent and the Security State, which studied ways police respond to Indigenous-led groundswells such as Elsipogtog.
---
He said these surveillance and intelligence gathering practices went far beyond mere data collecting and, in effect, constituted a concerted campaign of anti-democratic agitation which inflamed the conflict.
"What the RCMP was doing was outright harassment," he said, "and it was imbued with racism and a very deep-seated animosity against the community. The report doesn't go close to far enough to really underlining that campaign as a highly anti-democratic and a racist campaign."
RCMP oversight system is 'toothless' says CCLA
Cara Zwibel, a lawyer with the Canadian Civil Liberties Association, agreed that the report fell short of the accountability and transparency the public probably wants to see.
"In most areas the commission decided that the RCMP acted reasonably or even appropriately," she said in an interview. "You don't come away from reading that report and think that the RCMP got a really rough ride from the commission. It was for the most part not particularly critical."
That is, the CRCC found the RCMP did not generally display bias towards Indigenous people, did not use excessive force and were justified in conducting a tactical operation in which Mounties armed with dogs, assault rifles and shotguns equipped with riot control "sock rounds" converged on the Mi'kmaw blockade and arrested 40 people on Oct. 17, 2013.
---
Read More:
Watchdog has 'serious concerns' about RCMP's response to findings of Elsipogtog investigation
Hundreds of complaints filed against RCMP after Elsipogtog fracking blockade
---
RCMP Commissioner Brenda Lucki accepted these findings, but she disagreed that police violated civil liberties and debated the commission's findings in a long rebuttal. Lucki also rejected the commission's first two recommendations, which call for policy reform around the use of social media for surveillance.
The commission said this response only heightened its concerns. After considering Lucki's response, it slightly reworded but generally reiterated the findings.
"The RCMP's own views about the appropriateness of its members' actions should not be allowed to govern in a case where the independent oversight body has reached a different conclusion, and no further factual information or explanation is being offered by the RCMP," said the report. "Such a process would amount to giving the RCMP carte blanche to come to its own conclusions about its members' actions."
Zwibel called the RCMP's response "disappointing" and a missed opportunity.
"It shows you, I think, how unfortunately toothless our oversight system is. I mean, I don't think there's much that can be done about the RCMP responding in that way," she said.
"The reality is that if the RCMP decides they're not going to implement certain recommendations, they're not going to. We will most likely see another protest like this where these same issues happen and things that could have been fleshed out and discussed and dealt with are just pushed down the road."
Underlying issues left unaddressed
Contacted for a response, an RCMP spokesperson said they value the civilian review process and welcome the final findings and recommendations.
"When the RCMP does not agree it is because it feels the evidence provided by the CRCC does not support the conclusions drawn in the interim report," said a statement from Cpl. Caroline Duval.
Duval said the RCMP recognize surveillance and data collection are an area of concern and sought guidance through an audit, which is not finished.
Duval noted that, though the RCMP didn't agree with the findings around stop checks and roadblocks, they will implement the recommendation that calls for members to review law and policy related to search and seizure.
"This is a typical RCMP position and this just reflects the really anti-democratic character of the RCMP. The RCMP has been embroiled in controversy after controversy for however many years, and they've refused to change," Monaghan stated.
---
Monaghan suggests the commission let the Mounties off the hook by failing to consider the ways police inflamed rather than de-escalated things.
"The RCMP were kind of shamelessly, institutionally on one side of this conflict. That played out on the ground in all kinds of ways that, overall, is a story in my mind about the RCMP actually provoking violence," said Monaghan. "They were escalating the violence in all kinds (of ways), from microaggressions and individual level racism to themselves really creating the temperature and the strain that ended up exploding."
Zwibel said, in a period when institutional racism is under the microscope, governments must also do more to address big-picture issues that create these standoffs.
"These protests are coming out of a frustration, an understandable frustration, on the part of Indigenous communities that our governments have not grappled with and laid to rest many of the land claims issues that spark these things in the first place," she said.
"This whole system that we've set up is clearly not working to deal with the underlying issues that are sparking these protests, and that's where the work really needs to be done."