Cindy Gladue became the face of violence against Indigenous women inside and outside of court
Cindy Gladue's death can only be described as horrific.
The Alberta mother of three, bleeding from a deep wound to her vagina, was left in a motel bath tub to die.
But what happened after inside a courtroom further angered a country.
Her alleged killer was Bradley Barton, a truck driver from Ontario who claimed he paid for sexual services and Gladue accidentally died in June 2011.
During the Barton's murder trial, Gladue, 36, was referred to a "native" and "prostitute" over and over.
The Crown also showed her preserved vagina as an exhibit to the jury which was "disgusting and frustrating" said Christa Big Canoe on Nation to Nation Thursday.
The jury would clear Barton of all charges.
Big Canoe is a lawyer with the National Inquiry into Missing and Murdered Indigenous Women and Girls that was an intervener at the Supreme Court Thursday where arguments were heard over the Barton case.
"It just seems like there was an indifference by the trial court and that indifference actually ended up demonstrating systemic racism from our position," said Big Canoe.
The Supreme Court can not only decide whether a new trial will occur, which an appellate court ruled should happen, but possibly define the law around consent in cases of sexual assault.
"This is what makes this case so big and important because it has the possibility to change the laws of consent as it relates to sexual assault in this country," said Big Canoe.
That means does the likelihood of harm cancel out sexual consent.
But, as an intervener, the national inquiry couldn't speak to merits or outcomes of the Barton trial but specific legal components.
And Big Canoe said that was how marginalized women, particularly Indigenous women, are treated in court – in legal terms they spoke to what's known as judicial notice.
Meaning the courts should accept it as fact that Indigenous women are a greater risk of being victims of crime.
"Our argument was at the trial level the judge should have taken judicial notice that Indigenous women are overrepresented as victims, and Cindy Gladue was the exact kind of victim that the court should have been more careful with," said Big Canoe.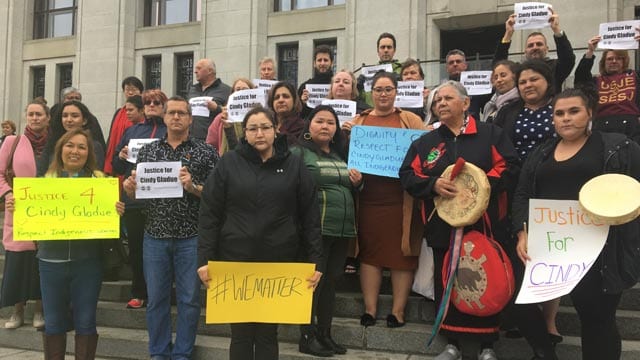 Before the top court heard arguments on the Barton appeal it released a controversial ruling in another case.
It ruled the federal government does not have a duty to consult Indigenous peoples when making laws that could impact treaty rights.
In a 7-2 ruling, the court maintains that while the duty to consult applies to the federal government's executive branch, the legislative branch of government is not constitutionally bound to consult Indigenous peoples during the law-making process.
It is only after laws are made that the government has a duty to consult Indigenous peoples on matters that could negatively impact their treaty rights.
The case was brought to the Supreme Court by Mikisew Cree First Nation in Alberta, which in 2013 challenged the Harper government's 2012 omnibus legislation that, former Mikisew chief Steve Courtoreille argued, could impact their treaty rights to hunt, trap and fish in Treaty 8 territory.
"It really surprised me when the appeal came based on no need to consult while developing that legislation, which is a bunch of crock," said Courtoreille.
"I feel personally with what the Supreme Court judges is that they don't have the balls to make the right decision in favour of the nation. Regardless of my expression, pardon my French, but it's exactly how I feel today."