'Something to carry the rest of my life': Chipewyan family revives culture with moose hide project
Mother says she never got the chance to work on a hide when she was young.
---
For weeks, Edith Giroux-Mack has been in the back yard of her son's home, shaving, soaking and stretching a moose hide to prepare it for tanning.
She hasn't worked on a hide since she was five years old, but when her son, Lucas Giroux, took down his first moose, he saved the hide to work on as a family project.
"I left home when I was 15 so I never got a chance to work with my mom on hides," said Giroux-Mack while sitting around a smoky fire, ready to tan the hide.
"This is a project I decided to take on for the sake of my son and my new grandchild."
Lucas and his girlfriend are expecting their first child in June, so Edith traveled to Calgary from Fort Resolution, Northwest Territories to re-learn the Chipewyan skill and pass it down to her future granddaughter.
"I just want to try to revive our culture," Edith said. "I'm taking advice from my aunties. They're just giving me instructions through the telephone. It's a lot of hard work."
Lucas has always known his mother to be hard working.
"She's just proven that she's still got it and able to do these things that she's carried on from her childhood. And of course, me observing what I can during the process in terms of helping her set it up, scraping it, cut some of the hair off, working into getting it positioned on the tanning rack," Lucas said.
"It's been a good experience for sure."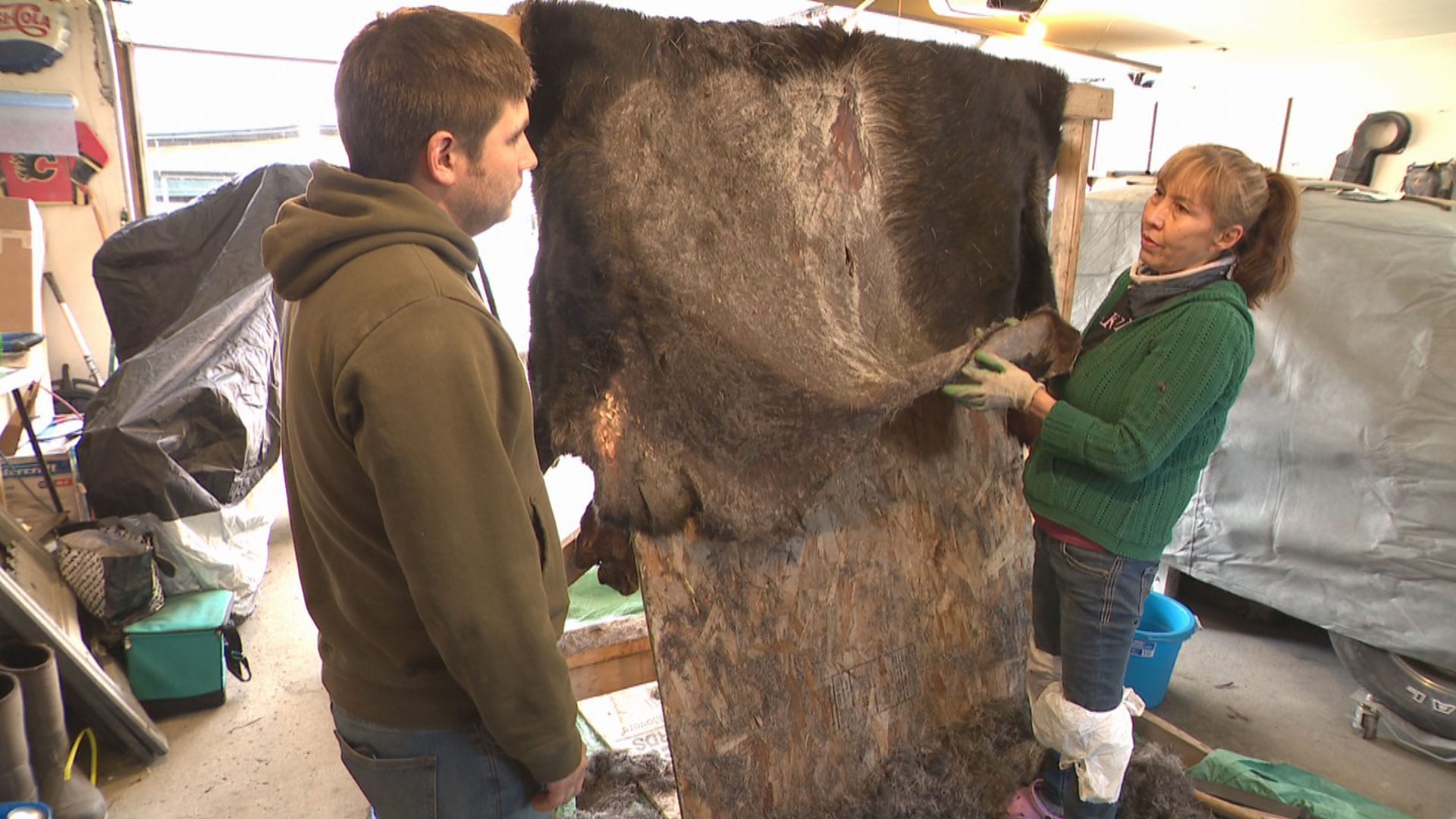 ---
It's also an Experience that Edith's nieces, nephews and grandchildren also took part in for the first time.
They helped scrape and stretch the hide.
Edith said the hide will be finished after another week of soaking and tanning.
The moose hair has been saved for a tufting project and the hide will provide clothing for the family, including the soon-to-be new addition.
"I did a lot of the other work. I took down the moose, I gutted the moose, I skinned the moose, I butchered the moose," said Lucas, "getting my mom to come in and do the tanning, the hide part was something that was keeping it traditional. She wanted to do something nice for me. Something to carry for the rest of my life."