Charges laid after fireworks fired at Justice For Our Stolen Children camp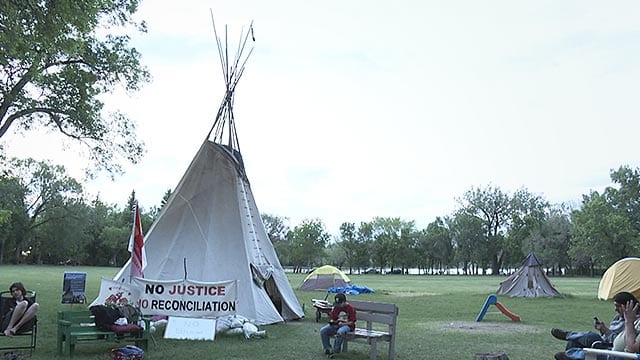 Regina Police have charged a man after fireworks were shot at the "Justice For Our Stolen Children" camp over the weekend.
The incident happened around 2 a.m. Sunday morning.
Police were called to Wascana Park in Regina after reports that a man got out car and "discharged" the roman candle, which shot multiple flammable projectiles toward the protest camp" before driving off.
Brent Holland, 25, of Yorkton, Saskatchewan has been charged with assault with a weapon, mischief, uttering threats and arson with disregard for human life.
Police say no one was hurt.
A spokesperson for the camp says the incident was alarming but the "injustices of Indigenous people and toward our children as a result of our government structures is far more worrisome."
The "Justice for our Stolen Children" camp was set up to draw attention to systemic injustice and racism in Canada.