Canada-wide warrant issued for suspect in Winnipeg mother's death
She was a daughter, a sister and a mother, and now Julie Racette's husband is suspected of killing her over the Easter long weekend.
A Canada-wide warrant is in effect for Wayne Melnychuk of Winnipeg on a charge of manslaughter.
"There are two investigations going on," explained Racette's oldest sister Chasity Almas.
"One is a homicide and one is a missing person."
Winnipeg homicide police confirm Melnychuk, 42, is the missing person wanted in connection to Racette's death.
"On April 11, 2020, the Winnipeg Police Service began investigating the death of a woman who had been transported to hospital from a residence in the 500 block of Ottawa Avenue earlier in the day," police said in a news release. "The deceased was identified as Julie Racette, a 34-year-old female.
"Over the course of the following week, the investigation, which included a post-mortem examination, determined that she had been the victim of a homicide."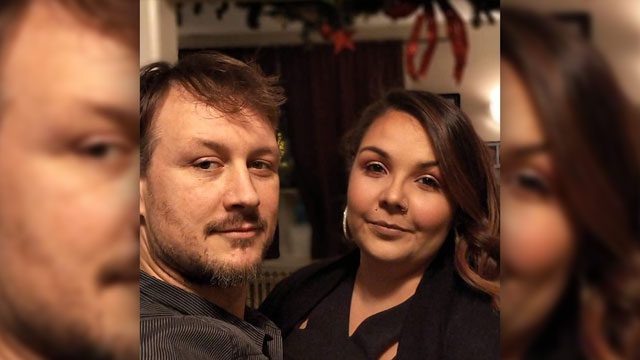 (Wayne Melnychuk is suspected of killing his wife Julie Racette Melnychuk in Winnipeg. Facebook)
Almas said Melnychuk is the father of the couple's three sons, aged 2, 11 and 14, who are now staying with family.
She said he disappeared about 12:30 p.m. Sun., April 12, after telling her he was going "to get gas" with one of the family's two vehicles.
"I reported him missing," she said in a telephone interview Tuesday.
Almas said another family member spotted Melnychuk's vehicle at another location, took a photo and contacted police.
"I was allowed to (go into their home and) get stuff for boys and he was still missing," she said.
Melnychuk is described as Caucasian in appearance, 5'7" tall with a medium build, brown hair and brown eyes.

(Julie Racette Melnychuk and Wayne Melnychuk were together for 14 years and lived in Winnipeg. Facebook)
Almas said Racette was a member of Manitoba's Ebb and Flow First Nation, about 180 km northwest of Winnipeg, but grew up in the provincial capital, where she was a beloved friend, popular co-worker, and the youngest of three daughters.
"She was the baby of the family. She was funny, beautiful, vibrant. She's the prettiest one of all of us…I don't know many people that don't like her. Actually, I don't know anybody."
Almas agreed the family has been riding an emotional roller coaster since hearing Racette died of a medical issue and then learning she'd been killed allegedly by her partner of 14 years. The couple was married in 2017.
"She was an excellent person, an excellent mother and a joy to be around. She is extremely missed."
On April 3, Racette showed on Facebook how she was worrying about others during the COVID-19 pandemic.
"SERIOUSLY……If ANYONE is not working/not getting a paycheck and runs out of food, or times are just tough…please don't go to sleep with an empty stomach. Don't be afraid or embarrassed to send me a private message. I will be more than happy to share whatever food i have. I will drop and go and pretend it never happened!
"I was taught growing up that where one person eats; two can eat, too. And IM SERIOUS , leave the pride at the door . Inbox me," she wrote.

(Julie Racette Melnychuk and Wayne Melnychuk were married in 2017 and had three sons. Facebook)
Almas noted her nephews are doing as well as could be expected as a time like this. And, she said, an uncle has started a GoFundMe campaign to help defray funeral costs and create a savings account for the boys.
Because of strict social gathering rules during the pandemic, Almas said a celebration of Racette's life has been postponed.
"I called all the funeral homes in Winnipeg and only five people are allowed to attend because of COVID-19. I know so many people want to say good-bye and pay their respects," said Almas.
"It's not fair to her. She deserves more than five people."
The family suspects the couple was arguing more than usual because of being cooped up during the pandemic.
"Being locked down and with the kids. I guess that escalated. There was arguing. It was normal. They were getting on each other's nerves," Almas said.
READ MORE: There are emergency family shelters in 10 Manitoba communities and federal shelters on five First Nations. Call toll-free 1-877-977-0007.
Deena Brock, the provincial co-ordinator for the Manitoba Association of Women's Shelters, said it's not an isolated problem.
She said women are at risk of domestic violence across the country and around the world.
"This pandemic is a tipping point," she said in a telephone interview.
"Anytime you're putting a potentially abusive person together with others and confining them to a house or apartment…then adding children to the mix, you're igniting a wick we're worried it's going to blow."
Statistics show most victims of violent crime in Canada are women and they're mostly killed by men. About half are killed by their spouse or intimate partner every 2.5 days.
"It's happened already in Manitoba," Brock said of Racette's alleged murder.
"It's going to be a bigger issue than anyone is anticipating."
Police caution members of the public not to approach Melnychuk and call 911 if they see him. They say information can be shared with the Homicide Unit at 204-986-6508 or Crime Stoppers at 204-786-TIPS (8477).