Bush style Yoga winning over seniors in Behchokǫ̀, NWT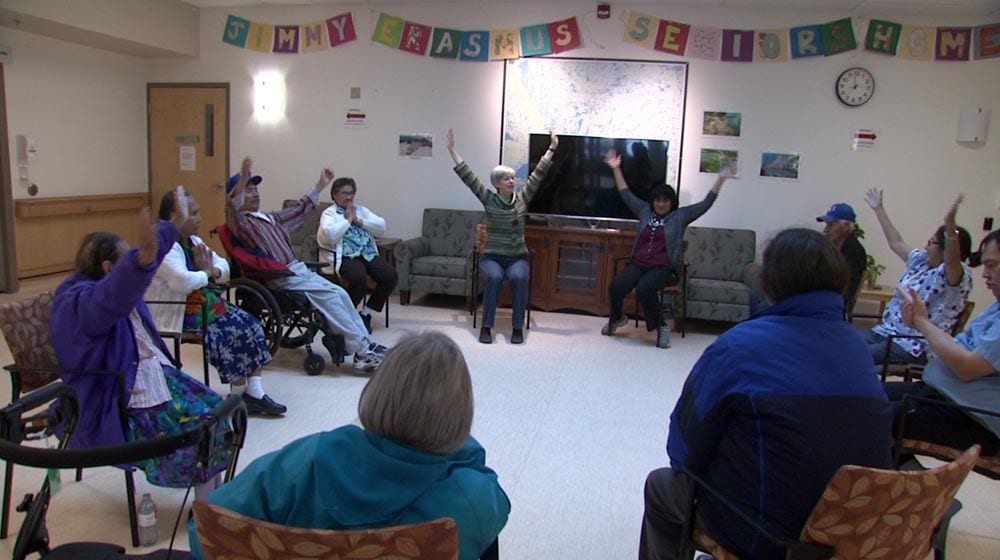 It starts off in a similar fashion to any other stretching class, a quick roll of the shoulders and stretch of the legs – then it takes a turn, and the class begins the motion of paddling.
This isn't your typical workout routine – this is Tlicho yoga.
Caroline Douglas laughed as she paddled. The 81-year-old isn't slowing down anytime soon."
"I had the surgery replacement of my knee, that's why I started coming in," she said.
Residents and visitors of Jimmy Erasmus Senior Home in Behchokǫ̀, Northwest Territories meet for yoga a few times a week.
The Tlicho community sits at the northern tip of Great Slave Lake 110 km north of Yellowknife.
The class focuses on what's familiar to the clients by fusing traditional motions like pulling nets, chopping wood and shooting ducks – with modern stretching.
Beatrice Naedzo, the activity coordinator for the senior's home, gives all instructions in her Dogrib language.
She says seniors were reluctant to take part in modern, non-traditional exercise.
"When the elders would do their exercise they would complain and complain about exercise. I was wondering while sitting in a circle asking 'what do you guys want to do?,'" she said.
Naedzo asked where participants are paddling to, they joyously respond "Whati," "Marian Lake," and "Frank Channel."
It is in the detail, connecting instruction with familiarity that brings the clients down memory lane.
"Instead of using weights and elastic bands… I always say stretch the hide, that was their daily exercise," Naedzo said.
It didn't take long for the tables to turn. Naedzo is now instructed by the participants.
"I say 'we should do it this way,' and they say 'no we never did it this way we did it this way.'
Most of the seniors have to sit down for the exercise, but that doesn't mean they aren't working hard.
"I like it, you know good exercise, instead of getting up and complaining about the pain," Douglas said.
During the meet ups everyone shares stories of camp life.
At one point a nurse recognized a story she overheard. She left the room and returned promptly with an old photo of a participant. She was no doubt, moved by the memory.
Soon after Douglas delivers a love song for everyone.
She said that she use to sing while paddling to see her husband long ago.
"That's the life we had, we did all of that. We lived in the bush and this time of the year we go in the bush and don't come back until Christmas with a dog team.," Douglas said.
The program may not be what typically comes to mind for yoga, but for each participant here, it works.