Buffy Sainte-Marie hopes new honour helps boost Indigenous music
Commemorative postage stamp latest honour for North America's best-known Indigenous musical artist.
---
Internationally acclaimed Cree artist Buffy Sainte-Marie has a number of honours to her name.
They include an Oscar, a number of Juno awards and the Order of Canada.
She can now add a postage stamp to that list.
On Thursday evening at Ottawa's National Arts Centre, Canada Post unveiled a commemorative stamp of the singer-songwriter.
Sainte-Marie's career has spanned more than half a century and at 80-years-of-age she is showing no signs of slowing down.
She says she hopes her latest recognition will open more doors for other Indigenous artists.
"The white music industry is huge," Sainte-Marie says. "There are hundreds of thousands of people making sure that you know about that music. The black music industry, it's huge, you know. A lot of people. And we don't have one. So, hopefully, this is a very significant additional step."
Her impact within the North American Indigenous community and beyond is substantial.
For anyone who has even casually followed popular music over the past 60 years, they know who Buffy Sainte-Marie is.
"You've been a hero of mine since I was a high school teenager trying to figure out what to do about music in my life and knowing I didn't like the music that was being played," former Truth and Reconciliation Commission chair Murray Sinclair says. "But then I found your music and your music has been part of my life ever since the early '60s."
Congratulations to Buffy Sainte-Marie who was honored with a new Canada Post stamp! pic.twitter.com/xA7aJaKfWl

— Buffy Sainte-Marie (@BuffySteMarie) November 19, 2021
---
Sainte-Marie has never been afraid to tackle controversial issues in her music.
She spoke out against the Vietnam War in the 1960s with songs such as Universal Soldier.
Throughout her career, she has championed Indigenous rights.
Former Assembly of First Nations national chief Perry Bellegarde is from Little Black Bear First Nation in Saskatchewan – about an hour and a half's drive from where Sainte-Marie was born on the Piapot Cree Nation.
"One does not have to be elected to be a leader," he says. "And Buffy Sainte-Marie is not elected but she's a strong leader, a visionary. And she's had such a huge impact. Global impact standing up for our rights – social rights, fundamental human rights, our treaty rights. And it makes chiefs and leaders work a lot easier because of your work."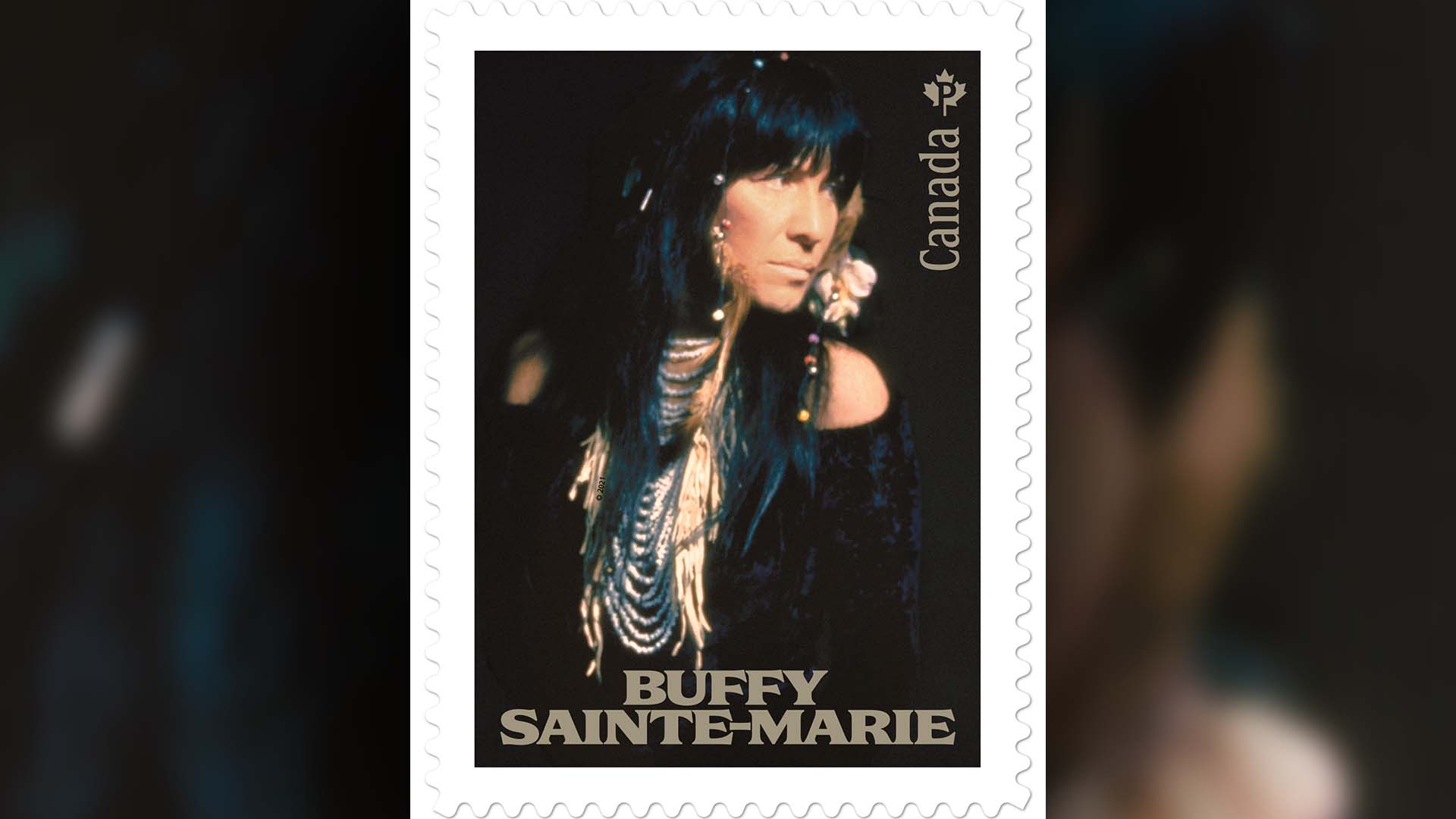 ---
Sainte-Marie was adopted by American parents shortly after she was born.
She has spent most of her life living and working south of the border.
Nevertheless, she says Canada will always hold a special place in her heart.
"Canada has been very good to me. I'm talking not just government things, not just government honours, not just show business honours, but people in Canada are nice to me and I get to be nice back," she says.
"So, I work a lot with universities and schools. There's a lot to be proud of here and I'm glad to have the support of Canada Post."
The picture used on the commemorative stamp is from Sainte-Marie's single The Big Ones Get Away.
The song is on the 1992 album Coincidence and Likely Stories.