She brings the thunder
How a Mohawk father became a 'fugitive' to be with dying daughter
(Ieweras Gray)
 Jorge Barrera
APTN National News
On the drive back from a small city in Georgia, Ieweras Gray said her father should not surrender to U.S. authorities.
Ieweras' father, James Gray, was one of five names on a federal indictment on charges of operating an illegal casino in Akwesasne, a Mohawk community which straddles the Canada-U.S. frontier and the borders of Ontario, Quebec and New York State.
Gray, whose Mohawk name is Sakoietah, found out about the indictment on Dec. 18, 2012, while Ieweras underwent alternative treatments for leukemia at the Centre for Holistic Health in Decatur, Ga.
She had been fighting cancer since she was six years-old. Ieweras was now 14. The family turned to the centre for hope because chemotherapy burned out Ieweras' bone marrow.
That December morning Sakoietah received a phone call from his son Kahetiio who said U.S. federal authorities were raiding theThree Feathers Casino on US Hwy 37. The raid began at 5:15 a.m.
The Kanienkehaka Longhouse, where Sakoietah sat on the Men's Council as a Turtle Clan representative, operated the casino, but it was undergoing renovations at the time of the raid. The Men's Council said it wanted to generate revenue so it could fund social services outside the federally-recognized tribal system.
Now, U.S. Homeland Security and Immigration and Customs agents, along with New York State and St. Regis Mohawk police officers, were raiding the casino in culmination of a months-long probe. The agents walked out with 58 boxes of documents, 6 laptop computers and the casino's closed circuit surveillance system.
Men's Council member Rarahkwisere, known as Thomas Square to U.S. authorities, was arrested after showing up at the casino to find out what was going on. Police were also searching for the other men named in the indictment.
As the morning progressed, two other Men's Council members whose name appeared on the indictment, Karenahtiio, known as Roger Jock to U.S. authorities, and Anthony Laughing arrived at the Longhouse, which sits across Hwy 37 from the St. Regis Mohawk police station.
There was a stand-off.
"I stood in front of the door and I told the chief of police he wasn't taking anyone from here," said Kahetiio, 28. "We had a stand-off…people started showing up and a couple of other guys started standing with us, right out in the parking lot of the Longhouse."
Kahetiio said he could hear police over the radio saying, "We're surrounded."
The situation eventually deescalated after Laughing's lawyer spoke with police. Karenahtiio and Laughing agreed to travel to Plattsburgh, NY, and turn themselves in.
Sakoietah was piecing together events over the phone from Decatur. He was eventually informed by a lawyer his name was also on the indictment.
Sakoietah faced a dilemma.
"During that time I did a lot of thinking down there because of my daughter and her sickness," he said, in an interview with APTN National News. "What happens if I don't turn myself in, they catch me on the road and I am in jail for a long time and I would not be able to get out for her (Ieweras)?"
Sakoietah decided his best option was to also turn himself in after he returned from Georgia. He contacted a lawyer and spoke with one of the doctors treating Ieweras who wrote him a support letter in case he was arrested. The letter said he needed to be near his daughter.
But the threat of imminent arrest weighed on him.
"Every morning I was up at 5 a.m., because I knew they came in at five or six O'Clock in the morning. I was up at five waiting to hear that door, waiting for that door," he said. "It didn't happen."
On the highway back to Akwesasne, Sakoietah continued to discuss the issue with his wife Darlene Gray and Ieweras.
"(Ieweras) said to me, 'Why are you going to turn yourself in? All your life, and what you taught me and what you taught the boys…you believed …you were a separate nation of people and not American or Canadian…so why turn yourself in to that system?'" Sakoietah remembered her saying. "I said, 'Well, I am not going to turn myself in.'"
And, according to US court documents, Sakoietah became a "fugitive."
She Brings the Thunder
Thunder and lightning greeted Ieweras' birth on March 26, 1998, at 3:45 p.m.
"They wrapped her up in clean linens, they gave her back to me and I sat back in a rocking chair, and it was still thunder and lightning and it shook the hospital. It was a long time I sat there holding her, rocking her," said Sakoietah.
After the nurse came to take the baby back to her mother, Sakoietah went to the payphone at the hospital in Cornwall, Ont. They needed a name for the new baby girl who weighed 6lbs and 8oz. He fished out $2-worth of change from his pocket because he needed to phone a friend across the St. Lawrence River on the U.S. side of Akwesasne. The friend had developed a reputation for naming children in the community.
"In our ways, the time you are born that is when a name is selected and given," said Sakoietah. "He asked me, 'What do you think is going on?' And I told him there was a big thunder and lightning storm that hit Cornwall and the first thing he said was', Ieweras.'"
Roughly translated into English from Mohawk, the name means, "She helps bring the thunder and lightning."
The phone call, which lasted for about 10 minutes, cost him about $5 in change.
Ieweras was their fifth child and first girl. She was born 11 years after the fourth boy. Her mother Darlene saw her in a vision years before. She said she was looking out the window one day and saw the little girl.
"I don't really know about miracles, or believe in miracles, but it was something special that she came," said Sakoietah.
Her name, however, proved controversial. During Strawberry ceremony time at the Longhouse, Ieweras was brought in for her raising of the name ceremony. One of the clan mothers objected to the name, saying it wasn't meant for a girl, that it was a warrior's name meant for a boy. Sakoietah said he left the Longhouse upset and wouldn't come back.
The family went through with the raising of the name ceremony at the Longhouse in Ganienkeh, which is about 86 kilometres east from Akwesasne in New York State.
Ganienkeh was established in 1977 in a land swap following a three-year armed occupation of an abandoned camp at Moss Lake, NY. Several Mohawk families from Tyendinaga, Kahnawake and Akwesasne were seeking to establish a more traditional lifestyle and took over the Moss Lake camp on grounds the land had been illegally taken by the state. New York State offered Genienkeh's current lands in a swap to end the occupation.
Sakoietah said the family knew from early on there was something different about Ieweras. She seemed to possess knowledge beyond her years.
"She was always picking medicines, different medicines, and showing us and trying to tell us that this was a certain medicine," he said. "She knew those medicines before anyone talked to her about them. She would go pick them."
Pain and suffering also met Ieweras early.
Ieweras was five years-old when she began to complain about pains in her limbs. She would complain about feeling pain with every bump the school bus hit. Bruises would suddenly appear on her body for seemingly no reason. Sometimes, Ieweras would lie with her belly on the sofa's armrest and shake her limbs.
"It was like she was trying to relieve her own pain," said Darlene. "I knew there was something wrong with her, that she had to do that to finally fall asleep to ease the pain."
They took her to a doctor in Cornwall who said there was nothing wrong with her, that it was just growing pains. The family demanded to see a specialist who also said there was nothing wrong. But Ieweras' pain persisted and her mother took her to a clinic on the U.S. side of Akwesasne. A specialist there saw her and knew instantly there was something seriously wrong, said Darlene.
Back across the Canada-U.S. border they went again to the hospital in Cornwall. The doctor finally agreed to do blood tests, which were followed by X-rays and a new reality began to dawn.
Ieweras was now six.
Sakoietah still remembers the words of the doctor after the tests.
"He said, 'You need to get her to Ottawa as soon as you can. I have everything set up there in Ottawa for your daughter, (the doctor) is expecting you to come there," said Sakoietah. "He said, 'You have a sick girl here and you have to get her to Ottawa right away.' We took off right from there and went to Ottawa, to CHEO."
Sakoietah drove while Darlene held Ieweras in the back of the minivan.
Ieweras had named the minivan 'Ceravan' after the girl triceratops in the cartoon movie, Land Before Time.
When they arrived at the Children's Hospital for Eastern Ontario (CHEO) they were told it was leukemia.
"It was like somebody reached in and pulled out your whole insides," said Sakoietah.
Life had a new baseline of pain.
The first round of chemotherapy lasted about two years before the cancer went into remission. But it came back a year later, and then it came back again.
"To me, the doctors, they all like to use these kids as guinea pigs," said Sakoietah. "They like to boost the level of chemo for study. They are using them as laboratory specimens."
Sakoietah and Darlene remember these moments in snap shots, scenes strung together by nights of shallow sleep, changing shifts; Sakoietah at night, relieved by Darlene in the morning and he'd be off back to Akwesasne for work.
There were those moments when the blue lights came on in the room where they executed the procedures and the doctors and nurses would rush in and rush the parents out.
And there was their daughter, most of her life now lived on the edge of her own existence. Her body invaded by death held at bay by poison administered as medicine.
"She always used to say it was hell on earth," said Darlene.
Sometimes Ieweras would get angry at her parents for keeping her alive.
"She kept saying, 'Just let me go, you're so selfish,'" said Darlene.
Then Ieweras would brace for another round of treatment.
Under Turtle Clan Protection
During the trip from Decatur to Akwesasne, somewhere near Buffalo, NY, Darlene dreamed Sakoietah was arrested near Ogdensburg, NY, which sits across the St. Lawrence River from Prescott, Ont.
"When she has these things, like my daughter, there is usually something to it," said Sakoietah.
He decided to stay with a friend in the area and planned to cross from there into Six Nations, an Iroquois community near Hamilton, Ont., and the most populous reserve in Canada.
After three days he decided to go back to Akwesasne. It was getting close to Christmas and a friend drove him there. His friend, however, was stopped in Ogdensburg by U.S. Border Patrol on the drive back.
It was sometime between Christmas and New Year's Day 2013, after a snow storm, that Sakoietah passed through Canadian customs and headed to Tyendinaga for a prearranged meeting with a contact who would take him to Six Nations.
There he met with representatives of the Turtle Clan who agreed to give him protection. They also found him work.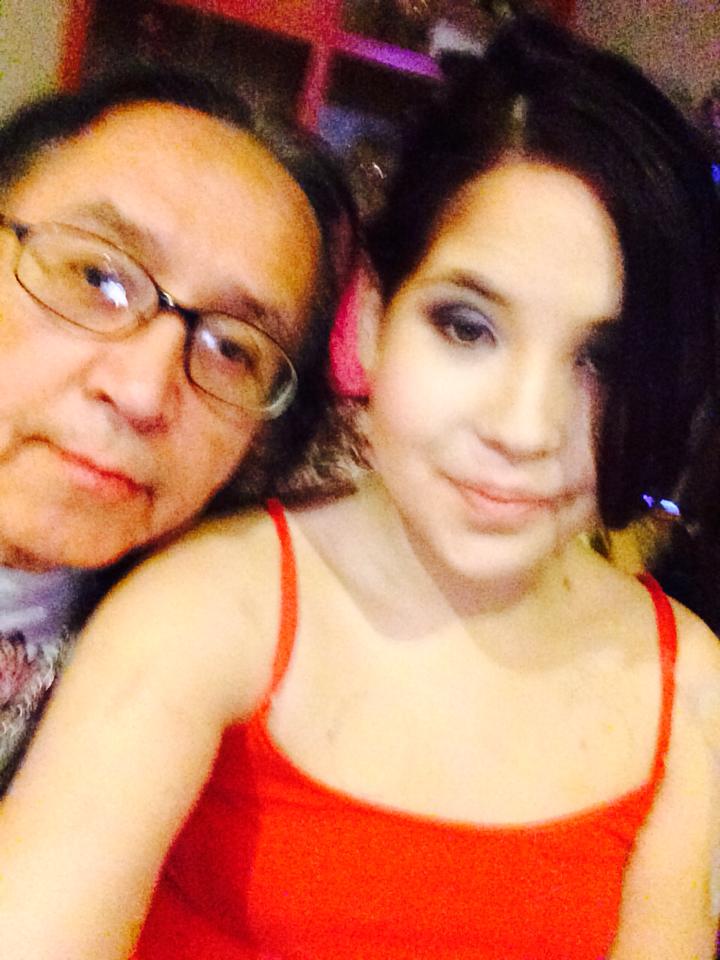 Ieweras turned 15 that March and continued with the alternative therapy, with its focus on an organic food-only diet. The cost of organic food proved prohibitive and she missed pizza with her friends.
Ieweras and her mother would often travel to Six Nations to see Sakoietah who was sending most of the money he made working back to his family. He would also meet up with his daughter during her routine check-ups with doctors in Ottawa.
The Three Feathers Casino case continued its course through the U.S. federal court in fits and starts. One of the men indicted, Rarahkwisere, remained incarcerated because he refused to submit to the court's authority. He was moved around from jail to jail. A lawyer for the Longhouse, Scott Michael Moore, was also booted from the case after it emerged he provided a legal opinion to the Longhouse on operating the Class 2 casino legally, putting him in a conflict because he was now a potential witness.
Word also filtered out U.S. authorities discovered Sakoietah was in Six Nations.
Sakoietah suspected Canadian authorities knew he was wanted across the border.
His suspicions seemed grounded after a run-in between his wife and Surete du Quebec police following a week-long get-together in Montreal.
He met up with his family at a truck stop across from the Hwy 401 exits near Cornwall. They drove to Montreal and after a week parted ways in Kahnawake, a Mohawk community just south of Montreal.
A friend who was there selling crafts picked up Sakoietah for the return trip to Six Nations.
On the way back to Akwesasne, as she passed Salaberry-de-Valleyfield, Que., two SQ cruisers stopped Darlene who was driving with Ieweras.
Things, however, seemed brighter for Ieweras. It appeared the alternative therapy was working.
She posted a YouTube video in August 2013 featuring her cousin dancing with a wig Ieweras wore after her hair fell out during previous chemo treatments. The wig tumbled off and the girl ran from the camera as Ieweras laughed and laughed.
'When I Get Older'
On Oct. 12, 2013, Ieweras uploads a video to YouTube. The frame is tight on her face, she is lying on her side, a shroud of darkness around her.
"Well, I found out I have cancer again for the third time," she says. "The reason I am coping with this so easy is because I have been through it already and I know how it feels to go through it."
On Oct. 27 she posts a second video. She is in Ronald MacDonald House in Ottawa. She is sitting up and looking straight into the camera. She talks about the Drake concert she attended and the upcoming Halloween dance at her school.
"I have a couple of rounds of chemo shots now, my hair hasn't fallen out yet," she says. "I really can't eat, I keep puking every time. I eat it, it comes back up. I think I am going to stop eating, I am not sure…sorry for the bad lighting. Bye."
On Nov. 26, Ieweras posts a third video. She's undergoing almost daily blood transfusions at this point. In this video, she is off camera, only a wisp of her hair and part of her shoulder are visible, the wavering of voice that betrays the emotions, how hard she tries to be strong. She explains how she was inspired to film and post the videos by Talia Castellano who drew millions of viewers by posting her own struggle with cancer. Ieweras says she was heartbroken when she heard Castellano died. She says she wants to raise awareness about organizations that help families affected by cancer.
There is also another reason.
"In case I do pass away so that my family and friends can come back to these videos and watch them," she said.
She still dreams of getting older.
"I have a lot of goals, I guess. My goal is either to be a model when I get older, either a singer or an actress or maybe just a make-up artist," she says. "I don't know which one I am going to pick because I am still young, I still have all the time to do that, I guess. If nothing happens."
On Jan. 9, 2014, she posts a fourth video. She spent Christmas at Ronald MacDonald House and she talks about some of the presents she received. She also says she may undergo a bone marrow transplant, but it depends on whether cancer returns there. She says she's gone through her fourth round of chemo shots.
"I just have to wait for … probably a month, and they do the test to see if I have some in me still," she says. "I haven't seen any of my friends in school for a while or any of my friends back home. I really miss them, but I guess I have to live like this for now."
On March 6, 2014, she posts a fifth video.
"I still have cancer. The hospital couldn't do anything for me. They did the last round of shots for chemo, the new ones they put me on, and it didn't knock down any of my cancer at all. I am not going for transplant. I am going all holistic, try to go all holistic," she says.
11:24 a.m.
On the morning of June 4, 2014, Ieweras, 16, asked her father to hold her. He tried to hold her in his lap, but the pain was too much and Ieweras called for a nurse. She was in a room at Roger's House, a hospice located on the CHEO grounds. The nurse came in an administered a dose of morphine.
Ieweras then told her father that the charges against him would be dropped, that he would soon go home again, but only with memories of her, Darlene said, remembering that day. Her father couldn't stay in the room because he had to change the bandages on an injury to his foot.
While he was away, Ieweras told her mother she wanted to go the hospital. She arrived there at about 10:30 a.m. The nurse "took one look at her and said, 'Take her to room 12,'" said Darlene.
In room 12, Ieweras sat on the edge of the bed, she was in pain and asked her mother to hold her tight, "like I used to when she was a little baby," said Darlene.
But the pain was too much. Ieweras laid down on the bed, the nurse disconnected the blood platelet bag and switched to morphine which was attached to the tube connected to the insertion in her arm. Ieweras started to gasp for breath and her mother tried to put a breathing mask over her face.
"She grabbed my hand and gave me a look like she was saying, 'Just let me go.' She pushed my hand away," said Darlene. "I glanced out the window and there in the sky was a big heart that opened up and I said to myself, 'Wherever she is going, she will be so loved.' Then the big heart drifted away and a small heart opened in the clouds. I turned to the nurse and said, 'She is gone.'"
It was 11:24 a.m. The nurse cried.
"I had to tell her to please leave the room because my daughter had told me…she didn't want them to cry in her room because where she was going is so beautiful and she will never feel all that pain again," said Darlene.
Across the River
On December 12, 2013, a jury in Albany, NY, returned a not guilty verdict in the Three Feathers Casino case. They found there was no law against the operation of the casino, but the indictment remained against Sakoietah, who was still considered a fugitive.
One of Ieweras' last wishes was to be taken on a last boat ride across the waters of the St. Lawrence River with her father.
She was cremated, as was her request, in Ottawa and on June 6, 2014, her father took her across the river one last time. He carried her ashes in a wooden urn decorated with her name.
Word surfaced no U.S. law enforcement agency would interfere with Sakoietah as he travelled with his daughter's ashes for the funeral ceremony at the Longhouse, which is on the U.S. side of Akwesasne.
One June 17 U.S. federal Judge Thomas McAvoy withdrew the indictment against Sakoietah. Now he could fulfill his daughter's final wish without the looming threat of an arrest.
GDE Error: Error retrieving file - if necessary turn off error checking (404:Not Found)
Big Sur
In 1961, Hunter S. Thompson wrote about Big Sur in California.
"The highway alone is enough to give a man pause. It climbs and twists along the cliffs like a huge asphalt roller coaster; in some spots you can look eight-hundred feet straight down to the booming surf. The coast from Carmel to San Simeon, with the green slopes of the Santa Lucia Mountains plunging down to the sea, is nothing short of awesome," wrote Thompson, for the October edition of Rogue magazine. "This place is a myth-maker's paradise, so vast and so varied and so beautiful that the imagination of the visitor is tempted to run wild at the site of it…The geographical boundaries of Big Sur are so vague that Lillian Bos Ross, one of the first writers to live here, once described it as 'not a place at all, but a state of mind.' The Big Sur country is roughly eighty miles long and twenty wide…located a hundred and fifty miles south of San Francisco on California Highway One."
It is here, in Big Sur, where Ieweras wanted her ashes spread. So, her family drove 4,800 kilometres to the Pacific Coast, to a point overlooking the booming surf.
Sakoietah released her ashes into the wind.
The Woman's Warrior Flag
The flag was flown during protests against the construction of a 30 metre telescope on the sacred Mauna Kea Mountain in Hawaii. It flew during a murdered and missing Indigenous women march in Fargo, ND, and in Los Angeles. The flag has also appeared in photographs from Alaska, New Mexico, Connecticut and Secwepemc territory in British Columbia.
Known as the Woman's Warrior Flag, it uses the profile of a woman, with earrings of lightning, in place of the male warrior head in the now famous Warrior flag, which was originally designed by Mohawk artist Louis Karoniaktaje Hall.
"The Woman's Warrior Flag was developed to honour Ieweras Gray and to bring strength to all women of the world for their voices to be heard once again. For the women are the protectors of the lands, they will stand strong and proud," Sakoietah.
The flag is also the symbol for the Ieweras Gray Foundation which was created to help out families gripped by crisis. It was something Ieweras cared about, raising funds for those whose lives have been turned upside down by unexpected tragedy.
Sakoietah said the Ieweras Gray Foundation is still in its infancy, but he is hoping it will grow large enough to have an impact on people's lives.
"It is not big, not right now, but I perceive it is going to be big and we are going to help as many people as we can," he said.
A music festival for the benefit of the foundation is scheduled for Aug. 22 in Akwesasne and the list of musical acts is continually growing.
Ieweras
On March 17, 2014, Ieweras posted her last YouTube video.
@JorgeBarrera