Brandon couple awaits court ruling in battle with Michif CFS over apprehension of newborn son
'I have no idea how I feel,' couple waits decision on whether they get their son back from Michif CFS.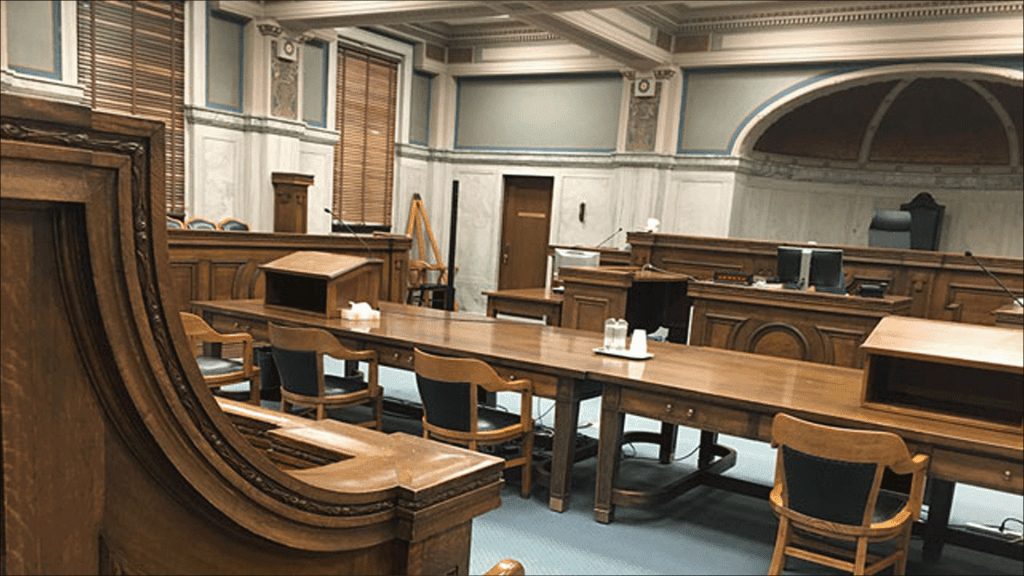 As a judge in a child protection hearing considers his judgement, a Brandon, Man. couple awaits his reasons with mixed emotions after a week-long trial in which they presented themselves against Michif CFS.
"It's good because we ran circles around the Michif CFS lawyers and there was testimony under oath proving what we'd been saying all along," said the mother. Namely that the baby was taken because it's easy for authorities to do with no recourse.
No one involved as a witness or a party in the matter can be identified, under the Child and Family Services Act.
The hearing pitted the parents, who are asking for their infant back, against a Manitoba child welfare agency that questions their fitness to parent.
"I have no idea how I feel," said the frustrated dad. "It doesn't feel like a win I still can't believe this all happened."
APTN InFocus broke the story about the couple in Brandon who had had their child taken from birth. Host Melissa Ridgen was invited to the couple's home in September 2019.
They had toys, clothes and diapers ready for the baby and struggled every month without him as he outgrew those items while in care, but they kept buying new ones. The mom kept dozens of bags of pumped breastmilk in the freezer for him, hoping he'd be returned. That still hasn't happened.
The child welfare agency took their newborn son in April 2019 when he was just days old and they've kept  him ever since. He turned one in care and his parents haven't seen him since August 2019 when the relationship with CFS soured over the requirement that the visits be supervised.
Michif CFS said the baby was taken shortly after birth because the mother is on the child abuse registry after pleading guilty six years ago, to failing to protect her infant daughter while in a relationship with a man who was convicted of abusing her.
Michif CFS argued that, the lasting effects of that abuse — anxiety, depression and PTSD — were grounds to apprehend the baby. A counsellor testified the mother was recovering nicely from the abuse but hit a rough patch when CFS took her children away. She's since made great strides growing mentally and emotionally despite all this, court heard.
As for keeping the infant, they said the parents being rude to caseworkers and the dad's marijuana use were grounds for concern.
As well Michif CFS argued the father had been investigated 16 years previous when he and a former partner had care of an infant who had sustained injuries. The investigation determined those injuries occurred before they cared for him for a friend.
The dad was never charged with any wrongdoing.
Michif CFS told the court the mother and father of the newborn son who was taken, were hostile and uncooperative with child welfare workers.
One testified they called her names and were rude. When she wasn't welcomed to their hospital room she returned with an apprehension letter and the baby was seized.
Supervised visits were rife with tension and ultimately canceled last summer.
The parents argue there were no grounds for the apprehension or supervised visits as the baby wasn't at risk of serious injury or death. The couple is helping to raise the dad's children from previous relationships including a young daughter whose mother testified that they're good parents and role models.
A mother whose daughter spends time at their house testified she too has no concerns and described  them as good people capable of raising children.
A former pediatrician and high profile Indigenous man both testified on behalf of the parents and spoke of their concerns about a child welfare system that's too geared towards unnecessary apprehensions of Indigenous children.
Both parents have begrudgingly taken parenting courses prior to court, hoping it would appease authorities.
A judge reserved his decision and said he would deliver them in writing "quickly" and ordered Michif CFS and the parents to work out a visitation plan.
He said he understood the parents were reluctant because they felt accepting supervised visits would be an admission of wrongdoing.
"It's not an admission of anything," the judge said Friday. "You need to see your son."
A meeting was set for Monday (today) but rescheduled by the caseworker for personal reasons.
The parents say they are eager to resume visits and want their son home soon and CFS out of their lives.
In all of this, their visits with the mother's daughter – who has been in care for nearly seven years since she was injured and before the mom left the abusive relationship – were canceled.
The parents testified it was in the works to have that girl returned to their care and they want that process resumed. They've had no contact with her since their fight over their son began.
In December 2018, when the couple was expecting,  they contacted child welfare authorities to advise of the pregnancy to have the agency work with them to see that they're capable of caring for the boy. They had two home visits and said they were surprised that more wasn't done in the months leading up to his birth.
Court heard they weren't pleased when a case worker showed up on a birth alert to the hospital.
Birth alerts are controversial practices of flagging a mother's health file when she has a baby, triggering involvement from child welfare. Often they lead to apprehensions of newborns. Something cited by the national inquiry into missing and murdered Indigenous women and girls, as a trauma that affects disproportionately, Indigenous mothers and babies.
Manitoba has since said they're ending birth alerts although that's been delayed by the COVID-19 pandemic.
The case is being closely followed by critics of the child welfare system who say this happens all too often, that children are taken without serious concern for their health and safety and that child welfare agencies create barriers and hoops for parents to frustrate them, then deem the parents hostile and uncooperative as further reason to keep children in care.
The father has called them child traffickers, arguing the system is more about jobs than it is for family wellbeing.
Neither of the caseworkers involved in this matter are employed by the agency any more. The couple have a new worker they hope will be keen to reuniting the family after she listened to testimony last week.
The judge in the matter gave no timeline for this judgement.