Black, Indigenous inmates more likely to experience 'use of force' behind bars: Prison ombudsman
Correctional Services of Canada says its aware of and reviewing issue.
---
Canada's prison ombudsman has identified that a racial bias exists when guards use force on federal inmates.
Ivan Zinger, the Correctional Investigator of Canada, said federal inmates who are Black, Indigenous, or people of colour (BIPOC) are more likely to experience the use of force while serving penitentiary time.
Zinger discussed the conclusions of his annual 2020-21 report with reporters Thursday.
"BIPOC persons accounted for nearly 60 per cent of all individuals involved in the use of force incidents," he said during a virtual news conference.
"Specifically, Black and Indigenous individuals accounted for just over half of all persons involved in the use of force, while representing 37 per cent of the federal prison population."
Zinger said the use of force was "any actions used by correctional authorities to gain control or cooperation of an incarcerated person."
He said Indigenous men were subjected to half of the 9,633 documented uses of force between 2015 and 2020. Zinger called that "a systemic concern" within Correctional Services of Canada (CSC), particularly when it comes to Indigenous inmates.
"Indigenous individuals, who, on average, experienced more uses of force per person than any other group, were also more likely to be involved in a use of force incident," he said.
"Specifically, Indigenous individuals accounted for nearly 40 per cent of all individuals involved in uses of force, despite representing, on average, 28 per cent of the incarcerated population during this (five-year period)."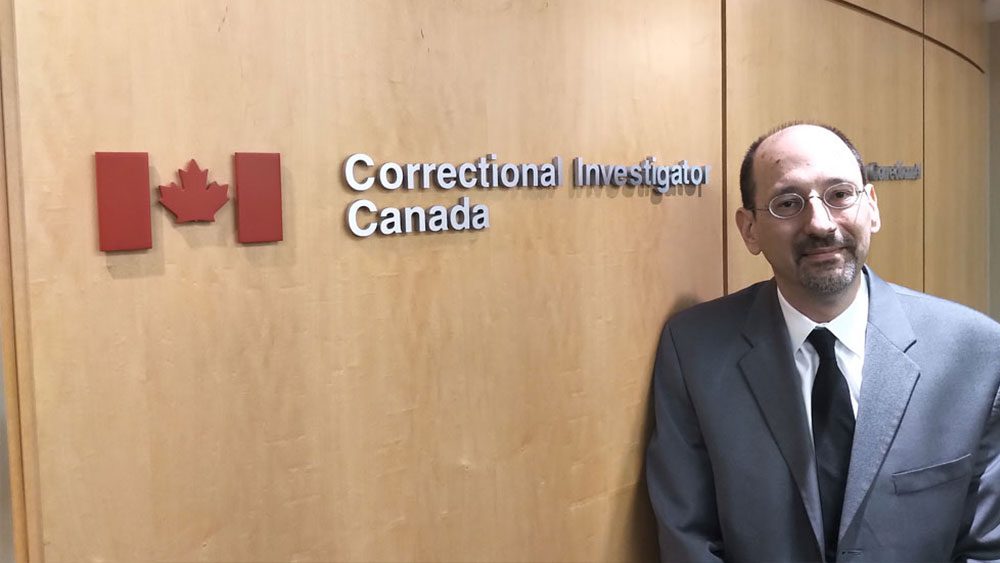 ---
The report said there were more than 40 different kinds of force used on inmates, including pepper spray, batons and strip searches.
This led Zinger to wonder why guards don't "de-escalate incidents" instead of applying force.
But France Gratton, assistant commissioner of correctional operations and program for CSC, said guards settled numerous conflicts without force.
She said more interventions were resolved than the nearly 10,000 analyzed by Zinger and his team.
"The engagement and intervention model is based on de-escalating incidents," she told APTN News in an interview following the news conference.
"Because it's all about avoiding the use of force."
Zinger's report said female minorities were subjected to force more than other female inmates.
"Black, Indigenous and women of colour accounted for nearly two-thirds of all women involved in uses of force," added Leticia Gutierrez, the lead investigator in Zinger's office for the use of force chapter.
"These high numbers were largely driven by the increasing proportion of Indigenous women in federal custody."
She said the security level, risk level, age, sentence length or gender didn't protect female inmates from force.
"When all was made equal, so to speak, identifying as an Indigenous or Black person alone – that factor alone was associated with a greater likelihood of involvement in a use of force incident," she said.
"Race is significantly and uniquely associated with the application of force in federal prisons."
However, Marty Maltby, a director with CSC's Indigenous Initiatives Directorate, said it was important to look beyond the numbers.
"It's really about looking at the specific instances, and to look at opportunities for improvement," he said.
"We've been doing a lot of work in the last number of years in federal corrections around enhancing our capacity to integrate what we call, 'Indigenous social history.'"
To that end, Gratton said CSC would be reviewing Zinger's use of force conclusions with the help of three committees made up of diverse members.
Zinger said the way his report showed uses of force amounted to gaps in delivering "safe and humane standards of custody."
He urged the government of Canada – as he has done in the past – to sign onto the Optional Protocol to the Convention against Torture (OPCAT) to give him the power to conduct more and surprise inspections of prisons across the country.
Zinger's office also checked to see how many recommendations made by a task force in 1990 to improve women's corrections were put in place.
The answer was nearly all the problems identified 30 years ago were still a problem, he said.
His team found a more progressive treatment of female inmates had been "abandoned in favour of a framework that puts security and control at the forefront of contemporary women's corrections."
Zinger said female inmates were subjected to random strip searches that re-traumatized many who had histories of physical or sexual abuse.
Instead of "empowerment, meaningful and responsible choices, respect and dignity, supportive environment and shared responsibility," he said a "security-driven approach pervades every aspect of contemporary women's corrections."
---
Read More:
'Little practical progress has been made on the TRC's calls to action' says Correctional Investigator 
Number of Indigenous people in prison now a human rights issue says Correctional Investigator 
---
Gratton confirmed the security of inmates and staff was the foundation of CSC. But that didn't mean improvements weren't being made.
"We are already taking action," she said. "And this specific review…will add to the action we're already taking."
Meanwhile, Sen. Kim Pate called on the Trudeau government to crack down on the CSC.
"As the Correctional Investigator is yet again chronicling, practices and conditions of torture continue not only to persist, but, particularly during this pandemic, to proliferate, in Canadian prisons," she said in a statement.
"The situation for Indigenous Peoples, African Canadians, women and those with disabling mental health issues is worse still."
The Native Women's Association of Canada (NWAC) also released a statement condemning the findings.
"The Commissioner's report released Thursday substantiates what NWAC has long known about deep-rooted inequalities within Canadian prisons," said CEO Lynne Groulx.
"Indigenous women are subjected to violence when they are incarcerated and must, therefore, be granted more access to community-based alternatives in sentencing. The inequalities can no longer be ignored by the Government of Canada."