Between blood and love: Indigenous dating, it's 'complicated'
Family and community mandates vary on opinions surrounding Indigenous dating
(Sarain Fox has chosen to 'date Native' for that reason. Photo courtesy of Sarain Fox)
April Johnson
APTN National News
Family and community mandates vary on opinions surrounding Indigenous dating and intermarriage, often influencing the choices of young women.
"I think generally, everyone wants everyone to be happy," says Jessie Anthony, 30.
But Anthony, an Onondaga from Six Nations, knows that the subject of dating for Indigenous women is more complex than simply finding love.
For many Indigenous women, cultural preservation, Indian status, clans and bloodlines need to be considered when choosing a partner.
There are no 'pan-Indigenous' opinions about dating, and the discussion changes among women from various nations.
"There is the unwritten rule that when you're born, this is the only way we survive," says Anthony. "But for Haudenosaunee people, because we are so adamant that we follow the mothers, a lot of time it doesn't matter who the fathers are, since the children will still have a clan and a nation because of who their mothers are. However, that's in a traditional sense."
Traditional clans do not guarantee band membership. For many women, the thought of their future children not being band members limits their dating pool.
Sarain Fox has chosen to 'date Native' for that reason. As an Ojibwa woman, she's committed to protecting the threat of disenfranchisement of her future children and grandchildren.
"At the end of the day, I want my children to know the same ground that my mother and my grandmother, my great grandmother and ancestors knew. In order for them to have access to that they have access to our tribal lands. So, that includes status," she says.
Fox admits that although status is a consideration, the issue is complicated and that her opinions have changed since coming out of a past relationship.
"I know that I can't be with anyone who doesn't want to live a traditional lifestyle. So now, it's less about bloodlines and status and to me way more about decolonizing and being able to 'walk the walk,'" she says.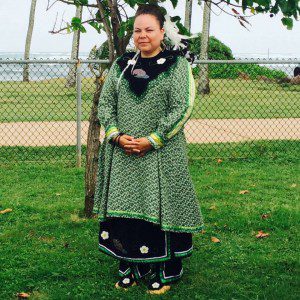 What about love?
Given the plethora of considerations Indigenous women give to dating, it could be assumed love is an afterthought, taking the backseat to priorities such as cultural preservations and community membership. However, Fox believes love is a fundamental issue for families for generations, and will remain a contentious issue in the future.
"What makes dating something that we're going to have to keep talking about is love. People are going to keep falling in love with all kinds of people from all kinds of places. And we're going to have to keep redefining what we are and how we are, because we can't outlaw community… It's like it's impossible to be decolonized in a colonial world," she says.
What about the urban community?
Oftentimes, the struggles surrounding Indigenous dating aren't communicated; rather, they're internalized and reflected upon when making personal choices about future partners.
For Odessa Shuquaya, a Southern Tutchone living in Vancouver, she's considered the difference an Indigenous partner could have on her life, but has chosen not to "date Native" exclusively.
"Having not grown up in the proximity of other Indigenous people, I can totally see how the relationships that I've had have not been with Indigenous people. However, now I can see the value in it – I can see the value in having backgrounds, worldviews or positions in society that are similar. It strengthens the relationship and things in common, and you can kind of fight the world together," she says.
Being of mixed-race has also affected Shuquaya's opinions. Neither her parents nor her father's community of Burwash Landing pressured her to choose a partner based on race or culture. She sees the dangers of imposing rules on community members when it comes to intermarriages and mixed-heritage families.
"I think it's very unethical, because doing that is legislating relationships, and that's oppression. Its abuse of power, its colonialist thinking at its absolute worst – its internalized oppression. We have lateral oppression and lateral racism, against their own people, I mean, that is exactly what the powers that be want. They want our communities to be divided, because then they can be oppressed further. The weaker we are, the more easily we are oppressed. In all areas," she says.
Although opinions vary, the common elements surrounding indigenous women's dating choices continue to include race, band membership and cultural preservation. The decisions, however remain personal.
Sarain Fox has made her decision:
"Maybe not all of us are blood keepers. Maybe not all of us are going to walk that path, but some of us have to. I have to," she says.
@april_e_johnson