Being houseless isn't always a choice, but helping is says Michael Ochoa
'Without a home it's really difficult to heal. It's not impossible, but it's a lot harder,' says Michael Ochoa.
---
Michael Ochoa was sitting in the Vernon Towne Theatre when he realized he had nowhere to go.
"I didn't have a home, didn't have any money for a motel, and I was in shock," he says. "I don't even remember what the movies were."
As film after film played on the big screen, he sat there, with thoughts running through his head. It was 2005 and Ochoa was in his 40s.
He would spend the next two years without a house, couchsurfing and sleeping on the streets in his Syilx territory, in so-called Vernon, B.C.
Today he's drawing on that lived experience as a youth justice worker with the Okanagan Indian Band (OKIB).
'It's not a choice people make'
Ochoa wants people who haven't experienced houselessness to understand that "it's not a choice people make, and it's not always caused by addictions."
"What got me homeless was my knees," Ochoa tells IndigiNews at the Band's public safety office in Inkumpulux (Head of the Okanagan Lake).
"Most of my life I worked in the bush, firefighting, since I was about 17 or 18. I was also an athlete — baseball, football, basketball, all that good stuff. And I never really took care of myself."
He says he was working on the Falkland wildfires in 2003 when he realized he could walk down the hills just fine, but he couldn't walk back up. After a series of knee operations, he found he could no longer work the way he had in the past.
"So there went my job and I had to [collect Employment Insurance], but EI doesn't pay that much," he says. "I had to find a cheaper place."
While struggling to find affordable housing, Ochoa says his EI ran out so he had to turn to income assistance.
He says he "ended up doing the motel thing," but could only afford a week or two at a time, so he ended up on the street. Meanwhile he was living with "addiction problems."
"I was an alcoholic, addicted to crack cocaine, and I got myself homeless for about two years," he says.
Ochoa believes having a home is critical for good health. He wants people to understand that many people aren't doing drugs when they become houseless, and they may start doing drugs as a way of coping with their circumstances.
"Without a home it's really difficult to heal. It's not impossible, but it's a lot harder," he says.
"Couch-surfing is homelessness. People staying in campers and trailers out back — that's homelessness. That is not a home."
Teachings from Andre
Looking back on the day when he first realized he was houseless, Ochoa says someone named Andre had a huge impact on him.
He remembers bumping into Andre after walking out of the Vernon Towne Theatre.
"I'll never forget him," he recalls fondly.
"[Andre] said, 'Hello brother, what's up?' And he looked at me and he smiled," Ochoa says.
"Well brother, join the club. Let's go, I'm not going to let you walk around these streets," he remembers Andre saying, handing him a bottle of wine.
"He took me to his little camp and made sure I was safe and that I had a place to stay, food, and, of course, booze," he says with a laugh.
That display of humanity taught Ochoa a great life lesson, he says, and he carries that wisdom into his work with youth.
"[Andre] was homeless, but he took the time to see another human [who was] in pain and lost and [he] came over and decided he wanted to do something about it," he says.
"A person with a home would never have done anything like that … Homelessness has a way of humbling you and really giving you that empathy for other people as human beings, because people just don't have it in them.".
A vision and a mission
After spending two years without a home, Ochoa was sitting on a bench one day when he had "a vision."
"I thought, 'I just want to be on my own bed or my own couch watching tv,'" he says. "It was as simple as that."
This moment marked the start of his healing journey, he says.
"I found a place to rent and started going to meetings, healing myself," he says.
"This was kind of a relapse," he explains. "I kind of already knew what to do already so I started to do those things."
Seeking a "new path," he stumbled across the Human Service Work (HSW) program in an Okanagan College brochure, and he decided to sign up.
He started the program in 2013 and completed it in 2015. While in school, he started to do his practicum at the Upper Room Mission — a registered charity that "has been feeding Vernon's hungry since 1980," according to the organization's website.
When Ochoa was houseless, he recalls going to  "The Mission" quite a bit. He says he was "really popular" when he started working there, because many people already knew him.
Inside "The Mission,", there is a memorial wall filled with flowers and photos of those who lost their lives on the streets.
"It really struck me when I went in there, because I knew half those names, because half of them were on the street with me, and that really saddened me, so I was all for wanting to work in the shelters," recalls Ochoa.
"[Andre's] name is among the flowers up there. That's one of the good reasons that I'll never forget that man."
Ochoa says he spent five years working with the John Howard Society .
Over time, he noticed the people accessing services were getting "younger and younger."
Sometimes he had to turn away teenagers who were asking to stay at the shelter because it went against shelter policy to allow youth under 19 in, he says.
"It's one of the hardest things I've ever done," he says, tearing up. "It really hurt me."
He remembers meeting a 19 year-old one time who told him he had just aged out of government care.
"I was really concerned because for a youngster to be on the street like that — there are just too many things that could happen," he says.
Wanting to better support youth, he became a youth independence worker for the Aboriginal services team at B.C.'s Ministry of Family and Child Development (MCFD).
"Those kids [at The Mission] really affected me," he says.
In his new role, Ochoa says he "helped a lot of kids, get homes, jobs, education."
By sharing cultural practices, he also had an effect on the social workers, he says. He offered a daily smudge, daily meditations, and teachings about the medicine wheel and the Syilx captikwl and language.
After five years with MCFD's Aboriginal services team, Ochoa says he had to move on because his contract wasn't renewed. In late 2019, he began working as a youth justice worker with OKIB.
"I keep our kids safe," he says. For Ochoa, youth justice is about social justice, advocacy, mentorship, healing and developing life skills.
"I want to be here to help them become a balanced person," he says. "They are the future of our community."
'Proud to be home'
Ochoa says he is so proud to be home, in his territory, applying the lessons he learned from people like Andre to touch the hearts of his own people.
"I'm so glad I got to go on that path. Who knows where I would've been if I hadn't met Andre," he says. "That one person — he made me want to get better, he made me want to go back, not for anything he did but for who he was. You could tell he was just a beautiful human," he fondly recalls.
Ochoa says he often combs the streets of Vernon to check on his kin. He wants anyone from his community to know that they too matter.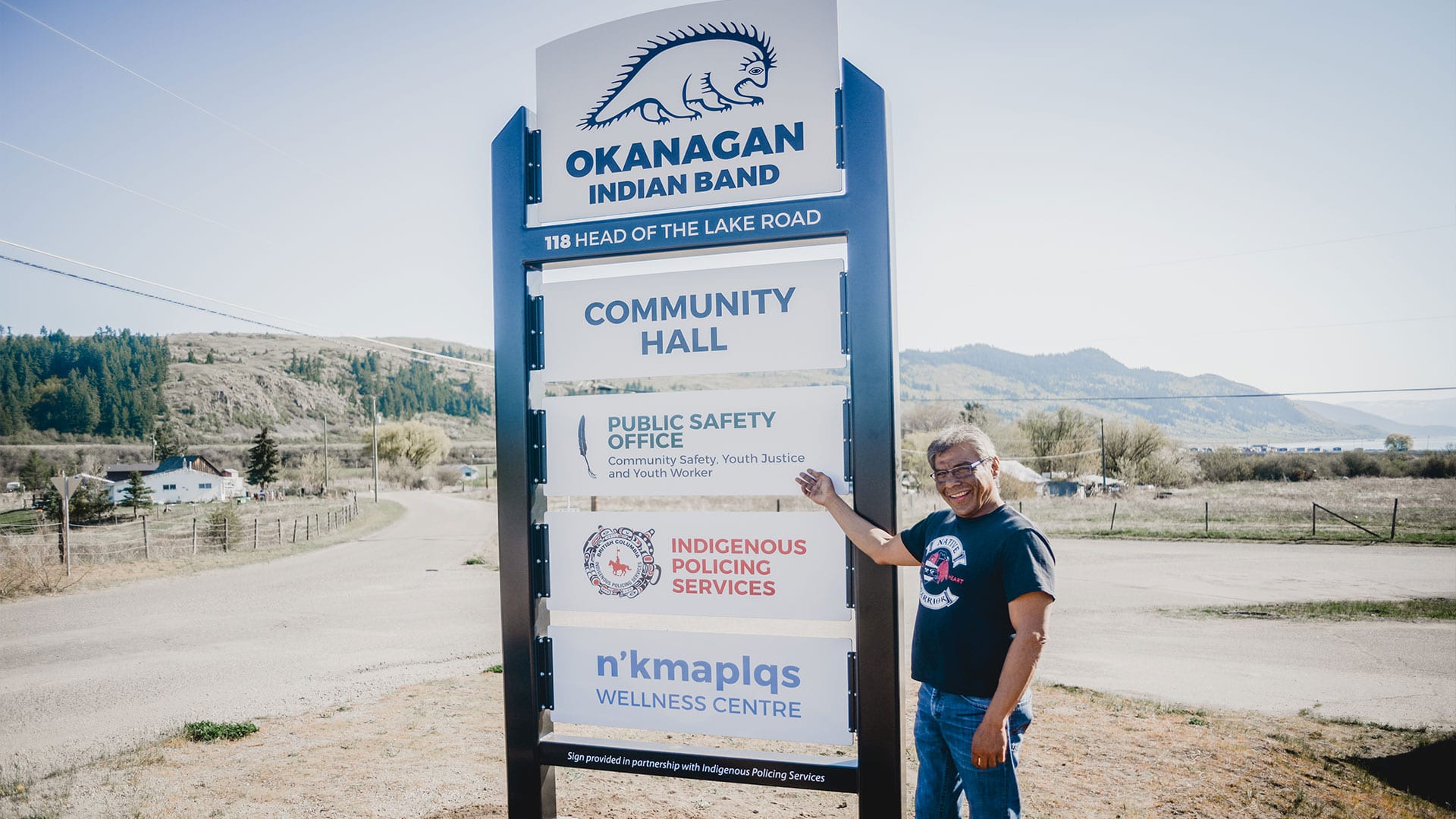 ---
He recalls one Syilx woman reacting with surprise when she found out he was looking for her.
"She was so happy that it was one of our people looking for her," he says. "She broke down and cried because somebody gave a shit. Because somebody who is part of her community, felt like her own family.
"That's why I like to keep in touch with them because a lot of times nobody does," he says. "I want to give them the feeling that they are human, they are worthy, they have value, they have a purpose."
Ochoa's dream is to one day see unity in the Syilx Nation, for everyone to take part in the collective healing.
"We still have so much to do," he says. "We need more people on the path to help bring others with us — we can't leave anybody behind."