Bearspaw First Nation woman fights for right to represent Eden Valley
'It is time that people saw a woman leading,' says Laurel-Leigh Lefthand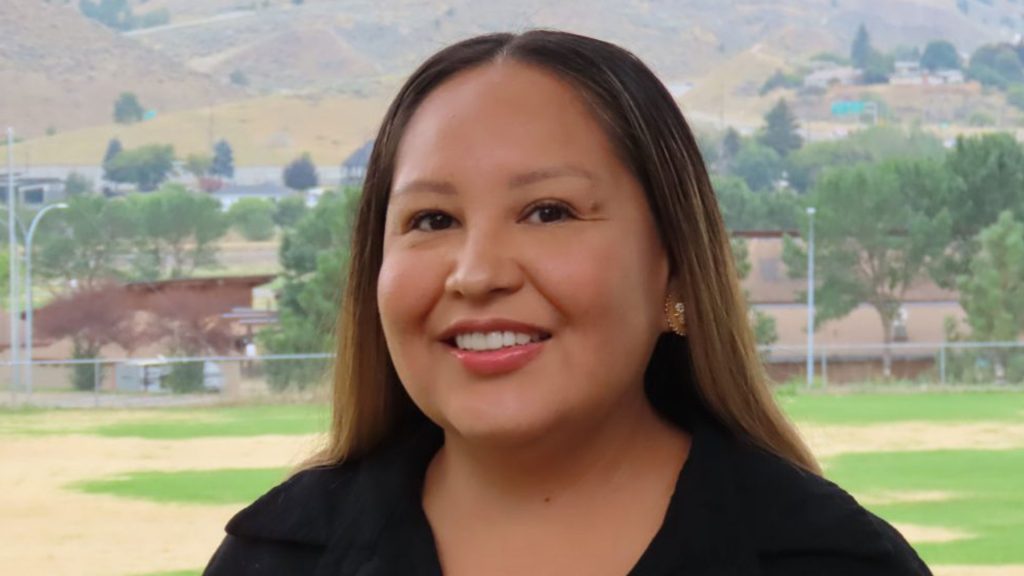 ---
A Bearspaw First Nation woman who was disqualified from running in a recent election says she wants to see the residency requirement in the community changed.
Laurel-Leigh Lefthand is the first person from Eden Valley, a region inside Bearspaw First Nation to graduate from the University of Alberta and now wants to turn her attention to being a counsellor for her people.
But while Lefthand was nominated, she was removed from the nomination list because she does not live on-reserve.
Bearspaw is a part of the Stoney-Nakoda First Nation located west of Calgary.  According to 2021 demographics from the province of Alberta, 644 people currently live in the Eden Valley region Lefthand hopes to represent.
Lefthand says the requirement for counsellors to live on reserve is not in line with recent federal court rulings, and she wants to see change for the residents of Bearspaw, through her community of Eden Valley, and have more women represented on council.
"One of the things that have actually really motivated me was support from elders who were female from Eden Valley, actually, who are Bearspaw members and also numerous young women who have actually reached out to me and stated I'd be a great candidate," she says.
Lefthand graduated with a native studies degree and minored in political science. She also received a certificate in Indigenous governance. When Lefthand graduated in 2018, Bearspaw Chief Darcy Dixon attended the ceremony and praised Lefthand.
She has also worked as a senior program officer for Jordan's principle in Alberta for the federal government's Indigenous Services as well as her current work as a project coordinator for the unmarked burials project in Tk'emlups First Nation.
Lefthand says that although there have been some female chiefs, there has never been a woman counsellor elected for Bearspaw (Eden Valley).
"There's definitely patriarchy within our election code and governance system. There isn't enough support for women to be leaders," says Lefthand.
Removed from nomination
Lefthand feels that there is a conflict of interest when it comes to how issues of governance are addressed at her nation. She was removed from the nomination list on Nov. 10 after a nomination hearing held in Calgary.
"It goes back to sitting Bearspaw leadership to decide whether they'll allow me to run, which is actually a discrepancy because I'm not sure why some in the leadership would get to decide who gets to run in the election. It is just very contradictory," says Lefthand. "It is also very disheartening to know that their verification process is flawed as a candidate has recently been charged with impaired driving.
"This candidate is still on the nomination list."
Elections officer Marvin Yellowhorn who has worked with the Bearspaw Nation for over 20 years agrees that the election code is out of date and says that Bearspaw First Nation has been trying to work with Indigenous Services Canada (ISC).
"They submitted a proposal to (to ISC), they drug their feet … (Bearspaw First Nation) didn't get their funding in place to amend their election code prior to this election," says Yellowhorn.
A spokesperson for ISC told APTN that once a First Nation adopts a custom elections code, the federal government is not involved with any updates.
"This is an internal governance/leadership selection matter exclusive to the First Nation," said the ISC spokesperson.
Regarding impaired driving, Yellowhorn says that a person needs to have what he calls an "indictable offense" in order to be removed from the nomination list.
"If you get pulled over along the highway and you blow over the legal limit, that is not an indictable offense," says Yellowhorn.
The day of her hearing, she had six family members attend the hearing with her, but they were not permitted to go in.
"I am very dedicated to the population that has asked me to do this," says Lefthand.
One of those family members was Zabrina Twoyoungmen, who feels that Lefthand should be allowed to run.
"She grew up in Eden Valley… she would have made a good counsellor because she sees what the community needs … there's mould in the majority of the homes and honestly I don't know when renovations have been done to these homes," says Twoyoungmen.
Off-reserve and non-Indigenous administration
"While our elected officials live on reserve the majority of our employees are non-Indigenous and live off reserve," says Lefthand. "I have had a number of people complain about the administration in Eden valley.
"When I did start to inquire with the employees a lot of them were non-Indigenous."
Neither Chief Darcy Dixon nor Rob Shotclose, the CEO of Bearspaw replied to multiple requests for comment.
Residency requirements subject of courts
In recent years, residency requirements have come under scrutiny by Canadian courts. Individuals in the community who are not happy with the governance of their nation have brought forth the Charter of Rights and Freedoms challenges.
In 2019, Walter Janvier took his nation to court, saying that their requirement that he live on reserve in order to be able to vote violated his charter rights. The court agreed with Janvier.
According to a summary of the ruling courts have noted that off-reserve members still have an interest in the governance of their First Nation. For that reason, excluding them leads to prejudice and disadvantage.
Story was updated on 11/25/2022