BC man under RCMP investigation for online 'dead Indian' comment was once gay marriage trailblazer
A Terrace, B.C., man who was once a gay wedding trailblazer is now under an RCMP investigation for a possible hate crime after posting on social media that the "only good Indian is a dead Indian."
Jorge Barrera
APTN National News
A Terrace, B.C., man who was once a gay wedding trailblazer is now under an RCMP investigation for a possible hate crime after posting on social media that the "only good Indian is a dead Indian."
Terrace RCMP said Thursday an investigation is under way into the comment posted by Howard Boake on the web page of the local Terrace Standard newspaper. The RCMP said the investigation was triggered on Tuesday after they received a complaint from a "concerned citizen" over the comment.
Boake wrote on Facebook that, "the only good Indian is a dead Indian…Let have open season on em (sic)."
RCMP Const. Angela Rabut said the investigation is exploring whether there is a public safety component to the online comment.
"First and foremost is public safety. Is the public safe? We are going to make sure of that," said Rabut.
Rabut said the investigation's findings will be forwarded to local Crown counsel who will then determine whether there is enough to lay hate-crime related charges.
"We have to decide the criminal element of the comment," she said.
Rabut would not say whether they contacted Boake because it was an "active investigation."
APTN National News phoned and messaged Boake on Facebook seeking comment.
Boake's comment was quickly deleted by the newspaper but not before someone captured an image of the racist words. The screen capture was shared widely over social-media and first reported by WestCoast Native News.
Boake's publicly available Facebook page shows he posted a comment on an August 2014 story by the Terrace Standard about the Gitxsan Treaty Society delivering an eviction notice to CN.
"WHY do first nations THINK they OWN CANADA? (sic)," posted Boake.
Boake is Facebook friends with a man named Jimbob Harris-Boake. On July 23, 2003, the Terrace Standard led with a front-page story about the gay wedding of Jim Harris and Howard Boake beneath a headline saying it was the community's first such nuptials.
The story said the two men were to be married on Aug. 9 of that year. The story described Boake as a retired truck driver who is now likely in his 70s. The pair made a lifelong commitment to each other two years earlier.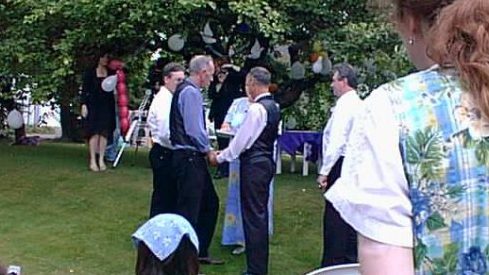 The marriage occurred before the full legalization of same-sex marriage in Canada.
Harris could also not be reached for comment.
Last week, Maclean's magazine created a stir after it published a front page story declaring Winnipeg the most racist city in Canada and that the country had a worse race problem than the U.S.
@JorgeBarrera