B.C. First Nation says when the gas industry returns, it will be ready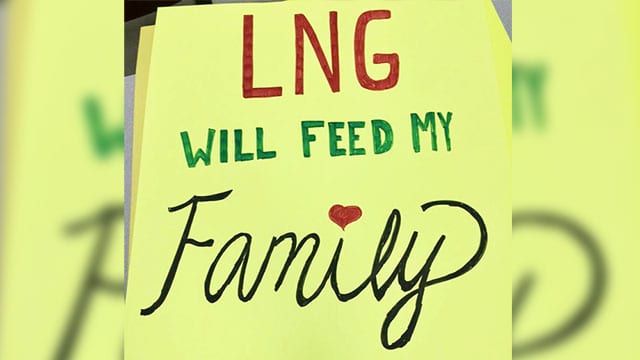 As the LNG Canada project ramps up to produce fracked natural gas from the Fort St. John area in northeastern British Columbia, the community of Fort Nelson First Nation (FNFN) just 4 hours away, holds onto hope that industry will eventually come back for their gas.
"One day someone will return and want to get that gas out of the ground and it's important for us to be preparing for that," said elected Chief Curtis Dickie of FNFN in a phone interview with APTN News.
"The resource is still here, we are still here, my people are preparing for the return of the industry."
Fort Nelson First Nation is one of six nations that belong to Treaty 8.
Only half of its 800 members who are Dene and Cree live the reserve located about 1,600 kilometres due north of Vancouver.
Fort Nelson's traditional territory sits on a wealth of natural gas in the Horn River Basin and was a booming gas town in the early 2010s.
"It was really exciting times, everyone was busy," said Dickie. "My father worked in the gas industry since 1992, he provided for our family with money made from the industry, and I worked directly or indirectly for the industry starting at 16 years old.
"Pretty well everyone I know has or had a job working in the industry."
But a downturn, beginning in 2014, brought on by a drop in oil and gas prices, left the booming area busted.
"It was horrible," said Delbert Dettieh, a member of the community. "Things took a turn and the quality of life just crashed right out from under people.
"People struggled and many moved away."
Dettieh has worked in the gas industry since he left high school in 1988.
During the downturn, Dettieh got a buy out from Suncor Energy and found more work 3 months later.
He considers himself lucky, even though he now lives in a work camp a few hours away from his family.
"I stay at a private camp, usually two weeks on two weeks off – but right now I'm on a 21 day stretch," said Dettieh.
"The hardest part is being away from home, but I'm just thankful to have a job."
Dettieh believes the LNG Canada project will help his struggling community, despite natural gas and infrastructure for the project not coming from Fort Nelson.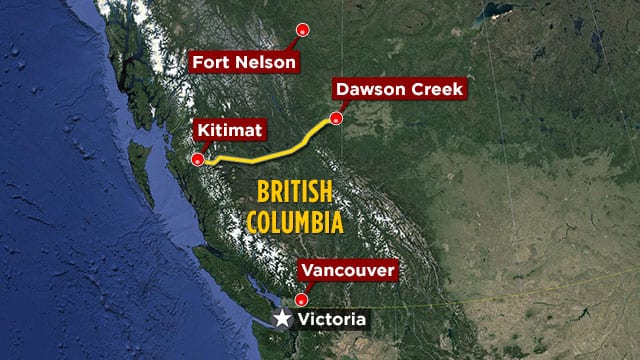 The $40 billion dollar project is the largest private-sector investment project in Canadian history and got the final go ahead from investors last October.
It will bring fracked natural gas down a new 670-kilometre pipeline from Dawson Creek, B.C. to a processing plant on the coast in Kitimat.
There the gas will be liquefied and shipped by tankers to markets in Asia.
"The CoastalGas Link (CGL) pipeline is an absolute plus for Fort Nelson," said Dettieh.
"Our gas took a huge dive and I think once B.C.'s LNG finally hits the world market, North American gas prices are going to go back up."
Opposition to the CoastalGas Link (CGL) pipeline from traditional leaders and members of Wet'suwet'en Nation has Dettieh worried.
All 20 First Nations along the pipeline route, including elected leadership that make up the 6 nation's in Wet'suwet'en Nation signed on to the project, but Wet'suweten traditional laws give hereditary chiefs jurisdiction over the entire territory.
And the chiefs don't want any pipelines built.
"I'm concerned they will stop the project," said Dettieh. "It's frustrating to see that an overwhelming majority of First Nations along the route want and need this project, yet a handful of people against it are standing in the way.
"My hope is that the hereditary chiefs eventually see all the positives that this project will do, for everyone."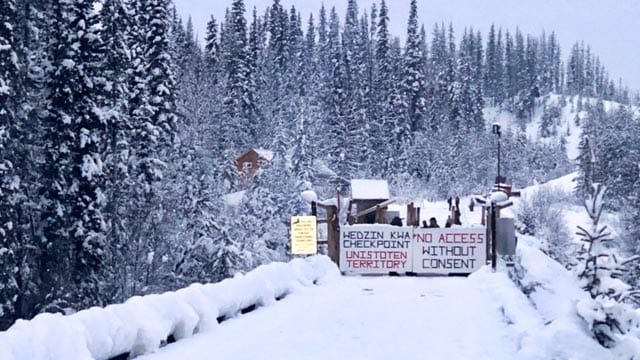 (Unist'ot'en Camp gate Dec 18, 2018. Photo: Laurie Hamelin/APTN)
Harvey Harrold, who owns Ridgeline Well Management in Fort Nelson, said people against the project are misinformed.
He said new technology makes gas production less harmful to the environment and wildlife.
"I started working in this industry in 1992 and the environmental program that we followed then compared to now is night and day," said Harrold. "Right now I am retro-fitting a plant to make it even more environmentally friendly.
"The new technology that we are using is amazing, it's always evolving, always."
Harrold said his hometown of Fort Nelson is hurting and that he's hopeful the gas industry will soon return.
"Right now Fort Nelson is a one industry town and gas is a dying industry so it would mean so much," he said.
"LNG feeds our families."
Although FNFN is also hoping the gas industry comes back, the community wants to ensure it's done correctly.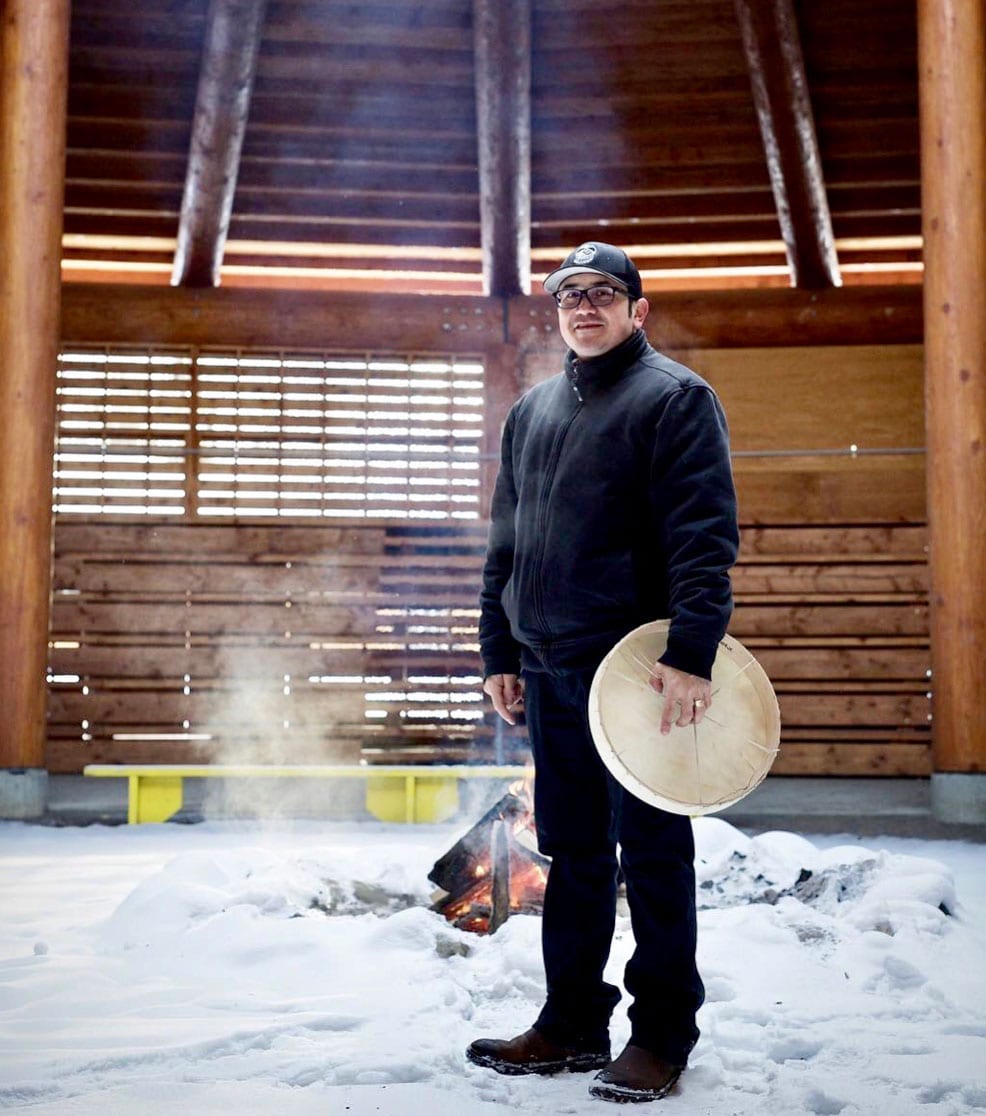 (Fort Nelson First Nation Chief Curtis Dickie. Photo courtesy Curtis Dickie)
"In order for us to support any resource development it needs to be done sustainably and it needs to be done with the highest environmental standards in the world," said Dickie. "We want to do everything we can to keep our cultural values and live a balanced way of life.
"We want to ensure people have moose that they can still harvest and ensure that the caribou are not going to go extinct in our lifetime."
Finding a balance between the environment and industry has always been a struggle, and FNFN hasn't been afraid to hold industry accountable when the line got crossed.
In 2015, the FNFN successfully challenged the long term water licence granted to Nexen to pump 1.4 million cubic meters of water a year from Tsea Lake and Tsea River – a lake area used by FNFN members to hunt, trap and live on the land.
And in 2017, the B.C. Supreme court overturned the approval of a natural gas pipeline proposed by Rockyview Resources that would run through endangered boreal caribou habitat.
"I raise my hands to the past leadership that came before me," said Dickie. "They stood up against incredible adversity to take on major corporations and to win is truly remarkable."
Last December, Fort Nelson First Nation signed a future memorandum of understanding with Chevron Canada.
Under the agreement, the two parties will co-operate with one another in a spirit of mutual respect and recognition to support responsible and sustainable economic development in a manner that protects traditional territory, the First Nation said.
"Basically we have an agreement in place that when Chevron comes to a final investment decision we will be having serious talks about impact benefits agreements," said Dickie. "We want industry back, but we will hold the players that come into our area accountable, and in order for this to work we need to identify the challenges that we see."
"We have learned a lot over the years, and this time around, when industry returns, we hope to be involved in every step of the process."