B.C. CFS moves in to seize 90-minute-old baby on report of neglect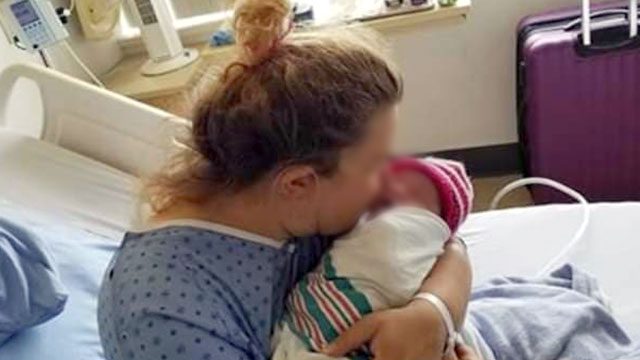 ---
An hour and a half after enduring a C-section delivery at a Kamloops hospital, an Indigenous couple was exhausted but elated as they met their baby girl – a first child for both.
But their joy was short-lived when an hour and a half after she was born, social workers came in to take Baby H, saying they'd had a report of neglect.
"They were shocked," said the paternal grandfather, who questions how one could be labelled neglectful and have someone issue a birth alert to apprehend in just 90 minutes.
"Luckily the (maternal) grandmother was there and she held them off, at least for a while."
APTN News isn't naming the baby or the family as the child remains in the foster system.
Two days later, on June 14, social workers came back, reportedly two hours late for a meeting that had been scheduled with the family.
But the mother was asleep from a sedative medical staff had administered.
When she awoke she learned her newborn was gone.
The apprehension was widely shared as an Amber Alert by anti-CFS activists on social media over the weekend with calls-to-action to contact the agency responsible – Secwépemc Child & Family Services.
But Secwepemc CFS responded to the outrage saying they had "refused service on this request" and that it was Kamloops Ministry of Children and Family Development (MCFD) that took the baby.
Baby H is now eight days old and has spent six of those essential parental bonding days in foster care.
The father's home community has gotten involved.
"There are no grounds to take that child and no need for that child to have gone through this," said Dr. Rohan Ghatak, health director for Tl'etinqox band, which is fighting to have the child returned.
(A mom cuddles her newborn daughter moments before CFS arrived to apprehend the 90 minute-old baby on the grounds of neglect)
The baby has been transferred to foster care in Williams Lake, B.C.. where her parents live and have been able to visit her for two hours a day under the watch of CFS.
The family has found unexpected allies in two Williams Lake social workers who were wrongly identified on social media as being the agency that apprehended the infant.
Ghatak said they are, in fact, assisting to get the child back and supporting the family at a mediation hearing set for June 25.
"We're trying to come to a reasonable understanding so we can get things right," Ghatak said.
If mediation doesn't end with Baby H being given back to her parents that day, there is a court date set for June 27 to try again.
She will be 15 days old then.
Thirteen of which the newborn has been without her parents but for short supervised visits.
Ghatak says he can't comment on what put the family on CFS's radar in the first place.
The baby's paternal grandfather said some of what troubled him was social workers allegedly telling hospital staff that the couple is homeless.
"They're not, they have a two-bedroom apartment. Then the story changed to they live in a group home – not true. They don't drink or use drugs.
"There's no reason for this."
He says both parents are frustrated and exhausted.
"(Agencies) are playing all kinds of games," said the grandpa. "(The parents) are under a lot of stress. I took my son to a sweat lodge (Wednesday) night to help out but they have a lot of anxiety and stress."
He also believes they were stereotyped.
"They saw them as being vulnerable and this being an easy baby to take and when the family stepped up they did everything to keep the family out of it."
The B.C. Ministry of Children and Family Development responded to the incident Friday via emailed statement that, in part, said, "We know that children thrive when they are able to be with their families, connected to their communities and their culture; and that the first few days with an infant are critical – not just for bonding, but ensuring that their needs are met, 24 hours a day, 7 days a week."
But despite knowing this, they apprehended Baby H.
The ministry says it can't discuss specifics but "is focussed on balancing the safety of a child or infant and keeping kids with families or extended family."
Baby H is not with family or extended family. She is in a non-indigenous foster home.
As for having any grounds to take the baby, the ministry would only say "by law, the ministry can only remove if the child is in immediate danger and no less disruptive measures are available."
The family says no other measures were ever discussed when social workers came in demanding the 1.5-hr-old baby.
Baby H could be home as early as June 25.
More to come.