Audio recording of B.C. social workers reveals hospital staff called to report neglect of 90-minute old infant
Workers with the Ministry of Children and Family Development (MCFD) in British Columbia say they moved to seize a newborn from Kamloops Royal Inland Hospital two weeks ago because medical staff reported "numerous" instances of "neglect," namely that the mother, who'd undergone a C-section and was heavily medicated by her doctor, wasn't tending to the baby.
APTN News has obtained a recording of a meeting between the father, the maternal grandmother, and several social workers.
One worker, identified only as being with Kamloops MCFD, did most of the talking.
It was recorded on June 16, two days after newborn Baby H was seized at the hospital.
Social workers had initially tried to take the baby 90 minutes after she was delivered on June 12 but the baby's grandmother warded them off.
In the recording, Baby H's shell-shocked dad said, "I still see no reason why (mom) and I aren't capable of loving our child and taking care of her."
The Kamloops social worker said, "I don't think anyone is saying you're not capable of loving (Baby H). Everyone's concerned about baby being cared for and her immediate basic needs being met and we don't have time to assess that."
Instead of taking that time to assess, the agency deemed the child as being at a high risk for injury or death and that declaration alone is enough to seize an infant.
Listen to the Recording:

The social worker, whose name the family doesn't remember because they've dealt with a revolving door of social workers from multiple agencies over the past two weeks, went on to explain that from birth until the child was taken 48 hours later, medical staff at the hospital reported the baby was being neglected.
The family denies this and said when mom wasn't tending to the baby it was because she was medicated by doctors.
In the recording, the Kamloops social worker admonishes the father saying, "(Mom) can't even be roused for this meeting because she's so out of it." The baby's dad replied incredulously, "Yeah, from the prescription medication she was given from her doctor."
The social worker advised the distraught father that,"We're not going to change our decision. Time will change our decision, how you interact with support services outside the hospital and engage in child-centered services. So learning about child-centered cues and learning what it looks like to be a parent, I think, we need to see you demonstrate that in the services before we'd consider allowing the baby to be returned to your care."
When APTN broke this story the family said they'd been told by at least one medical staff that social workers wanted to apprehend the baby because someone had called them before Baby H was born and said they would be unfit parents.
Read More:
Another hospital staff member told the family that a social worker told them they were apprehending because the couple is homeless, later changing the story to say it was because they lived in a group home.
Neither is true.
The couple lives in a two-bedroom apartment.
The social worker heard on the tape only mentions the mom being sedated in the hospital as reason for the concern of neglect.
The paternal grandfather says these are first time parents, adding they have no previous interaction with child protective services, and they don't drink or do drugs.
Tiffany Evans, a Metis mother who was featured on APTN InFocus last month, knows too well what happens when medical staff decide to paint a negative picture of a family and involve child protection workers.
Her son was seized from a Winnipeg hospital in 2013 when he was five months old after a doctor decided her sick child was being starved by his mother.
There was no medical evidence of this – just the doctor's hunch.
After the doctor made that clear to staff, the child's medical file was suddenly filled with entries from other medical staff that took the tone of the doctor.
Soon after he was apprehended by Manitoba Child and Family Services, tests showed the baby had gastroesophageal reflux disease, which explained the vomiting and weight loss.
These symptoms continued in foster care, according to daily care logs, but despite this, government employees fought the family in court to keep the child in care.
After 10 long months and $200,000 in legal fees, the Evans family got their child back when he was 15 months old.
They'd missed many of his firsts while he was in care.
(Baby H just after being born)
APTN provided Evans with the audio recording from the Baby H matter.
She said it reminds her of her own family's ordeal.
She's well versed in the foster system from working within it as a respite caregiver for children with high needs before her son was seized, and also from fighting the system tooth and nail to get him back.
She's concerned that social workers heard on the tape take an authoritative and condescending tone with the baby's father and maternal grandmother (the baby's mom was asleep from post-surgical medications when the meeting was recorded).
"It seems like they're placing hurdles to aggravate the family and make them angry to prove they are unfit," Evans said.
She suggests the parents immediately get the baby's health records from the hospital to see what exactly the medical staff wrote because if MCFD seeks custody and a court grants it, those records won't be available to her biological parents.
APTN also provided the recording to Jillian Wheeler, a former Manitoba social worker who had been involved in many child apprehensions during her career before getting out of the business because she felt it was too often about seizing kids who didn't need to be, and ripping families apart – mostly Indigenous ones.
After listening, she was appalled.
"What I'm hearing is mom was put on powerful pain meds after a C-section and therefore drowsy. Other family members, including dad, are ready to help and parent and they are denying them this," Wheeler said.
"Most first time parents have questions and aren't made to take a class or not be able to take the baby home," said Wheeler, who advocates for parents of apprehended kids on many social media pages.
She also took issue with the social worker who said they "don't have time to assess" if the baby would be safe in the parents' care.
"The social worker didn't do her own investigation and how can there be multiple staff reports in 90 minutes?"
Baby H is 13 days old today, June 25. She's been in foster care for 11 of those days.
Her dad says they're getting over their shock and disbelief and focusing on "getting her back soon."
Her parents have had two visits with her but were late by a couple of minutes for one, as the mother struggles to walk the 30 minutes to the visitation location, due to the major surgery she had to deliver the baby. A social worker reportedly told them if they were ever late again, all visits would be cancelled.
The father's home community has also gotten involved.
"There are no grounds to take that child and no need for that child to have gone through this," said Dr. Rohan Ghatak, health director for Tl'etinqox band.
"We're trying to come to a reasonable understanding so we can get things right."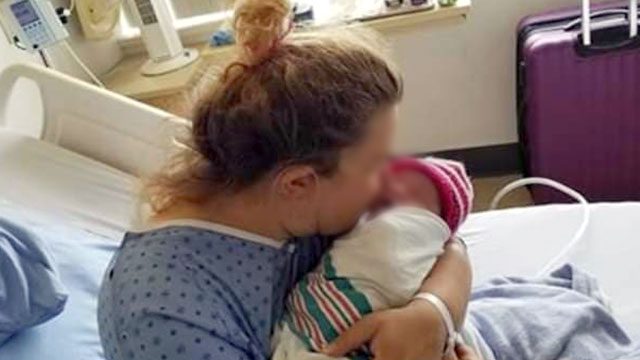 (The mother with Baby H just prior to the infant being seized by social workers)
The paternal grandfather says both parents are frustrated and exhausted and disappointed a mediation meeting discussed for Tuesday didn't happen ahead of the court date set for Friday.
"(Agencies) are playing all kinds of games," said the grandpa. "(The parents) are under a lot of stress. I took my son to a sweat lodge . . .  to help out but they have a lot of anxiety and stress."
He also believes they were stereotyped.
"They saw them as being vulnerable and this being an easy baby to take and when the family stepped up they did everything to keep the family out of it."
The B.C. Ministry of Children and Family Development responded to the incident Friday via an emailed statement that, in part, said, "We know that children thrive when they are able to be with their families, connected to their communities and their culture; and that the first few days with an infant are critical – not just for bonding, but ensuring that their needs are met, 24 hours a day, 7 days a week."
But despite knowing this, they apprehended Baby H.
The ministry says it can't discuss specifics but "is focussed on balancing the safety of a child or infant and keeping kids with families or extended family."
Baby H is not with family or extended family. She is in a non-Indigenous foster home – something Wheeler points out violates MCFD's own policy.
As for having any grounds to take the baby, the ministry would only say "by law, the ministry can only remove if the child is in immediate danger and no less disruptive measures are available."