APTN tours Kenora to see how child welfare system plays out on the streets
'I see a nation suffering and I see it just being ignored. There's a vicious cycle.'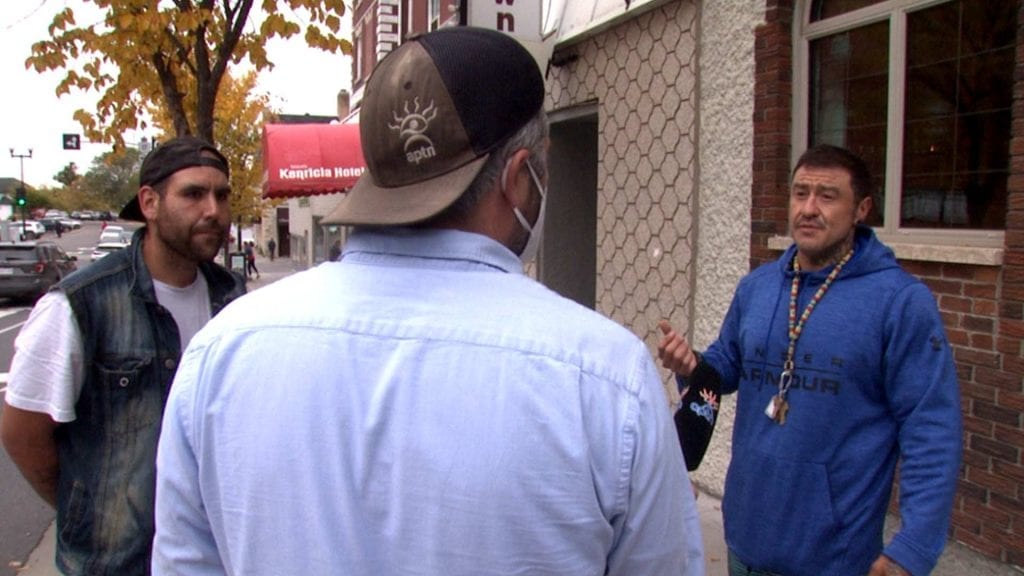 ---
There's always a few sitting on the large cement blocks behind the Chinese food restaurant on 1st street in Kenora.
You walk by them every day.
And there's more out by the beer store.
There's a broken child in each of them.
Can you see it?
They're homeless so maybe you try not to look at them.
But inside is a kid destroyed by the child welfare system.
And it plays out on the streets of Kenora every day.
No one knows that more than this guy Craig Lavand.
"We're the ripple effect, so we're going to go get drunk, get high, do what everybody is doing just to cope right," says Lavand.
Lavand speaks from experience.
He grew up in foster care and used to live on these streets.
Jory Smith still does.
Both are from Wauzhushk Onigum First Nation (Rat Portage) and took Nation to Nation around Kenora in September to show us how child welfare feeds homelessness in the northwestern Ontario city.
"I see a nation suffering and I see it just being ignored. There's a vicious cycle. A lot of the youth that are just turning 18 are no longer part of the system. They end up just carrying on," says Smith.
As Smith speaks a group of young guys walk by.
He knows them from jail and foster care, especially the guy dressed in a black and yellow jersey.
"That one guy was sponsored by DC, Crown Royal. He was a pro snowboarder," says Smith.
"He's an alcoholic now."
In depth: Death, Deformities and Destruction: The truth about child welfare in northern Ontario
We keep on our walk.
Signs of child welfare are everywhere with each homeless person we encounter.
We ask Lavand about the local jail.
"This is going to be a perfect example. The jail is about 95 per cent Aboriginal but the staff is only two per cent Aboriginal, so that kind of just paints a picture of the town right. It's like an old boys club," he says
As we keep going it's becoming clear.
Racism is also at play here.
So much so that city council talked about passing an anti-loitering law this past summer.
And if you haven't guessed by now most of the homeless people are First Nations.
"I wouldn't say so much it was the mayor that called for it. It's the people in this town. That's where the racism still stays, is the actual people in this town that believe so much into creating 'it's such a nice city, such a nice town,'" says Lavand.
---
So we keep going on our walk of pretty Kenora.
We stop near a farmer's market.
Smith explains how policing in the city changed a few years ago when the Ontario Provincial Police took over for the former Kenora police service.
"The difference between the Kenora police and the OPP is the Kenora police might rough you up real good, but you might leave without getting charged. The OPP does everything according to plan, but then there's ridiculous charges," says Smith.
Then we hear some of that Kenora charm.
It comes just as Smith explains how homeless people keep getting charged with minor probation violations.
"There's people that been in the system for about 10 years now because they keep getting that breach because…," Smith abruptly stops speaking as some guy hollers from a passing car.
"That was someone that's probably ignorant."
Soon we meet another person who knows the streets well.
She also knows addiction.
"I have a different perspective on things because I went to school for social work and then became an IV drug user," says Miranda Elder.
That means she knows these streets and who lives on them.
She estimates at least three quarters of people on the street come from the child welfare system.
We are near the end of our walk when we run into a small group of people.
I can spot the self-harming on the arm of a young girl.
She smiles a lot, but doesn't want to say much.
So her friend does the talking.
"It's not fair man. It's hard to find a place to live," he says.
No, it's not fair.
If you survive the child welfare system you may end up here in Kenora.
With no place to go.
Except the streets.
Or jail.
Editor's note: We caught up with Lavand on this week's Nation to Nation to see what's changed since APTN was in Kenora a couple months ago.
It turns out a lot has changed.
Lavand works for a non-profit group called, Compassionate Kenora that helps the city's homeless.
But it's become too much for neighbouring businesses who filed complaints against the group for loitering and noise.
In fact, their landlord served Compassionate Kenora with an eviction notice this week.
It has to be out by New Year's day and is now looking for a new place.
We also speak to a long-time psychiatrist in Kenora who says most of his clients have gone through the child welfare system.