APTN Investigates: Quest for innocence, the Connie Oakes story
Connie Oakes and a quest for Innocence
Editor's note: At the moment, Connie Oakes is free. But the story isn't over. Also caught up in Alberta's justice system is Wendy Scott. She is a woman described by friends as someone who just wants to please. And when she fell into the hands of the Medicine Hat police, investigators turned her into their star witness. You can't tell Connie Oakes' story without talking about Wendy Herman Scott. Below is the latest that we have on her story. 
More allegations of coercive police tactics surface in unsealed affidavit
Jorge Barrera
APTN Investigates
A recently unsealed affidavit has revealed more details about the coercive police tactics allegedly used on Wendy Scott, a woman with an IQ of 50 who became the foundation for the wrongful murder conviction of Connie Oakes.
The affidavit, sworn by Scott, stated police interrogators told her she would "go down as a monster" and face a 25-year prison sentence if she didn't implicate Oakes in the murder of Casey Armstrong.
The 49 year old Medicine Hat man was found dead and fully clothed in the bathtub of his Medicine Hat trailer with a puncture wound through the neck that nearly decapitated him. Police never found the murder weapon or the source of large bloody boot print on the bathroom floor.
Scott said in the affidavit an investigator told her she was "doomed" because Oakes had already accused her of the murder and that police obtained clothing with Scott's DNA.
Police obtained no DNA or fingerprints at the scene and Oakes never implicated Scott in the crime.
"I didn't understand how this could be, but I believed them anyways because they were police," said Scott in the affidavit, which was sworn on Dec. 2, 2014.
The affidavit was unsealed following the April 6 ruling by the Court of Appeal of Alberta which overturned Oakes' conviction of second degree murder and ordered a new trial. Two weeks later the Crown requested a stay of the murder charge against Oakes who was then released from prison.
Scott, whose testimony Medicine Hat police and Crown prosecutor Andrea Dolan hung their case on against Oakes, still faces a new trial scheduled to begin in January 2017.
Scott initially pleaded guilty to second degree murder in the killing of Armstrong on facts that did not support the charge.
The Court of Appeal of Alberta struck Scott's guilty plea and quashed her conviction in October 2015 after the appeal Crown on the case conceded there was a "serious" error in the case.
It was an error that eluded Scott's lawyer Maggie O'Shaughnessy who signed off on the agreed statement of facts on Sept. 2, 2012.
How the Crown plans to proceed remains a mystery since the only evidence linking Scott to the murder was her own admission. It was an admission that, according to Scott's affidavit, was the product of coercive police tactics on a mentally challenged woman deep into drugs.
Scott was assessed by a psychiatrist as having an IQ of 50 which "is within the extremely low range of cognitive ability," according to a heavily redacted report from the Southern Alberta Forensic Psychiatry Centre that was also released following the Court of Appeal's April 6 Oakes' decision. "Her measured cognitive abilities are all within the extremely low range of ability."
The psychiatric report includes an interview with Scott's mother who said "it was clear early on that her daughter had a learning disability and was generally delayed."
Scott's mother also said her daughter was "teased by her peers" growing up, but still "loved" to go to school "even when she moved out of the family home at 16 for a brief period of time, she attended daily."
Scott never posed any disciplinary problems at school.
"Mrs. Scott denied her daughter ever being suspended or expelled," said the report.
APTN has only obtained a fragment of video from Scott's police interrogation. Those fragments show a woman easily confused and who tells her interrogator she is "special needs" and that she lied "my whole life pretty much." Scott also vehemently denied involvement in the murder and asked to take a polygraph, according to the roughly 3:44 minutes of video obtained by APTN.
Despite being filed as an exhibit for identification in the Oakes' case, the Alberta courts will not release the complete interrogation video. APTN National News has hired a legal team and filed an application before Court of Appeal of Alberta to obtain the full video interrogation. Scott's legal team is fighting the release of the video as is the Alberta Crown.
Scott said in the affidavit police investigators showed her four bloody crime scene photos from the bathroom where Armstrong was found by a friend on May 22, 2011, during interrogation sessions, which she claimed lasted from June 2011 to January 2012.  Investigators also pointed out a red car to Scott they believed was used in the murder, the affidavit stated.
In the affidavit, Scott said she began to drink heavily and take drugs after her father's death in 2010. This continued into June 2011 when Medicine Hat police began to question her about Armstrong's murder, according to the affidavit.
On the upper part of one of Scott's arm is a tattoo dedicated to her father, Brian Scott. The tattoo features her father's name written in cursive above a hunting rifle and fishing pole crossed like swords. Beneath the image are the words, "Daddy's girl."
Scott, originally from Brooks, Alta., photographed the tattoo and posted it to Facebook on June 18, 2010.
"My first new tat in memory of my daddy…miss you and love you daddy," she wrote, next to the photograph.
Scott's affidavit was crafted with the help of a Montreal lawyer named Lucie Joncas, an expert on mental illness and the criminal justice system.
Joncas met Scott at the recommendation of Kim Pate, the executive director of Elizabeth Fry Societies of Canada. Scott contacted Pate shortly after Oakes' trial because she "did not believe Connie Oakes was at Casey Armstrong's trailer and I wanted her help."
Scott was at the Institut Philippe-Pinel in Montreal when she reached out to Pate, through her case worker, according to a separate, recently unsealed affidavit sworn by Pate.
"During a telephone conversation that was facilitated by her caseworker, Ms. Scott…indicated that her trial testimony regarding the involvement of herself and Ms. Connie Jean Oakes in the murder of the deceased…was inaccurate," stated Pate, in the affidavit sworn Nov. 28, 2014.
Scott stated in the affidavit that she was interrogated on a "weekly basis" by Medicine Hat police between the summer and fall of 2011.
"I thought that I had to go because the police asked me to come," stated Scott. "I was not told that I did not have to go if I did not want to."
Scott stated in the affidavit she was usually interrogated at the Medicine Hat remand centre, but was questioned at least once inside a police car.
"These questioning sessions lasted anywhere from 30 minutes to several hours," stated Scott. "I know that one of these meetings was videotaped in the fall of 2011 because I had medical issues (a tumour) and the officers said they wanted to keep my statement in case something happened to me."
Scott stated she was rarely allowed to speak to a lawyer during these interrogation sessions.
"During those numerous interviews with the police…never was I accompanied by a lawyer, or spoke to a lawyer or given a chance to speak to a lawyer," stated Scott.
After, she was arrested in January 2012, Scott stated she was allowed to talk to a legal aid lawyer outside of the city for five minutes who told her she should contact legal aid in Medicine Hat and that police have the number.
"Sgt. (Jason) Graham then asked me if I wanted to talk to the other lawyer right now or if we could talk. I said, 'We could talk now and I'll phone up when I get downstairs. I'll phone him.' I thought I would be able to call him within the next few minutes. Instead, I was interrogated from 10:45 a.m. to 12:05 a.m. the following day," stated Scott. "During that time I could not phone anybody. On many occasions, I asked to go back to my cell to sleep. On many occasions, I asked to phone a lawyer. I was not able to eat anything."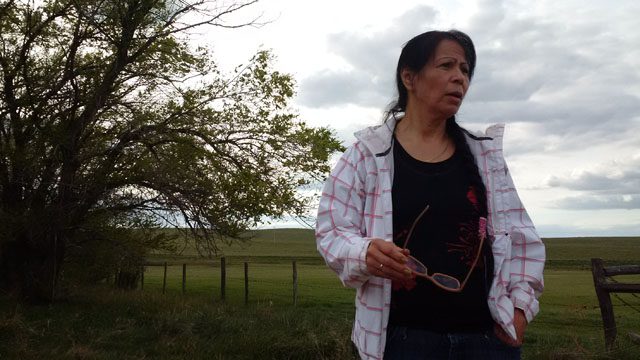 Scott said fear led her to cooperate with police.
"In this situation and case, I was very scared and I wanted to cooperate to be safe," stated Scott.
While Scott's affidavit has only recently been made public, both Oakes' appeal filings and the Crown's response have referred to portions of the document.
The Crown has said in a previous submission the three officers named by Scott as being involved in the previously undisclosed interrogations each filed affidavits contradicting the claim she was interrogated throughout the summer and fall of 2011.
Medicine Hat officers Sgt. Mike Fisher, Sgt. Jeff Klick and Sgt. Jason Graham all claim in affidavits they only came into contact with Scott between December 2011 and January 2012. The officers state in the sworn affidavits that they only learned of Scott's possible involvement in the murder in December 2011.
A document obtained by APTN National News shows Scott's name surfaced in the investigation of Armstrong's murder as early as July 2011. The document, a prosecutor case summary, states a "confidential source" told another officer on July 5 that a "female named Wendy" was with Oakes when Armstrong was killed. Then on Dec. 2, 2011, a "confidential source" told a separate officer that Scott "probably knew information about whether Connie Oakes was involved in the Armstrong homicide."
Scott was hauled in for questioning on Dec. 6, 2011, and held overnight. The next day, after the major crimes unit met for their morning meeting, they decided to let her go after determining she had nothing to do with the murder.
"A decision was made to release Scott as it did not appear as though she participated in any way with the homicide and did not help destroy evidence or have prior knowledge," according to investigator notes obtained by APTN.
It appears investigators zeroed in on Scott again after she contacted police on Jan. 7, 2012, alleging that a man named Christopher Ashby "was covered in blood the day of the murder and may have been involved," according to the prosecutor case summary.
Scott also accused another man, and a woman named "Ginger" of the murder.
The summary stated police investigated her allegation and "determined" Ashby was in Moosomin, Sask., the weekend of the murder.
Ashby arrived in Moosomin on the evening of Saturday, May 21, 2011, according to the transcript of Oakes' trial.
Armstrong was believed to have been murdered between the late evening hours of Friday May 20 and the early morning hours of May 21. A witness testified during trial she saw two women, one with red hair and another with long dark hair, putting a bag into the back of a red car parked in Armstrong's driveway that Saturday morning. During Oakes' trial the Crown claimed the two women were Scott and Oakes, though neither woman has red hair.
Ashby's cousin Krystal Vachon, who lived in Moosomin at the time, testified she received a call from Ashby after supper on Saturday May 21 asking her to pick him up in Kenosee Lake. Vachon testified she picked up Ashby along the highway by Kenosee Lake, which is about 80 kilometres southwest of Moosomin and 600 kilometres east of Medicine Hat.
Vachon also testified Ashby stayed with her for a "couple of days" at the end of April and early May before moving to Kenosee Lake where he found a job.
Ashby, who testified at Oakes' trial, said he spent most of May working in Kenosee Lake, a village of about 253 people, according to provincial statistics. Kenosee Lake is known mainly as a vacation spot for Regina residents. Ashby then went to Winnipeg in June of that year.
Scott later claimed she accused Ashby of the murder because she was angry with him.
Ashby was arrested on Dec. 23, 2015, in Medicine Hat following a two hour standoff triggered by a domestic dispute.
Ashby was also arrested in late March following a crime spree through several southern Alberta communities that led to charges of break and enter, robbery, forcible confinement, unlawfully being in a dwelling, resisting arrest and uttering threats to kill/harm an animal, among other charges.
APTN contacted Ashby in November 2015 over Facebook and asked him about the Armstrong murder and whether he believed Oakes and Scott were involved in the killing.
"Like do u even understand what u just asked me…not off to a good start," wrote Ashby. "Don't ever ask me anything like that again."
In their ruling on Oakes' case, the Court of Appeal of Alberta said that eyewitness testimony during the trial "more strongly supports the identification of the person earlier identified by Ms. Scott as being the killer, Ginger."
During Oakes' preliminary hearing, Scott identified Ginger as a woman named "Sandy Grant."
The woman identified in the prosecutor summary as the owner of the red car used in the murder told APTN she sold the Grand-Am to a drug dealer named Ginger for $500 and drugs before the murder.
The Crown did not submit any evidence on the red car during the Oakes' trial.
@JorgeBarrera