Anti-pipeline aerial activists hang from Vancouver bridge, block oil tanker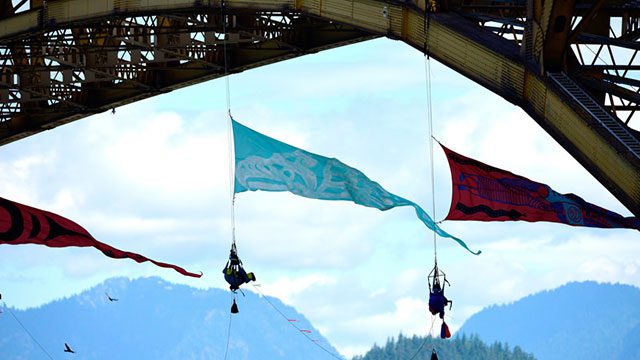 Activist Will George has been hanging from the Ironworkers Memorial Bridge in North Vancouver for almost 25 hours.
He's one of a dozen aerial protesters attempting to block oil tanker activity in Burrard Inlet to show Prime Minister Justin Trudeau they don't agree with his decision to purchase the Trans Mountain pipeline for $4.5 billion.
"It's in my blood to protect this water and I won't stand down. This pipeline will not be built," said George while laying suspended in a hanging tent nine metres below the bridge Wednesday.
The member of Tsleil-Waututh Nation and keeper of the Watch House overlooking Kinder Morgan's construction site in Burnaby, B.C., is one of seven people who climbed the bridge Tuesday to hang mid-air. The other five climbers are on the bridge providing supplies and support.
Environmental group Greenpeace is spearheading the aerial activism with members of the Indigenous Coast Salish community and other climbers.
"Our future hangs in the balance if we don't stop fossil fuel extraction, as does the health of these precious waterways, and the communities and wildlife depending on them," said Joanna Kerr, executive director of Greenpeace Canada, in a press release.
A spokesperson for the Trans Mountain expansion confirmed aerial activists blocked a vessel loaded with crude oil from leaving the Westridge Marine Terminal.
"We respect the right to peacefully demonstrate and there are many ways to express opinions in a safe and lawful manner," reads an emailed statement. "It is unfortunate that the actions of these individuals have caused disruptions to vessels and individuals that transit to and from the waters east of the Ironworkers Memorial Bridge, including customers from our terminal and the other marine cargo terminals.
"Our top priority is the safety of the community and marine waterway users and we look forward to a peaceful and swift resolution to this demonstration."
Richard De Jong, media relations officer with North Vancouver RCMP, said public safety is the force's top priority, as officers monitor the situation from the water and the ground.
The federal government agreed to buy the existing pipeline, expansion project and terminals from Kinder Morgan Canada for $4.5 billion after the company threatened to walk away from the expansion project in April.
The government has said it doesn't plan to be a long-term owner and is looking for buyers, including Indigenous communities, pension funds and the Alberta government.
Meanwhile, Kinder Morgan released the construction schedule for twinning the existing 1,150-kilometre pipeline from Edmonton to Burnaby.
This month, workers will continue developing the Westridge Marine Terminal tunnel portal and relocating existing infrastructure for the expansion at Burnaby Terminal.
Starting this August, workers will start clearing trees and vegetation, relocating rare plants, weed control and surveying work for 290 kilometres of pipeline from Edmonton to Jasper.
In September, workers will then continue the work for 120 kilometres of pipeline between Mt. Robson Provincial Park and Blue River in North Thompson, B.C.
All along the pipeline, the company is already setting up temporary construction sites, including camps and construction yards to house workers and provide office space.
-With files from The Canadian Press