Ancient war trail destroyed by pipeline company, says Wet'suwet'en hereditary chief
A pipeline company in B.C. has cleared an area of historical significance to the Wet'suwet'en Nation prior to completing mandatory provincial archaeological work near Kitimat.
In a phone interview with APTN News, Na'Moks, the highest ranking chief of the Wet'suwet'en Nation's Tsayu Clan, confirmed the ancient Kweese War Trail is located in his clan's territory and has been partially impacted by workers on the Coastal GasLink pipeline.
"The war was over the mountains with Kitimat, and when we won that war we took the crest and brought it home — we wear it on our backs," he said.
"During the training to get there, and on the way back in particular, our warriors died along that trail. How do we know that workers did not go over one of our gravesites?"
Last month Coastal GasLink (CGL) announced that construction of its pipeline began in a number of places before approved Archaeological Impact Assessments (AIA) were finished, even though they are required to be in place prior to land disturbance.
The company apologized to the impacted Indigenous communities and immediately suspended clearing work in the areas while an internal review and post-assessment is conducted.
In a statement to APTN, CGL said they learned of the issues during an internal audit.
"As part of routine quality assurance procedures, Coastal GasLink discovered that there were gaps in our Archaeological Impact Assessment coverage," they wrote.
"Once confirmed, CGL notified the BC Oil and Gas Commission (OGC) and BC Environmental Assessment Office (EAO) of the clearing and asked permission from the OGC to undertake a post-impact assessment of the areas to determine what, if any cultural or heritage values had been impacted."
The controversial natural gas pipeline will run 670 kilometres from Dawson Creek B.C. to a processing plant in Kitimat on the coast. There, the fracked gas will be liquefied and shipped to markets in Asia.
All 20 First Nations along the pipeline route signed on with the project, but the Wet'suwet'en Nation's highest hereditary chiefs don't approve of the project.
The hereditary chiefs say their traditional laws give them jurisdiction, not elected leadership.
"This happened in the territory I am caretaker of," said Na'Moks.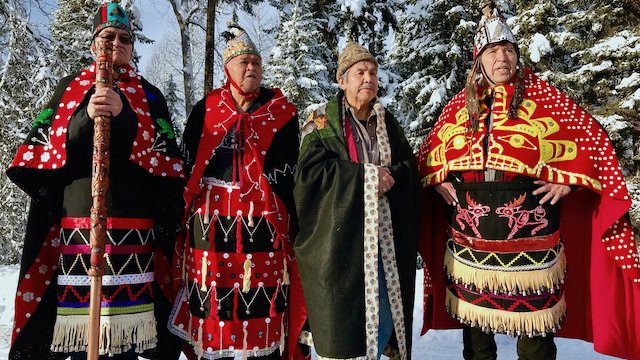 Chief Na'Moks (left) and other hereditary Wet'suwet'en chiefs have taken a stand against the Coastal GasLink pipeline that is slated to run through unceded Wet'suwet'en territory. APTN file photo.
The hereditary leaders of the Wet'suwet'en and Gitxsan Nations were the litigants in the land mark 1997 Supreme Court of Canada case Delgamuukw v. British Columbia, in which the SCC recognized the Wet'suwet'en traditional house and clan governance system.
"Band councils, communities, they don't have a say in this — the hereditary chiefs do," Na'Moks continued. "And I want them to cease what they are doing."
Na'Moks recently visited the ancient war trail and says the area being cleared for the pipeline right of way is now destroyed.
"They laid trees across the entire clearing and in some places they put matts over top," he said.
"One beside the other with no gaps. You can't even go in for soil samples, make pits or do any kind of work."
But CGL confirmed corduroy matts were put in place to limit disturbance to the area. The pipeline company has not set a deadline for completion of the review, but is requesting Indigenous communities' participation in the post-impact assessment.
A cleared area of forest that Wet'suwet'en leaders say is part of an ancient war trail. Photo: Michael Toledano.
"Post-impact means they have already ruined it," said Na'Moks.
"Government and industry cannot claim ignorance; we made them very aware of the trail and its significance. We wrote about it in reports back in 2014, it's in all of our mapping, and we even ribboned it off, but they took our ribbons off the trees and knocked the trees down," he continued.
"The trail was mentioned in the Delgamuukw case."
"It seems like Indigenous rights, our culture, our spirits, where we get our names — all of our history — means nothing at this point."