All Nations Cannabis company is cashing in on B.C. bud
---
In the Shxwa:y village just outside of Chilliwack, B.C. they are taking full advantage of this opportunity to grow, harvest and sell top-grade B.C. bud.
Chief Robert Gladstone says he came back to the community after a 20-year absence with a vision for the future.
"I looked at my village and I said it's time. I have read a lot of books by people in the world who said there is value in our land but we couldn't unlock it here," he said.
"We were wealthy in land and I lived in houses as a child with no electricity in this day and age and no plumbing I had a burning desire in my soul to unlock the value in the land.
"I had a burning fire within my soul to want to create jobs I wanted to do something that would change the status of our people."
The first recorded use of cannabis dates back to 2,700 B.C. when it was referenced as Chinese medicine.
On Oct. 17, 2018, cannabis became legal in Canada.
Gladstone said he partnered with All Nations Cannabis and successfully received a federal legal licence to grow and sell. He said the economic impact of this new revenue stream is changing lives.
His company sells everything from pre-rolled individually packaged joints to gummies, and vape cartridges of oil to cannabis. All Nations Cannabis not only provides products for government retail stores but they have just opened this retail outlet with plans to expand soon.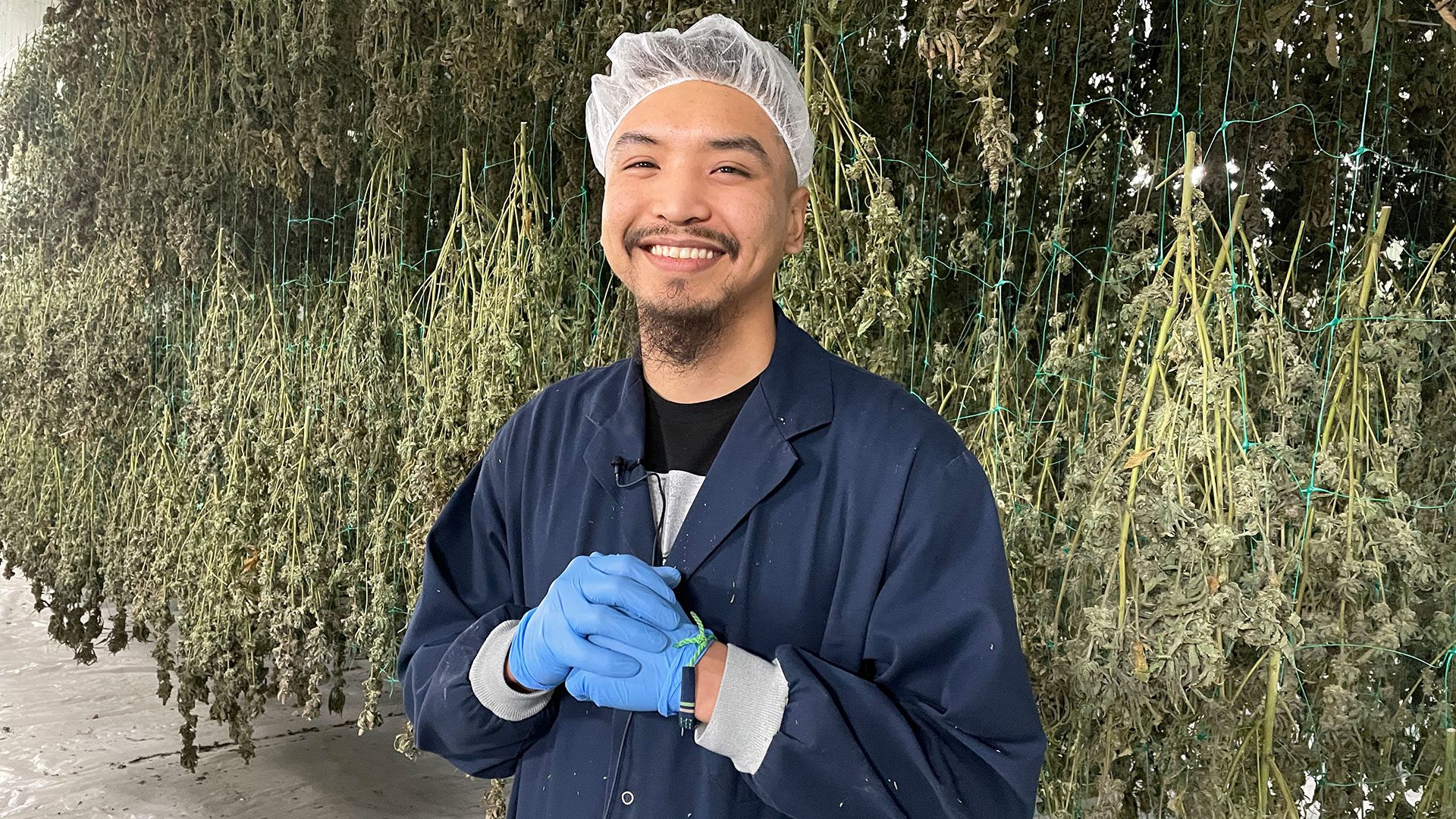 ---
Stacey Duffy, director of retail said that under the new legislation – they're hoping other First Nations also consider cannabis as a new way forward.
"This is going to offer economic development and growth in nations all across B.C. under section 118 and hopefully nationally in working with the jurisdictional in the province as well in terms of each province and what they offer in the cannabis sector currently," said Duffy.
In the Shxwa:y village, economic development is booming. A brand new cultural centre was just built in the village as well as elder's housing and single and family housing have gone up along with other cash bonuses for the members.
For the last two years All Nations Cannabis company also has created hundreds of jobs Gladstone said.
Bryson Rabang is from this community and is well on his way to becoming a master grower at the facility.
"It's amazing because a lot of people have jobs now and they get to provide for their families and there used to be so very little jobs here," he said. "Like the landscaping crew was so small and there was like the only job they had around here and now that we have this facility it's only growing.
"We could supply jobs with anybody that wants to work here in the community and that means a lot to me."
---
Read More: 
From raids to riches: Listujug's cannabis shops bounce back after 2020 police shakedown
Senate committee review on the effects of cannabis legalization on First Nations 
---
The company said it produces roughly 100 to 120 kg every month – and with plans in the works to expand soon they will be producing double that amount.
"Some of our strains that we have in the market right now are Sto:lo Haze, Mac Daddy, Modified Grapes, Peanut Butter Breath," said All Nations Cannabis company CEO Darwin Douglas. "And then we have about another six other strains that are coming into the market.
"We really work to try and develop our strain names to be representative of what's important to us as Indigenous people so we are constantly doing and brainstorming and developing of strain names that are meaningful to us and hopefully other Indigenous people throughout B.C. and Canada.
"So the product from here goes all across the country and we are also exporting right now to countries around the world."