Algonquin Nation holds strong despite intimidation, show of force by sport hunters in Quebec 
Groups are currently blocking 5 access points to their ancestral territory.
---
A convoy of dozens of sport hunters – angered by the Algonquin Nation's decision to block access to hunting trails until a moose hunting moratorium is called – blocked a stretch of Highway 117 in Quebec's La Verendrye Faunic Reserve for several hours on Friday.
It was supposed to be the first day of gun hunting for big game – and hunters were adamant on accessing the trails leading deep into the bush. 
Tempers flared when officers with the provincial police force, the Surete du Quebec (SQ), approached hunters gathered on the highway shoulder about a kilometer away from the Algonquin camp. 
"It's us who pays for them. We pay our taxes, we pay our permits," one man said to an intervening SQ officer.
"Your job should be go in there, and get them the f*ck out of there – that's your job," he added. "It's your job to go in there and tell the Indians to get out, the hunters are coming in." 
"They're hunting at night," speculated another. 
"They're hunting females and they don't have the right."
"They're always laughing at us – it's enough," chimed in another hunter, decked out in head-to-toe camouflage. 
"What they're doing there is illegal."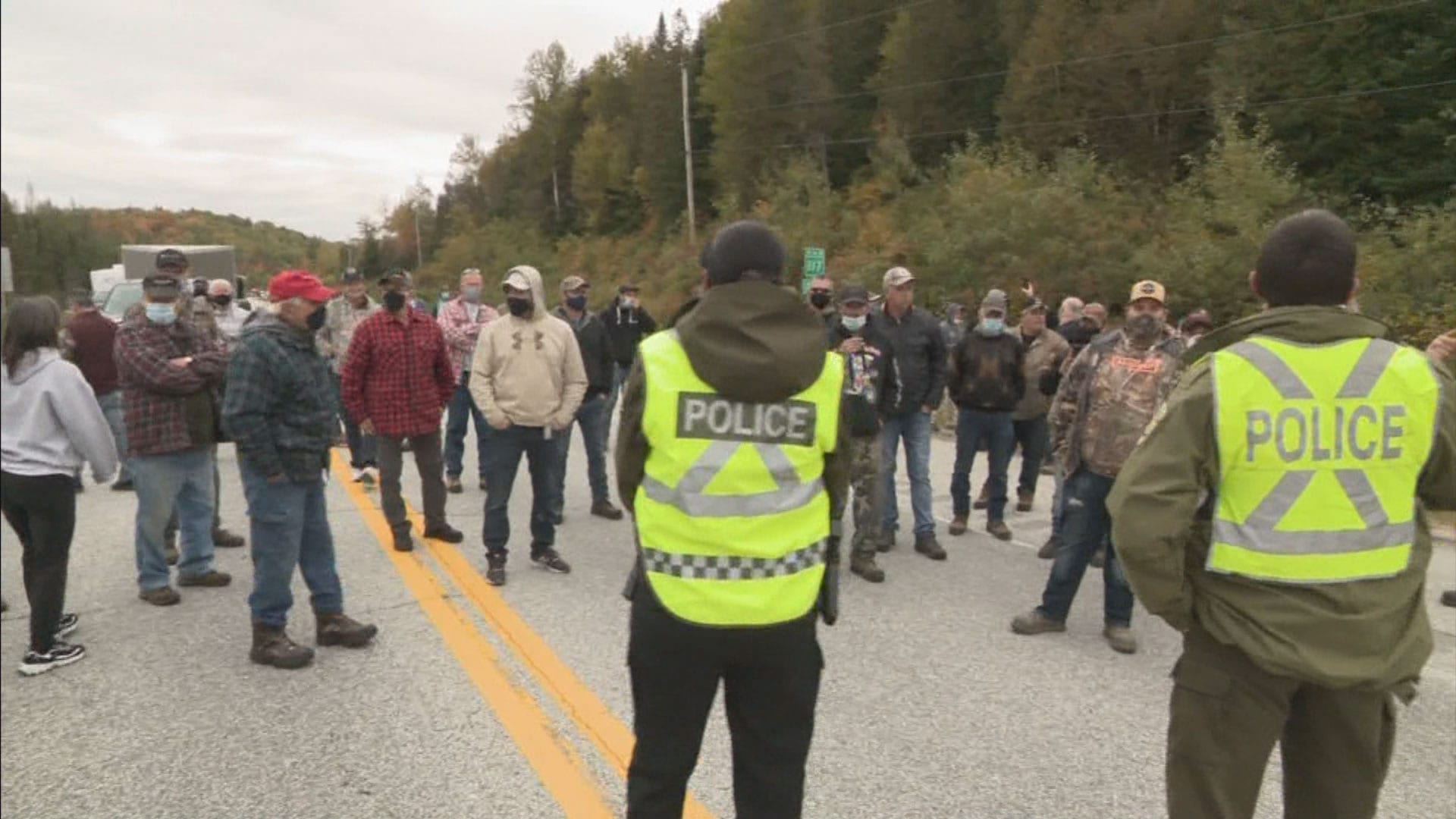 ---
When police did not move to break up the camp as requested, the hunters fired up a chainsaw, went into the bush alongside the highway, and felled trees in order to build a fire to affirm their commitment to staying put. 
They held vigil on the highway, with SQ officers onsite estimating that traffic was backed up at least 10 km on either side of the blockade.
After two and a half hours of negotiation with police, the hunters agreed to leave. 
While making their way down the 117, they honked, flashed middle fingers, and hurled insults through rolled-down windows. 
Two women at the camp overheard a trucker's dispatch come over CB radio: "[the natives] think they won today – but tomorrow is another day." 
Except for the Algonquins, the current situation is not about "winning vs losing" – it's a matter of respect for way of life; of feeding families who are food insecure, and of protecting a delicate ecological balance already compromised by over-hunting and the over-exploitation of land they've inhabited for generations, according to the group.
Barriere Lake councilor Charles Ratt says his entire community can be fed for a year on a cull of three to five moose.  
"We want to work with the government to come up with a plan, but we can't have our foot on the gas pedal, going towards a brick wall," Ratt explained.
According to Ratt, sports hunters kill approximately 80 to 90 moose in the La Verendrye Faunic Reserve every year – and they're reportedly paying thousands of dollars for the chance to do it. 
To put it into perspective, a cull of 80-90 moose would be enough to feed the community of Barriere Lake – and beyond – for close to four years, Ratt says. 
---
But community members and their families will tell you: spotting a moose – let alone hunting one – is near impossible in the current circumstances. 
Going to get food or other supplies requires a two hour excursion out of La Verendrye, either to Val d'Or or Maniwaki. 
"To me, it's only common sense that [Quebec] take drastic measures now, rather than later. That'll affect seven, 12, 15 generations down the line if we don't do something now with the [moose] population," Ratt added. 
According to data compiled by Quebec's Forestry Ministry, overall, more than 26,000 moose were culled by hunters across the province in 2019.
An aerial survey conducted by Quebec in early 2020 noted approximately two moose in every 10 square kilometres of the faunic reserve.
Government officials concluded the results were "concerning," but not "critical."  
In a press release issued this week, forestry minister Pierre Dufour said a hunting moratorium is "by no means considered," and advised all implicated parties to "proceed with caution." 
"I invite the stakeholders to come to an agreement as soon as possible without taking hostage hunting enthusiasts who exercise a registered right [to hunt]," Dufour said in a statement. 
Without a hunting management plan – and in this case, they say, a complete moratorium for the next five years – the Chiefs from the Algonquin Anishinabeg Nation agree the moose could disappear altogether.  
Verna Polson, grand chief of the Algonquin Anishinabeg Nation Tribal Council, is calling upon Crown-Indigenous Relations Minister Carolynn Bennett to intervene. 
"This is a question of subsistence for many Algonquin families and the federal government cannot deny its responsibilities," Polson said via press release. "[Dufour] and his officials had already planned to lay the blame for the moose decline on the Algonquins." 
Polson stresses there is no way the nation will back down. 
"Too much is too much," she said.
The groups congregated at five checkpoints along Highway 117 are also combatting the racism and intolerance surging among the non-Indigenous population as the dispute over moose health wages on.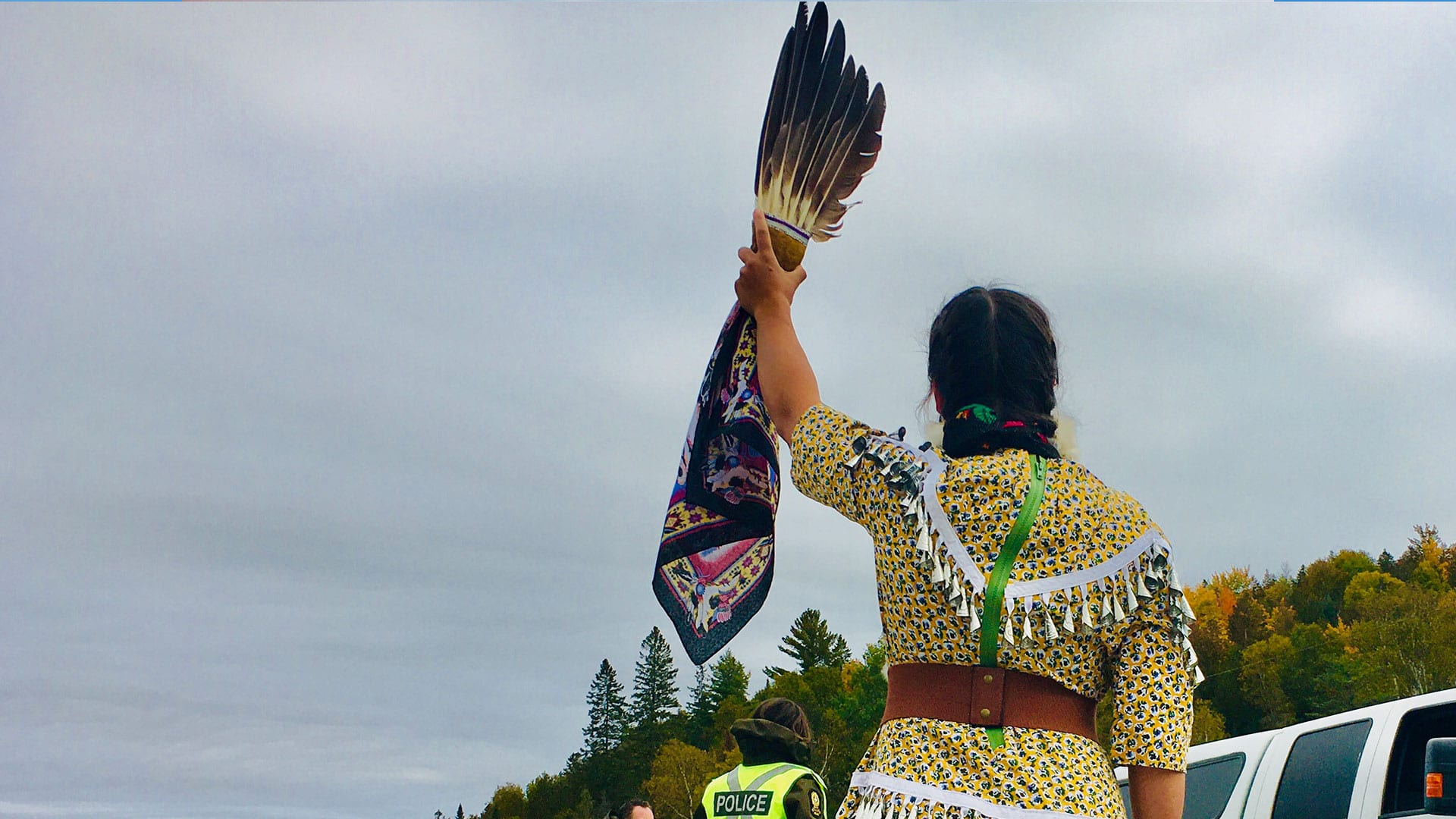 ---
Last week, APTN News captured the moment a woman rushed through a checkpoint and hit a demonstrator with her pickup before driving off into the bush. 
Demonstrators also captured photo and video of the moment when, following a verbal altercation, a sport hunter threw a butchered moose leg at Charles Ratt.
"That's something that because we have it on video – the SQ can't deny," Ratt explained. "They can't say that we were the aggressors."
A media relations officer with the SQ could not confirm with APTN whether arrests were made since the checkpoints went up, or whether charges were laid in either case. 
They did say police in the area had investigated a number of "minor" incidents – but the harassment continues.
On Thursday night, when youth, Elders, and council members joined together in ceremony, a hunter reportedly sped by with three moose heads strapped to his car, shouting "f*ck you" in their direction.  
Earlier Thursday evening, when a passing hunter threw a moose leg near the entrance of another camp, it was collected and used: the marrow eaten, the hide prepared to become a legging – or pouch – the hooves will eventually become rattles, and the dried out tendons will become thread. 
In Algonquin tradition, the moose carries the teachings of life and death. No part of it goes to waste. It is, in every way, respected and honoured through the hunting process.
Despite a repeated invitation to "dialogue" with Dufour and the Quebec government, they feel this fundamental message is going unheard. 
"I don't like to say it this way – but this is [our] grocery store – this is how [we] live. This is how we've always lived," explained Ryder Coté Nottaway, a youth from Kitigan Zibi. 
"Non-Native hunters, that's what they don't understand. They think we hunt and hunt for sport just to fill up our freezers. [But] we take what we need to feed our families."