'Broken' Legal Aid Alberta refused to pay for intellectually challenged woman's appeal of murder conviction
Court orders Attorney General to pay for legal bills
Jorge Barrera
APTN National News
CALGARY — The Alberta Court of Appeal in Calgary on Thursday ordered the province's Attorney General to pay for an intellectually challenged woman's successful appeal of a murder conviction because the legal aid agency refused to foot the bill on grounds the case had no merits.
It took the Court of Appeal's three Justices, Peter Martin, Patricia Rowbotham and Brian O'Ferrall, mere minutes to arrive at the ruling in favour of Deborah Hatch, the Edmonton lawyer who took on the case of Wendy Scott, a 31 year-old Medicine Hat, Alta., resident who pleaded guilty to the 2011 murder of Casey Armstrong, 48. Scott was sentenced to life in prison with no chance of parole for 10 years.
"For (Legal Aid Alberta) to say there is no merit to the appeal in the face of all they know is completely outrageous," said Hatch, in an interview following the hearing. "It shows you we have a Legal Aid system that is very broken right now."
The same court last week ordered a new trial for Scott after the Crown conceded the facts presented to the original trial judge did not support her guilty plea for second degree murder. Scott is now scheduled to appear before the Court of Queen's Bench for arraignment on Nov. 19 in Medicine Hat, Alta.
Scott was one of two women convicted of Armstrong's murder. Both cases were handled by Medicine Hat Crown Andrea Dolan. Dolan relied exclusively on Scott's testimony to build a case against co-accused Connie Oakes, a Cree woman from Nekaneet First Nation who is also appealing her murder conviction.
Scott testified that she travelled with Oakes to Armstrong's trailer in a red car and watched her kill the man with a knife. Scott has since stated in an affidavit filed as part of Oakes' appeal that she doesn't believe Oakes was at the scene of the murder.
Scott also named three other people as being responsible for the murder during interrogations with Medicine Hat police.
Scott has an intellectual disability and has been assessed by a psychiatrist of having an IQ of 50.
Hatch said Scott is aware that she will get a new trial.
"You can imagine that the entire scenario is a pretty crushing situation," said Hatch. "(Scott) understands that that is happening. I think she is relieved at this point. It is obviously very stressful to go through this."
Hatch worked Scott's case pro bono after Legal Aid Alberta refused to cover the appeal on grounds the case had no merit. Hatch took the issue to the appeals court after the Crown agreed to only pay Legal Aid's rate.
Hatch said it's baffling Legal Aid continued to stick to its position even after the conviction was quashed and a new trial ordered.
"I think the court is recognizing here that the appeal has merit, the conviction has been overturned. You couldn't have an appeal that has more merit than that. As I said in court, I have never seen the Crown concede an appeal, agree a conviction should be quashed when there is no merit to it," said Hatch.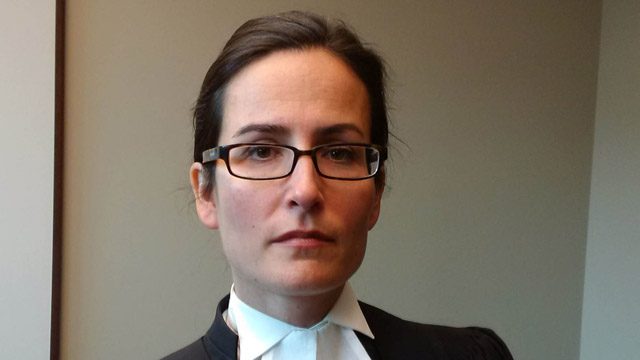 Hatch said Legal Aid has insisted that it is abiding by its own legal opinions on the case.
"All I can tell you is that they said, 'The opinions we have on file with the exception of your own have clearly indicated that they felt the appeal was without merit," said Hatch, reading from a letter sent to her by Legal Aid.
One of the legal opinions relied on by Legal Aid came from Scott's trial lawyer Maggie O'Shaughnessy, according to an affidavit filed by Scott with the court.
O'Shaughnessy did not respond to a request for comment.
Legal Aid Alberta sent a statement to APTN saying privacy laws prevented the agency from commenting on the case.
Legal Aid, however, is paying for a lawyer to represent Scott to oppose APTN National News' application to obtain videos of Scott's police interrogations which were filed in during trial as exhibits for information. Scott's Legal Aid-appointed counsel Maureen McConaghy is also fighting the release of video portions that were played in open court during Oakes' trial.
Hatch said she doesn't understand why Legal Aid, at Scott's request, agreed to pay for the intervention in APTN's case while refusing to pay for her appeal.
"Nobody has given me any explanation about why you would grant coverage to deal with an application for access to exhibits and not cover somebody to appeal a conviction that could keep them incarcerated for life," said Hatch. "Don't get me wrong that the media component is not important, but I think you know a conviction for murder is as significant as it gets."
Scott, who pleaded guilty to second degree murder on Nov. 8, 2012, began her struggle with Legal Aid in 2013. After calling around in British Columbia, where she was initially held after sentencing, and Alberta Legal Aid's regional offices in Lethbridge, Alta., and Medicine Hat, Alta., she finally formally applied for coverage on Sept. 12, 2013, according to one of her affidavits filed in court as part of her appeal.
"It is hard to make applications to Legal Aid when you are in jail and cannot meet with someone in person. It is also hard when it is confusion to know who to speak to," said Scott, in the affidavit.

Scott stated in the affidavit that "corrections personnel" told her she may have been wrongfully convicted for murder. Scott said she was told to contact Kim Pate, the executive Director of Elizabeth Fry Societies, who referred her to Montreal lawyer Lucie Joncas, an expert in the field of criminal law and mental health. Joncas met with Scott and put her in touch with Hatch.
Scott stated in one of her affidavits that Legal Aid received an opinion from her trial lawyer on June 23, 2014. The next month Legal Aid told her she would not get coverage for her appeal.
Without the twist of fate that led Scott to Pate, she would still be sitting at the Philippe-Pinel psychiatric institution in Montreal staring down the barrel of a life sentence.
"There was a team of people that worked for Ms. Scott here, but it shouldn't fall on the shoulders of people to do this routinely without any pay," said Hatch. "I think we all recognize that if we have a system with one side getting paid, the prosecution side, and the defence working for free, that is really not sustainable and you are going to have a lot of miscarriages of justice if you allow it to continue, most especially when you have vulnerable accused persons."
Hatch said Alberta Premier Rachel Notley's government needs to urgently fix the province's Legal Aid system.
"I think that probably it is fair to say that all defence counsel and all prosecutors too are hopeful that changes are made to the legal aid system and hopefully that happens quickly," said Hatch.
Under the previous Progressive Conservative provincial government there was ample evidence of the Justice Minister actively directing decisions to the Legal Aid board on things like what programs to keep and discard. The previous provincial government also cut Legal Aid funding for trial experts.
"I don't think anyone who is having counsel appointed through Legal Aid would want to understand that the system is not independent and that the same party that instructs the Crown is providing instruction to legal aid," said Hatch.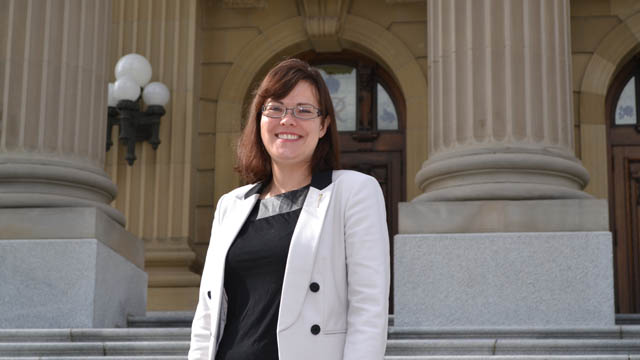 Justice Minister and Attorney General Kathleen Ganley said in a statement sent to APTN she could not comment on the specifics of the Scott case because it is still before the courts. Ganley stated the government is working to fix the system in the short and long term.
"Our government is committed to ensuring Legal Aid is available to low-income and vulnerable Albertans. We know it is essential to promoting access to justice," said Ganley in the statement. "In the short-term, we're working on solutions to help stabilize it. In the long-term we're working with Legal Aid to determine what the best process is to move forward and ensure the services are there for those who need them most."
@JorgeBarrera