Alberta Law Society calls in independent counsel to review complaints over wrongfully convicted Metis man
Metis man spent 129 days in jail after his arrest on Jan. 22 in Lac La Biche, Atla. that turned out to be baking soda.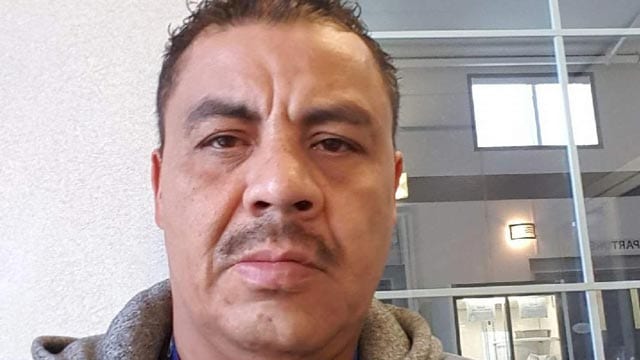 The Law Society of Alberta has called in an independent law firm from Manitoba to review complaints against the Crown and defence lawyers in the wrongful conviction of a Metis man in May.
It's done so because defence lawyer Leighton Grey is an adjudicator with the Law Society, as well as the lawyer for Clayton Boucher, 45, who pleaded guilty to drug charges May 30 even though tests showed they weren't a controlled substance.
Only Boucher didn't know the tests had come back negative.
Boucher filed a complaint against Grey and Crown attorney Erwin Schulz in the summer with the Law Society believing his case wasn't handled properly.
The Law Society said Boucher's complaints, which had been dismissed, are now being reviewed by Allan Fineblit of Thompson Dorfman Sweatman LLP in Winnipeg.
"Mr. Fineblit will review the matter and may be in further contact with you during the review process," said Paule Armeneau, general counsel and senior manager of regulation with the Law Society.
Boucher has maintained he pleaded guilty because he was distraught over losing his wife April 30 in car collision.
He spent 129 days in jail and was forced to attend his wife's funeral in shackles and an orange jail-issued jumpsuit.
The convictions would be overturned in September with consent of the prosecution.
APTN News first reported Boucher's wrongful conviction Oct 24.
Since then more details have emerged, such as conflicting accounts between Grey and Schulz, as well as when the RCMP got the test results back.
Laboratory tests were completed – Feb. 23 and Feb. 24 – on two samples of alleged cocaine according to Health Canada certificates Boucher provided to APTN.
The RCMP has refused to tell APTN when it received the results so Boucher said he called the Health Canada lab in British Columbia and asked them.
Boucher told APTN he received a call back Friday from the lab informing him the Feb. 24 sample was faxed over that same day, while the Feb. 23 results were faxed Mar. 24 from the lab to the RCMP in Lac La Biche.
It is unknown why the Feb. 23 result wasn't faxed to the RCMP sooner.
"I lost more than anyone could imagine," said Boucher. "I am lost."
Boucher said he was told by the RCMP up to five Mounties face discipline, but the RCMP has only told APTN the matter is under an internal investigation.
According to an email from Schulz to the Law Society last month where he defends himself against the complaint filed by Boucher, he wrote the RCMP first informed him the tests came back negative May 3.
Schulz provided the Law Society with a timeline following Boucher's arrest.
"May 3, 2017 – The RCMP confirm the seizures did not analyze as cocaine and in turn were buff (cutting agent used to mix with pure cocaine)," Schulz wrote Sept. 28.
This is after Schulz said his office requested the results two times – after Mar. 24 – from the RCMP only to be told each time the results were not ready.
Also, the Health Canada certificates make no mention of "buff" but rather neither sample was a controlled substance.
"May 4, 2017 – I call defence counsel and advise him that the seizures did not analyze as controlled substance. The Crown and counsel agree to a mutual date to have the matter brought forward to May 30, 2017 for summary disposition," wrote Schulz.
On May 15, Grey – Boucher's Legal Aid-appointed lawyer – contacted Schulz saying Boucher wanted to take a deal and would plead guilty to two counts of simple possession for time served, according to Schulz's email.
However, Grey said Sunday that Schulz informed him the seizures came back with traces of cocaine and that is what he told Boucher.
"That is what I was told on 4 May," wrote Grey to APTN. "The guilty pleas were based upon that."
Boucher confirmed Grey told him the tests found traces.
"(Grey) said they found traces of it in the sample bag," said Boucher recounting the discussion he had with Grey back in May. "He said: 'Take it. The deal is there."
Based on Grey's account, Boucher pleaded guilty to under a gram of powder suspected to have just traces of cocaine, something they called "spitballs".
Only there were no traces, at least according to Schulz's email.
At no point in the email does Schulz mention "traces" of cocaine were found. There is also no mention of traces in the Oct. 4 letter from the Law Society dismissing Boucher's complaint against Schulz.
Schulz wrote he and Grey were of the belief the "spitballs" looked and weighed like cocaine and referred directly to the exhibit list.
"At no time during the criminal proceeding and sentencing did Mr. Boucher raise concerns that what we alleged to be small amounts of cocaine in his residence with numerous drug paraphernalia was in fact not," wrote Schulz.
However, both Grey and Boucher said he always maintained the so-called drugs were just baking soda.
"That is why he instructed me to send several letters asking the Crown to expedite the lab analysis," Grey wrote. "Mr. Boucher was wronged, but not by me."
The Law Society dismissed the complaint against Schulz without two pieces of evidence – the Health Canada certificates and the exhibit list – as well as Schulz writing that the RCMP saying the tests came back negative May 3.
"In my view, it does not appear unreasonable for (Schulz) to have incorrectly concluded that the two 0.4 grams were spitballs, especially when you admitted to such when you entered your guilty pleas," wrote Douglas Morris, information assessment counsel for the Law Society, in his Oct. 4 letter to Boucher.
Because Schulz hasn't responded to questions, APTN went to the Public Prosecution Service of Canada (PPSC).
"At the time of the pleas, the PPSC Agent believed that the smaller amounts Mr. Boucher pleaded guilty to possessing were a controlled substance, and were not the same material for which negative test results had been received," said spokesperson Nathalie Houle.
"When the PPSC agent became aware that the substance was not a controlled substance, defense counsel was notified the same day and the PPSC took immediate steps to consent to the overturn of the conviction and the entering of the acquittal."
Houle replied with the exact same comment when APTN asked – again – how that is possible based on Schulz's email to the Law Society.
APTN also said another fact in the court documents disputed the PPSC theory. On the list of exhibits, Schulz's evidence, it lists what was seized during the raid of Boucher's home Jan. 22 in Lac La Biche, Alta, about 200 km northeast of Edmonton.
On the list is two .4 gram samples of suspected cocaine with this written exactly below each seizure: "Need to be send to Health Canada."
That is what Boucher pleaded guilty to.
"How does the Crown not know their own disclosure?" said Boucher.
The same day Boucher was released on May 30 he went to the RCMP detachment to pick up his belongings.
He claimed in a complaint against the RCMP in June that an officer there told him tests on the powder had come back negative. That is when he said he first learned there had been tests, he said.
"The complainant was crushed by this," his complaint states, "and it quickly dawned on him that the RCMP knew all along that the substance was not cocaine but allowed him to plead guilty regardless."
Boucher told APTN the officer said it with a "smirk."
The RCMP complaint began to unravel what happened to Boucher as the RCMP called Schulz July 10.
"July 10, 2017 – I received a call from the RCMP who advised Mr. Boucher had filed a public complaint. The RCMP advised that the 0.4 grams were not spitballs rather samples taken from the large bags of cocaine which did not analyze," wrote Schulz.
Schulz said he called Grey the same day to let him know.
"Counsel of was of the view that Mr. Boucher would appeal," wrote Schulz.
Grey said he learned of the test results July 10.
Boucher had already filed his handwritten appeal on June 15 and his convictions for drugs and breaching release conditions, on separate matter, would be overturned Sept. 26 with the consent of the prosecution.
As for the "numerous drug paraphernalia" Schulz said was seized, the exhibit list shows Arm & Hammer baking soda was found in the kitchen cupboard, a silver measuring cup, "Chef Elite" Ziploc bags and tinfoil, the RCMP said was "cooked."
Boucher said most of that is found in homes across the country.
Police also found in a black bag next to the TV, a crack pipe and three small baggies that were empty.
Boucher said no one asked him whose bag it was but said he had a roommate living with him that had personal drug habit.
"I have a criminal record. I am not shy about that," he said. "But I am not a drug dealer."
Boucher was on bail at the time of his arrest for alleged armed robbery of a clothing store in Lac La Biche back in October 2015. Boucher said RCMP allege a crowbar was used.
He said there is no security tape, finger print evidence and he has an alibi for the day in question.
Contact Kenneth here: [email protected]