AFN awarded contract to company linked to former and current CEOs
Current CEO's lawyer says no conflict of interest in arrangement.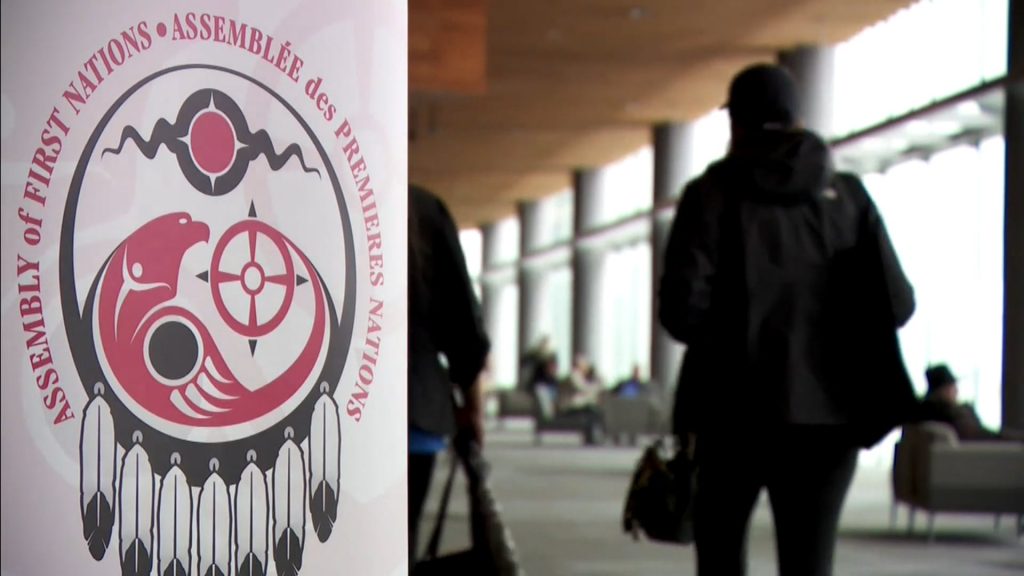 ---
The Assembly of First Nations awarded a quarter-million-dollar contract to a company established by its current and previous chief executive officers, according to documents obtained by APTN News.
The contract was amongst the highest valued contracts AFN has engaged in over the last two years. A confidential list of contractors was circulated by National Chief RoseAnne Archibald ahead of the general assembly two weeks ago.
It was sent attached to a memo calling for a forensic audit and investigation. AFN has not confirmed the veracity of the list but has not challenged its authenticity.
The First Nations Education Administrators Association (FNEAA) was awarded a $250,000 contract during the 2020-2021 fiscal year, according to the list.
Included in their board of directors is current AFN CEO Janice Ciavaglia, according to publicly available corporate documents. AFN's former CEO Paulette Tremblay is currently the FNEAA president and CEO, according to its website.
Federal articles of incorporation documents confirm Ciavaglia and Tremblay formed the company on Feb. 6, 2019, along with another person.
Tremblay served as the AFN's top executive between September 2017 and January 2020. Ciavaglia was the director of the AFN's education sector when FNEAA was established.
The AFN said in a statement that the company was formed to implement a resolution adopted during the 2017 AFN annual general assembly which backed the creation of a national association for directors of education.
The resolution, numbered 15/2017, directs the AFN to "support the creation" of the education association, work with a chiefs committee to map next steps — "including seeking funding and establishing an organizational structure" — and report back on progress.
The national lobby organization did not answer questions about whether there was a conflict of interest or how the current CEO's position was managed during the procurement process.
They say they were unaware of any allegations of impropriety related to the contract but conceded it may be subject to a proposed audit approved earlier this month during the general assembly.
"The AFN intends to follow the process directed by the Chiefs-in-Assembly for any consideration of the AFN's contracting, contract approval, and other financial practices, including any Contribution Agreement between the AFN and other entities," an AFN spokesperson said in a statement.
Tremblay didn't respond to an interview request or a follow-up email.
Ciavaglia declined a request for an interview and responded to questions through her lawyer Bryan Baynham, with law firm Harper Grey.
"My client did not receive any benefit whatsoever from her involvement with the FNEAA and any suggestion or inference to the contrary would be defamatory of her good name and reputation," he said.
"Your inference that my client was in a conflict of interest is equally unfounded and defamatory. My client will not sit idly by and permit the APTN nor any other party to attack her unblemished reputation."
"When FNEAA was established my client was Director of the Education Sector of the AFN and at all times acted in accordance with the direction and guidance of the Chiefs Committee on Education as per the resolution," he said.
The FNEAA is based in the Mohawk territory of Akwesasne and describes itself as "a Gathering Place for education administrators, educators, principals, directors of education, Chiefs, teachers, students and learners at all levels."
It offers services including design and delivery of educational programs, professional development via webinars and workshops, and creation of toolkits and templates for use by First Nations education administrators, according to its website.
No specific allegations of wrongdoing or conflict of interest have been made against the FNEAA or the AFN's dealings with it.
Paul Prosper, AFN regional chief for Nova Scotia and Newfoundland, said the AFN engages in a number of contracts when asked about the contract to FNEAA.
"There's a lot of contractual relationships that the AFN engages in to address the multitude of issues," he said in a phone interview. "We have been steadfast in improving our financial accountability and efficiencies, and have been for quite some time. So that's what I can say to that."
After Archibald slammed the AFN in a statement, the executive committee of regional chiefs voted to suspend her, but their efforts backfired when the chiefs voted overwhelmingly in favour of both her reinstatement and the audit.
Archibald sent the list of contractors that includes FNEAA to chiefs across Canada prior to the July assembly.
The list, later obtained by APTN, was provided as an exhibit attached to a confidential chronology describing the AFN's recent turmoil from her perspective.
The national chief refused to comment on the contract to the FNEAA, with a spokesperson saying the chiefs in assembly directed her to stop making public comments on these issues so the investigations can run their course.
The national chief's office referred questions about the contract to Archibald's counsel Aaron Detlor. He has not responded.
A source with direct knowledge of AFN's contracting practices said the list seems to paint an accurate picture of its operations, with many of the listed contractors having done legitimate, honest work.
The AFN receives tens of millions of dollars every year, most of it from the federal government. Its revenues have soared under Prime Minister Justin Trudeau's Liberals, with millions per year now going to outside contractors.