Traditional vs. Indian Act: Perry Bellegarde explains where he sits on Wet'suwet'en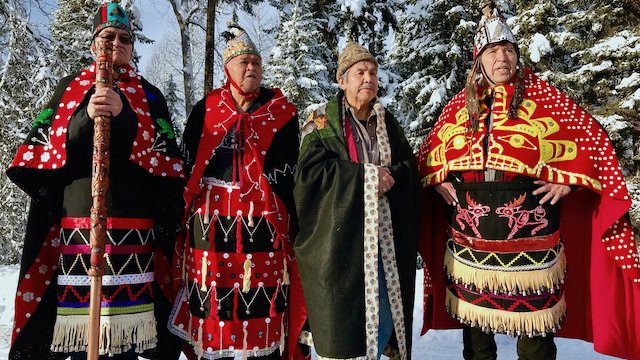 ---
The Wet'suwet'en hereditary chiefs don't just oppose a liquefied natural gas pipeline through their traditional territory because of the environment and climate change.
Even if it looks that way to some.
At the root of it they're challenging the system that allowed for the approval of Coastal GasLink's 670-kilometre pipeline in the first place by pitting traditional ways, or laws, against the Indian Act and the chiefs and councils that are borne from the federal legislation.
Not everyone agrees.
It's clearly created a division in the territory, as all five nations in Wet'suwet'en territory approved the project, as do the remaining 15 nations along its route beginning near Dawson Creek to an export terminal in Kitimat on the B.C. coast.
Each side is about as far apart as the pipeline is long, while the RCMP act as security to allow construction by enforcing a court injunction that sided with Coastal GasLink.
Tensions flared recently as the RCMP, once again, restricted access to a camp there.
APTN News has covered this ongoing situation and all of that work can be found here: Wet'suwet'en Conflict
But Nation to Nation wanted to hear from Assembly of First Nations National Chief Perry Bellegarde on this.
He represents the Indian Act chiefs, all 634 of them who cast a ballot every three years for national chief that lobbies on each of their behalf.
Bellegarde has also issued statements supporting the hereditary chiefs.
Respect is a word he used often throughout his discussion with host Todd Lamirande.
"We use that a lot among First Nations people. Respect for First Nation governments, respect for leadership, both hereditary chiefs and the Indian Act chiefs. You have to have respect for that," Bellegarde said.
He said both sides need to find a way meet and talk.
"How do we respect and move beyond the Indian Act and go back to respect our own laws and jurisdiction?" said Bellegarde.
That's a question that's been difficult to answer but he said he's going to push for processes that unite rather than divide.
But there also needs to be a change with how police approach these situations he said.
"I've always made the point that the sad part is that the current police forces from the RCMP down to city police forces, provincial police forces, they are all sworn to protect and uphold laws, common laws, civil law. The sad part is laws they're not sworn to uphold and protect are Indigenous laws or Wet'suwet'en laws and that is why there is always going to be ultimately ab it of clashing sometimes," said Bellegarde.
The full interview can watched below, which includes an interview with APTN reporter Kathleen Martens who has covered this matter for over a year. Martens breaks down how the two sides work and shares stories of people she met on both sides of the issue.