Glasgow climate deal 'incredibly watered down' on Indigenous rights
'Canada would agree with that analysis. I would too,' says Minister Steven Guilbeault
---
The deal struck at the international COP26 climate summit is a small win in the fight against climate change, according to Canada's environment minister.
It's a big win for the oil and gas industry, according to one activist who was there.
"The largest delegation that attended COP26 was oil and gas executives and lobbyists," says Eriel Tchekwie Deranger on Nation to Nation. "A lot of the deals that happened at the COP were really to ensure that those industries continue to thrive."
Deranger is a member of the Athabasca Chipewyan First Nation and executive director of Indigenous Climate Action, one of several Indigenous-led organizations and delegations that attended the summit.
Talks went right down to the wire, but nearly 200 countries eventually agreed to limit global warming, cut greenhouse gas emissions, phase down coal power and phase out fossil fuel subsidies. Deranger says it's good but not enough.
"It's very small incremental change, and there are very few safeguards for Indigenous rights and for Indigenous peoples to be included in the processes moving forward," she says.
The Glasgow Climate Pact urges the parties to involve Indigenous people in the work, but it also contains language on Indigenous rights that Deranger says is "extremely watered down."
---
The deal acknowledges the parties should "respect, promote and consider" the rights of Indigenous Peoples among several other human rights obligations. It doesn't say they must.
"I think that there's still room for us in future negotiations to advocate for more protections," Deranger says. "But the reality is that a lot of what we aimed for just didn't happen."
Environment Minister Steven Guilbeault, who signed the pact for Canada, says those who feel it's weak on that front are right.
"Canada would agree with that analysis. I would too," Guilbeault tells N2N. "Unfortunately, not all countries agree with us. Unfortunately, in too many cases, some countries who have Indigenous populations aren't even willing to acknowledge that these populations exist, let alone entrench something that's legally binding in an international treaty."
Guilbeault is former activist who once scaled the CN Tower and unfurled a Greenpeace banner in a risky stunt. He co-founded Québec environmental organization Équiterre, where he served as director since 2007.
He recognizes Indigenous people are often on the front lines of extreme weather events that scientists predict will increase in frequency, intensity and destruction as the planet warms.
From the floods and landslides devastating British Columbia this week to the record-breaking heat followed by wildfires that ripped across the country in the summer, it's clear the climate crisis has arrived.
"Indigenous people are often at the forefront of those impacts, and Indigenous communities are in many cases severely affected by the impacts of climate change," says Guilbeault. "We need to do more to fight climate change. We need to do more to adapt to climate change as well because it's already upon us."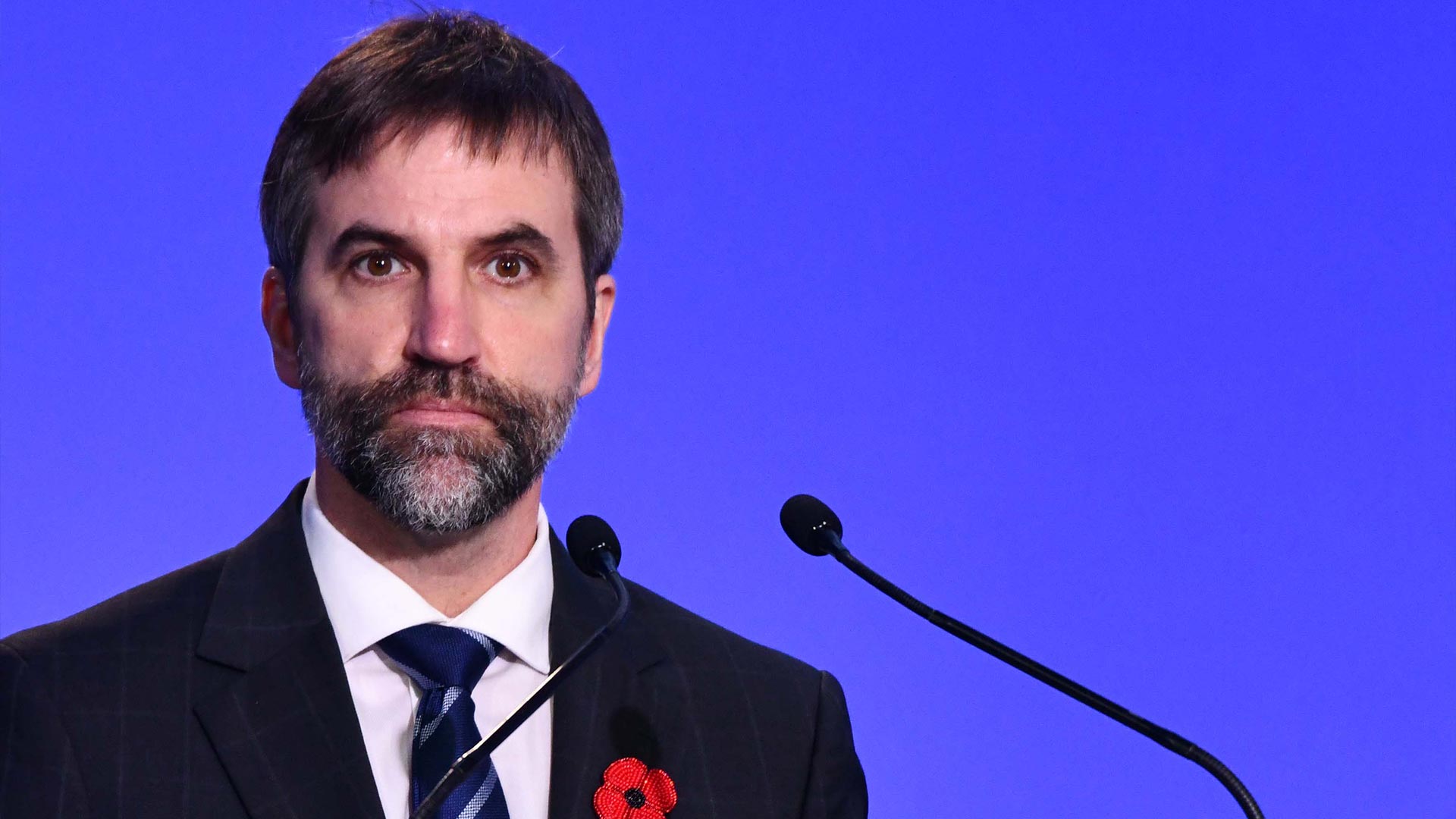 ---
N2N also asked the new environment boss how his department plans to meet its constitutional duty to consult with Indigenous groups on federally regulated resource extraction projects.
He pointed to his previous job as heritage minister, in which he passed the Indigenous Languages Act. The act was developed in consultation with First Nations, Métis and Inuit leaders.
The law created an Office of the Commissioner of Indigenous Languages and gave it a broad mandate to promote, revitalize and reclaim these languages while also educating people about them.
Prior to the 2021 federal election, one of Guilbeault's final acts as heritage minister was to appoint Ronald Ignace, a member of the Secwepemc Nation and former 30-year elected chief, as the office's first commissioner.
Ignace ran away from the Kamloops Indian Residential School in 1962. These schools aimed to exterminate all Indigenous languages right across Turtle Island as part of a nationwide assimilation policy
Nearly 60 years later, Ignace tells N2N he was honoured to establish the commission's first office in the former Kamloops facility.
"My view is that no language ought to be left behind, and nor should it stand in the shadow of others," he says. "I see revitalizing, reviving, strengthening and maintaining our languages as a way of self-determination and reaffirming our identity and our place within the Canadian society.
"It's an important component of who are as a people and our rights as nations across the country."
Watch all three interviews above.