APTN Investigates Season 10: Dark Valley holds secrets of missing women
---
When Jody Leon was stopped by an RCMP roadblock close to her home in Enderby, BC, more than two years ago, officers passed her a flyer with 27-year-old Caitlin Potts' photo on it.  They asked if she had seen her.
(A missing person poster at the local Tim Hortons in the town of Enderby, BC where Caitlin Potts had been living with a boyfriend in 2016. Photo: Holly Moore/APTN)
Leon is well known for her work as an advocate for families of missing and murdered Indigenous women and girls in British Columbia.
The women who have gone missing over the last two years were guests in her traditional territory and she feels a duty to help find them. She has also been working with the families of missing and murdered Indigenous women and girls in the nation. Many of those cases stretch back decades.
She started a search team complete with drones to help two years ago. The drones help the ground-search teams avoid dangerous terrain and provide a bird's-eye view of the rocky landscape.
(Jody Leon is the founder of the MMIW drone search team in the Splatsin Nation. Photo: Rob Smith/APTN)
"I became aware that a woman from the Cree Nation had gone missing in my territory," she said. "A short time later, Ashley and Deanna went missing."
(Ashley Simpson, 32 was living in an area called Yankee Flats road in Enderby, BC with a boyfriend. He and another man told police she was hitchhiking home to Ontario. Photo: Facebook)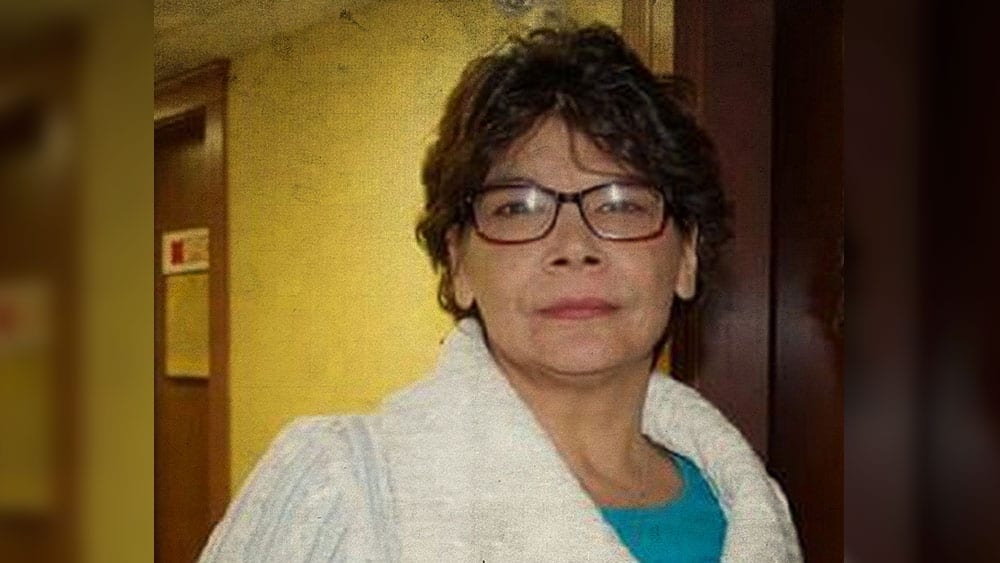 (Deanna Wertz, 46 was last seen on foot near her home in July 2016. Her property is across the road from where Ashley Simpson was staying. Her sister declined to be interviewed for this story. Photo: Facebook)
Less than a year later, 18-year-old Traci Genereux was last seen in the nearby town of Vernon on May 29, 2017.
Then Nicole Bell, 31, who was a mother of three young children vanished from Malawka, BC in September 2017. Her phone was found in Salmon Arm according to her mother Jane Aubertin.
It is hard to illustrate just how geographically close these disappearances are though RCMP have not connected them to each other. Basically, it is about an hour's drive or a 75 km. area.
The Splatsin First Nation's traditional territory is incredibly beautiful. Nestled in a mountainous landscape between Vernon and Salmon Arm. The views are festooned with pine trees. Mountain passes hold the promise of hidden lakes.
Despite the beauty, Vernon, a nearby town of just over 40,000 residents was voted one of the most dangerous places in Canada by Macleans magazine in 2018. There have been multiple, significant drug busts in the area over the last three years and a brisk sex trade.
The Okanagan Valley is also Western Canada's fruit basket, dotted with farms. Gnarled apple trees grow in shady orchards while down the road, "cow corn" fields grow to feed the local livestock.
APTN Investigates reporters Holly Moore and Rob Smith travelled here at the height of summer in July 2018.
Salmon River Road acts as a short cut between Vernon and Salmon Arm. It is very winding, some speed limit signs ask drivers to slow down to 20 km. per hour.
"They really mean it, 20 km. per hour," laughs MMIW Drone search member Wendy Mohr as the vehicle rocks to one side on one hairpin turn. "That's the pull in for the Sagmoen farm."
(A view from the highway overlooking the Sagmoen farm in July 2018. Photo: Holly Moore/APTN)
As the truck pulls over beside a breathtaking vista, sunlit horses stop grazing to stare towards the road. The farm below is a place that has become infamous in the last year.
The family's son Curtis Sagmoen, 37, faces multiple charges for assaulting sex trade workers in the area.
Wayne and Evelyn Sagmoen, well-known and well-respected in these parts own the 24-acre property.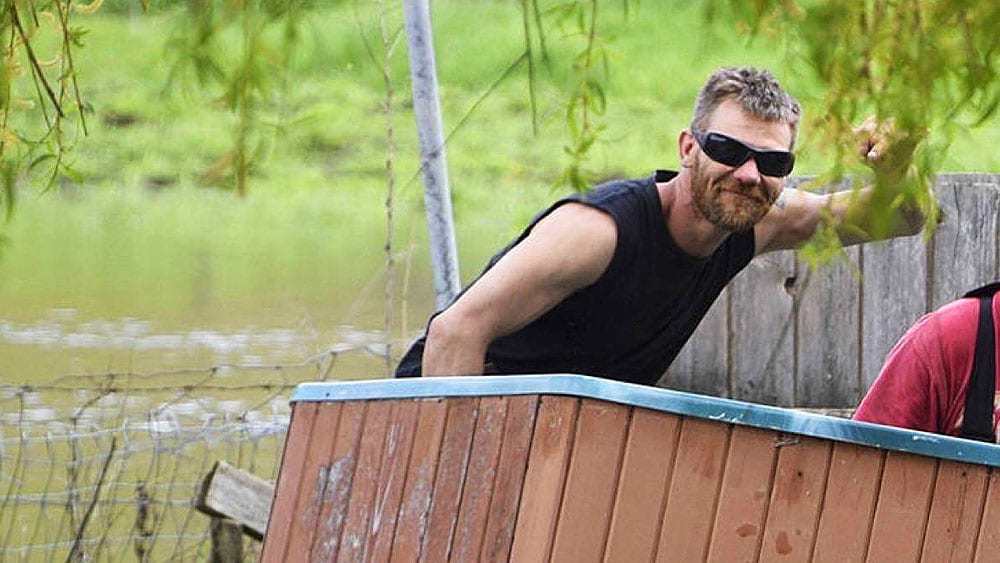 (Curtis Sagmoen has been charged with assaults on sex trade workers in the area. Photo: Facebook)
Sagmoen had some minor run-ins with the law in the past. Driving and traffic offences but that changed in August 2017.
According to charges laid by police, Sagmoen allegedly assaulted two women who had been working in the area sex trade and he allegedly threatened one of them with a shotgun.
RCMP charged him in connection with that alleged assault as well as with disguising his face with intent to commit an offence and a number of weapons charges related to that incident. He was also charged with another assault and mischief for using spikes on a woman's car tires. He is currently in custody and awaiting trial.
All told, Sagmoen faces 12 charges, though none of the charges have been proven in court and his trials are upcoming. His lawyer Lisa Helps declined an interview with APTN Investigates but sent an email.
"I do not grant interviews with regard to cases and clients currently before the courts. Mr. Sagmoen has communicated to me that he will not do so either." she wrote in part. "I remind you that Mr. Sagmoen has not been charged with any offence in connection to the missing women of the Okanagan."
RCMP have not connected any of the missing women from the area to Sagmoen nor to each other.
(Police conducted an extensive search of the Salmon River road property in fall 2017. APTN)
A year ago, RCMP launched a two-week ground search of the Sagmoen farm. Police vehicles, forensic units, shelters and multiple officers dug into yard sifting out evidence. For the quiet community, it was disturbing.
And then on Oct. 21, human remains were discovered on the farm.
All of the families of the missing women excruciatingly waited for the identity of the person found. Finally, on Nov. 2, RCMP announced it was Traci Genereux.
Traci Genereux went missing from the Vernon area in May 2017. Her father and sister declined to be interviewed for this story. Photo: Facebook)
RCMP have not linked Sagmoen to any of the missing women nor charged him in connection with Traci's death. They have not released her cause of death.
"I miss her." 
"They told us there is no connection to her," said Priscilla Potts, Caitlin Potts' mom. "They told me it had nothing to do with Caitlin's disappearance."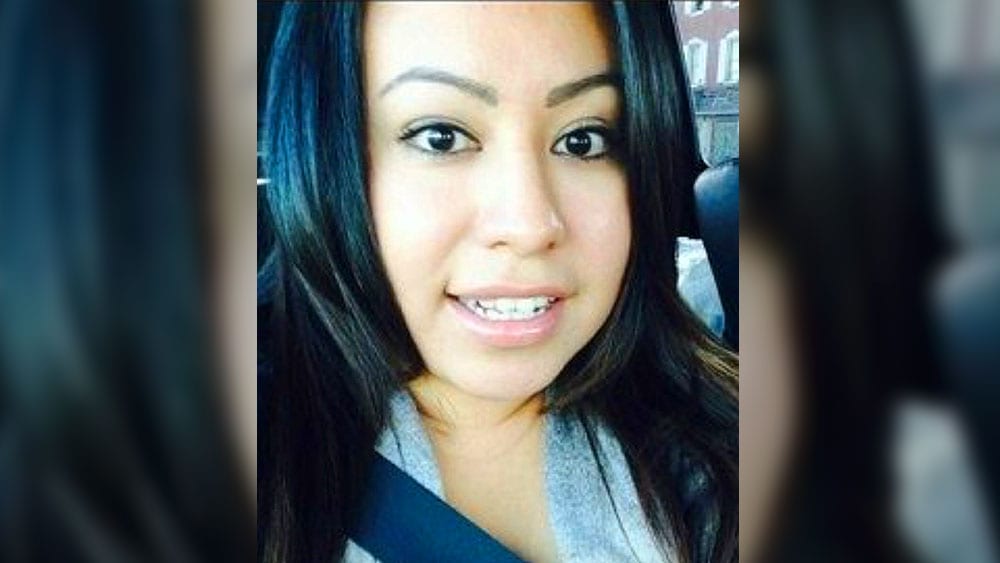 (Caitlin Potts had been living with her boyfriend in Enderby. Photo: Facebook)
Potts and her family went to the valley to search for Caitlin with the drone team a few days after APTN Investigates left. She was interviewed in her hometown of Edmonton in September 2018.
"If I could be out there looking. I would rather be," she said. "Rather than keeping myself busy and trying not to thinking about where she is and what happened to her."
(APTN's Holly Moore, left, and Priscilla Potts walk in an Edmonton park in Sept. 2018. Photo: Chris Stewart/APTN)
Potts last heard from her daughter in early 2016. Caitlin had texted her sister Cheyenne to say she was heading to Calgary from Vernon, where she was living.
According to her mother, her relationship with this boyfriend was abusive. In 2014, he was convicted of assaulting Caitlin — nearly strangling her to death.
She had also been advertising as an escort on local websites. RCMP released closed circuit TV footage of Caitlin in May 2017, asking for leads but as far as Priscilla knows, nothing has turned up.
"Maybe she got on with someone else. I just don't know," Potts said. "I miss her."
 Potts says she has no faith into the RCMP investigation into her daughter's disappearance. She said she believes that they are not even looking for her daughter.
"I don't trust them," she said. "I can't trust them."
"She was always with me." 
(The Simpson family at the MMIW drone search in Enderby, July 2018. Photo: Rob Smith/APTN)
John Simpson and his family stand out in this crowd. They are wearing t-shirts that declare #Ashleysarmy.
His voice cracked as he described his daughter who disappeared in April 2016.
(Ashley Simpson at the creek on Yankee Flats road where she loved to walk everyday. Photo: Facebook)
"She was always with me," he said. "Every where that I went, she would always want to come with me. A lot of people said they had never seen a father-daughter relationship like that."
She had left the Yankee Flats road property alone to head home to Ontario, according to her father.
(The stretch of Yankee Flats road where Ashley Simpson and Deanna Wertz were living when they vanished. Photo: Holly Moore/APTN)
"We don't believe she started hitchhiking," said Simpson. "We were told that it was probably a domestic dispute. We have to go on what the police are telling us. The police are waiting for a break in the case."
He has accepted that Ashley will not be found alive.
"We want to find her remains and bring them back home and then we can be finished with this episode."
"She had a heart of gold." 
Jane Aubertin and John Simpson embrace upon seeing each other at the drone search gathering. It is a strange and macabre connection that binds these families to one another. For the last two years, they have come together to search for their missing loved ones.
It is just too agonizing to wait at home and the searches provide a sense of action.
(Thirty-one-year-old Nicole Bell went missing on Sept. 2, 2017. Photo: Facebook)
Aubertin's daughter Nicole Bell had moved from Edmonton to Malawka, BC with her partner and three young children.
"She was your typical soccer mom," Aubertin said. "Nicole was a wonderful girl, she had a heart of gold."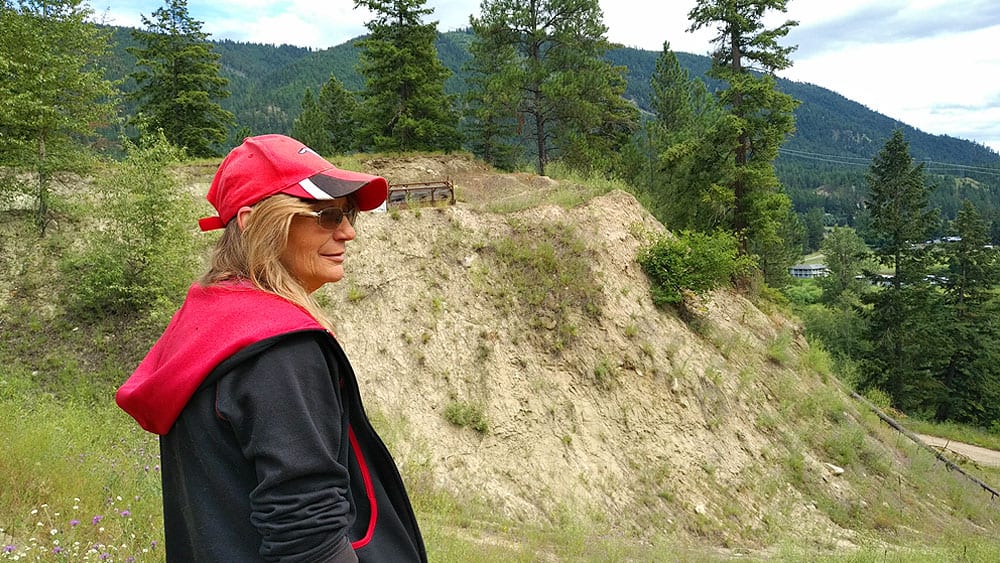 (Jane Aubertin looks out over a ridge during a search in July 2018. Photo: Holly Moore/APTN)
During the search APTN Investigates joined, Jane, husband Denis and daughter Angela walk through high grasses and eagerly scan the ground for clues. Full of nervous energy, Aubertin charges ahead of the group, clamouring down hillsides and striding through the bush.
"You can see the tape where RCMP ended their searches," she said, pointing out the red ribbons on a stand of trees. "We have to do our own little investigations and try to put the pieces together."
"We have to give them to the RCMP and hopefully they turn out to be something," she said.
The search teams try not disturb the ground and clearly mark out evidence sites with sticks and orange flag tape. Today, they are searching a sensitive area adjacent to the Sagmoen farm.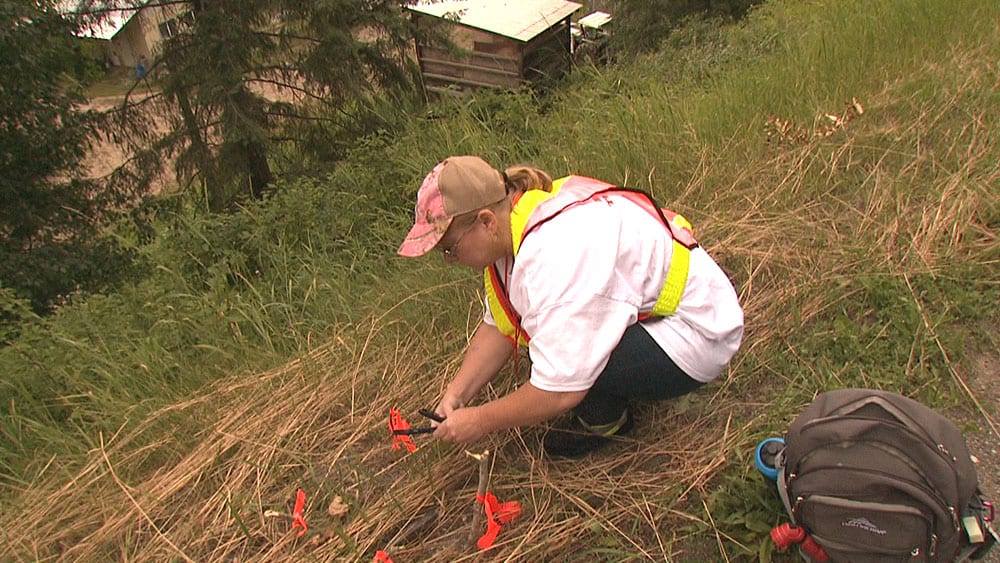 (Wendy Mohr marks the location of a cellphone cover found on the highway. Photo: Rob Smith/APTN)
Mohr's team has been given permission to search a property right near Yankee Flats road where Ashley and Deanna vanished. According to the landowner's relatives who the team met on the road, this man died just a few weeks ago.
The scene is otherworldly and silent as mists settle on disused trailers, ancient farm equipment and junked up cars that lay on the grounds.
That quiet is broken by the distinct whine of all-terrain vehicles and the crack of a shot ringing out. An SOS text message comes from another search team led by Jody Leon on a different part of the road.
Mohr's team runs down the mountain, an hour's hike up takes 15 minutes to get down to Jody Leon's vehicle waiting at the highway. More than eight searchers pile in, some on top of each other and race out of the area.
Leon explains that her team heard a shot and got concerned. It could have been a flare gun. The RCMP have been notified.
Search day one of two is over and it's clear that the search team's presence is not welcome here but it isn't clear by whom. The group also do extensive research on the cases and they are careful with what they share.
Dozens of pieces of evidence
Despite the dangers, they will not stop looking for clues and for the women themselves. The teams have collected dozens of pieces of evidence and sites of interest.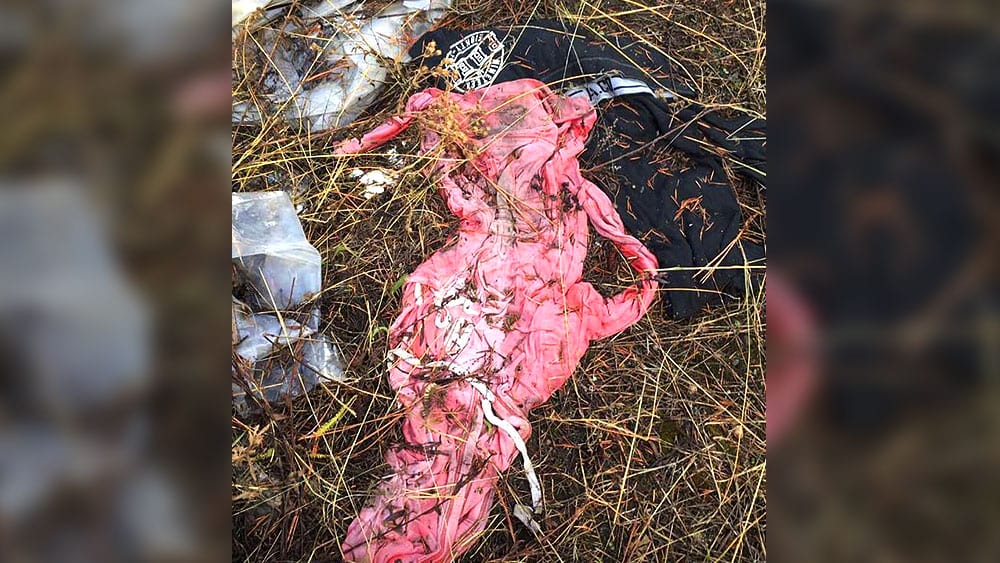 (A pink shirt left discarded in the woods. Photo: Wendy Mohr)
(A boot print in the mud. The MMIW drone team has collected and passed onto RCMP. Photo: Wendy Mohr)
They won't know if their work is helping because RCMP doesn't share details with them. The RCMP declined an interview with APTN Investigates but sent an email statement.
"The RCMP welcomes assistance from the public and appreciates receiving any information which could further a police investigation." the email read in part. "I can confirm that all investigations are active and ongoing."
Mohr said the team is not going to stop searching.
"Everyone should be doing something to help them," she said. "There are people who know what happened. Think of these families. They have a huge hole in their hearts that can't be filled until they have answers."
"There are people who can help with that."
@hollymooreaptn
@kingcomevj
---
Women and girls have been going missing from the Splatsin Nation for decades. If you have any information about these or any historical cases, Email us at [email protected]